It's been an interesting week, that is, now that nearly every risk asset has begun what, so far, has been only a modest correction from some very impressive highs for the year, all of which were reached at around the time (or not long after) central banks in Europe and the U.S. announced their latest money printing gambits last month.
U.S equity markets - the world's star performers in recent months - have given back only a small portion of their hefty year-to-date gains (and very grudgingly at that), but, amid an earnings season that is turning out to be as bad as some feared, there may be more downside ahead.
The gold price, however, has been resilient, down only 1.5 percent from its 2012 high of nearly $1,800 an ounce achieved just last week as shown below via the SPDR Gold Shares ETF (NYSEARCA:GLD), this following a remarkable surge of nearly $200 an ounce that began in early-August.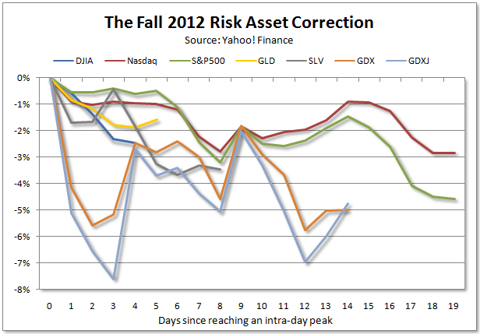 Click to enlarge
Given silver's even more remarkable ascent in late-summer, it too has been steadier than many would have guessed, the iShares Silver Trust ETF (NYSEARCA:SLV) falling just 3.5 percent over the last two weeks after a surge of more than 25 percent in late-summer.
At this point, support for the monetary metals is clearly coming from traders who think the potential for trillions more in central bank money printing bodes ill for the money that's already been printed and, whether or not sharply higher levels of inflation develop is immaterial at this point - just the threat of soaring consumer prices sometime in the future is enough to cause investors to opt for what has served as money for millennia rather than what Fed Chief Ben Bernanke is offering.
Gold and silver stocks, as represented above by the Market Vectors Gold Miners ETF (NYSEARCA:GDX) and the Market Vectors Junior Gold Miners ETF have recently fared worse than most risk assets and they didn't have much to show for 2012 to begin with, the junior miners index dipping back into negative territory for the year after having spent only a handful of days in positive territory for the first time since April.
It seems likely that, given their history over the last couple years, if the gold price remains firm and the broad stock market declines further, gold stocks will follow the latter.
With calls for Europe's problems to further spill over into the U.S. and with the days of heady economic growth in Asia perhaps gone for good combined with growing uncertainty about the "fiscal cliff" here at home, it may be an uphill battle for most risk assets in the period ahead.
As these forces run up against what central banks have on offer, we may soon find out that the largess of Ben Bernanke and ECB Chief Mario Draghi has its limits when it comes to keeping the right asset prices inflated.
Surely, all the money printing that we've seen so far has not been aimed at pushing the gold price higher, but that's been the result and as long as Bernanke and Draghi keep doing what they're doing, so will precious metals.
It's been a quiet fall so far, however, it may not be quiet for much longer.
Gold has held up better than nearly any other risk asset in recent weeks and its 2012 gains now rival that of U.S. equities, the important distinction being that this will be its 12th straight year of gains.
Gold's recent performance is speaking volumes about its future potential, regardless of what other assets do.
Disclosure: I am long GLD, SLV, GDX, GDXJ. I wrote this article myself, and it expresses my own opinions. I am not receiving compensation for it (other than from Seeking Alpha). I have no business relationship with any company whose stock is mentioned in this article.
Additional disclosure: I also own gold and silver coins and bars