We have never been believers in splitting a portfolio between concepts such as "growth" and "value." That is why our portfolio spans a wide range of stocks and securities. We hold defensive stocks such as Costco (NASDAQ:COST), preferred stock (NYSEARCA:PFF), and growth stocks such as EMC (EMC). We hold gold (NYSEARCA:IAU) as a hedge against instability, but also hold multiple biotechnology ETFs as an investment in the continued growth of the healthcare market. In our view, the ideal portfolio is one that has room for securities of all categories. And that includes speculation.
For investors not currently in or nearing retirement, speculation should be given consideration. While it should never form the core of one's portfolio, we believe that it is prudent to allocate some capital towards riskier, but potentially more rewarding companies. And it is that view that brings us to the company that we would like to highlight today: BioLife Solutions (NASDAQ:BLFS). BioLife Solutions is in the early stages of its corporate life cycle, and for investors willing to take a risk, this stock is a buying opportunity at this point in time. In this article, we will provide an overview of the company, articulate a bullish thesis, and address the risks it faces. Unless otherwise noted, financial data and company commentary will be sourced from one of the following: BioLife's latest 10-Q filing or its latest investor presentation.
Overview
BioLife Solutions is based in Bothell, Washington, and was incorporated in 2002. BioLife sells cellular preservation products to customers around the globe under 3 product lines: CryoStor, which allows for the cryopreservation of cellular products; HypoThermosol, which is designed to provide for preservation during the shipping process; and BloodStor, which is designed for customers who need to preserve stem cells, bone marrow, and cord or peripheral blood. These products have clear advantages versus traditional preservation solutions, and are priced accordingly (we will discuss this in detail a bit layer).
BioLife is currently growing sales at a rapid clip. In Q2 2012, revenues came in at $1,097,409, versus Q2 2011 revenues of $622,848. That represents a year-over-year growth rate of 76.19%. There is a clear demand for BioLife's products, and that demand is accelerating. In Q1 2012, BioLife's revenues grew by 36.85% year-over-year. BioLife has posted record revenues for 9 straight quarters (including Q2 2012), and the company expects full-year 2012 revenues to reach $4.1 million. That would represent a revenue growth rate of 48.62% for the full year.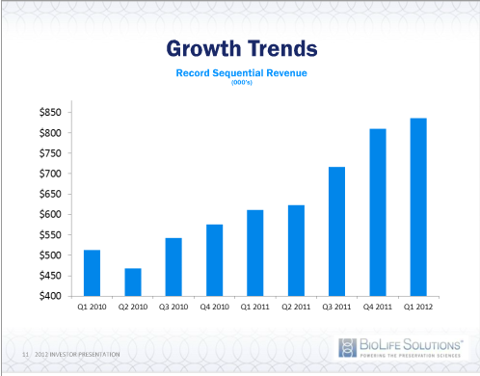 A Note of Caution
Before we lay out our thesis on BioLife, we would like to make one thing clear: an investment in BioLife is not meant for investors who have no room for risk in their portfolios. BioLife is listed on the OTC market, and is trading at $0.18 as of this writing. And while we believe that BioLife's trading volumes will increase in the long run, they are thin at present. BioLife's average daily volume currently ranges between around 9,800 shares and 12,000 shares, depending on which financial source is utilized. Therefore, investors need to use caution when buying or selling shares. Limit orders are essential. Furthermore, investors, if they choose to invest in BioLife, need to determine what sort of time horizon they have, and adjust their expectations accordingly. BioLife's stock is highly likely to be volatile for some time, and the stock may rise and fall due to factors wholly unrelated the company's performance. As such, investors who buy shares of BioLife need to determine when they wish to exit their positions, and adjust their expectations accordingly. For long-term investors, BioLife's planned move to the NASDAQ, which should be complete no later than a few years, will help mitigate a good deal of the volatility in the stock.
OTC Stocks: Not all Are Created Equal
Before we continue with our thesis regarding BioLife, we want to take the time to make one point clear: BioLife trades on the OTC market. We believe that all investors should approach OTC stocks with more caution than those that trade on the NASDAQ or NYSE (unless they happen to be the ADRs of a well-known international company). There has been no shortage of articles here on Seeking Alpha that seek to expose fraudulent or shell companies that trade on the OTC. But, we do not believe that the mere fact that a company trades on the OTC market should exclude it from being considered as an investment, even if it means that additional scrutiny is needed.
Our investigation of BioLife shows that while the company is by no means a safe investment (for that matter, is any investment safe?), it is not a fraud. The company has real products, real revenues, and real customers. In fact, BioLife's customers are among the largest life science and healthcare companies in the world, including Life Technologies (NASDAQ:LIFE), Sigma-Aldrich (NASDAQ:SIAL), and Thermo Fisher Scientific (NYSE:TMO).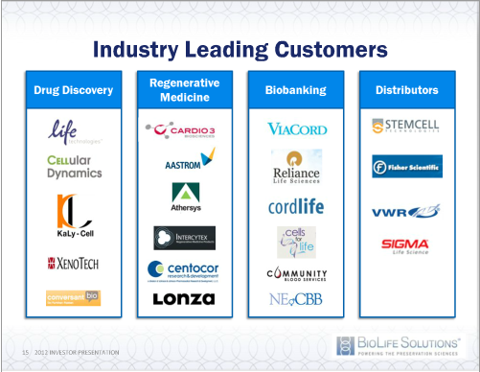 CryoStor, for example, can be bought online from both Sigma-Aldrich and Thermo Fisher.
We do not believe that investors should avoid BioLife stock simply because it is currently trading on the OTC. And in any case, BioLife is planning a move to the NASDAQ, once it becomes profitable and generates sustainable operating cash flow (more on those points later).
The Opportunity: Targeting 3 Markets
Just exactly what is BioLife going to do to find growth? The answer lies in 3 interconnected markets that the company is targeting: biobanking, drug discovery, and the emerging field of regenerative medicine.
Within biobanking, BioLife has partnered with several of the market's leading companies, including ViaCord, and Cord Life, to help them better preserve their products, including products such as stem cells and bone marrow. Within the drug discovery market, BioLife's products are having a material impact. Many of the company's 400+ customers are using the company's preservation solutions in their clinical trials.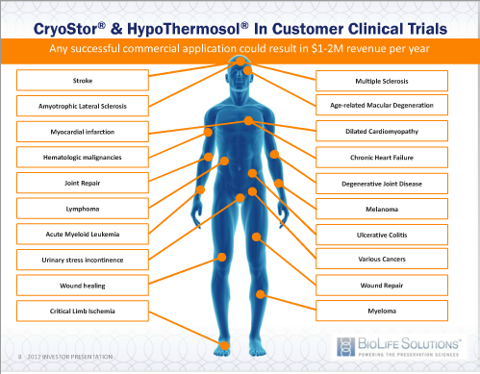 Approval of any one of these products will lead to $1-$2 million in incremental revenues on an annualized basis. And in regenerative medicine, BioLife's third target market, the opportunities are even bigger. According to BioLife, the regenerative medicine market will grow in size to $5.6 billion by 2018, from its current value of $1 billion. There will be a corresponding increase in the need for cellular preservation, and demand for such solutions is expected to reach $500 million annually by 2018, from $150 million in 2011. BioLife does not need to capture that entire market. It is here that we need to address what is perhaps the most important operational issue regarding the BioLife story. How Can BioLife convince customers to use its solutions if they are much more expensive than traditional, "home-brewed" preservation solutions? The answer lies in the value that the company's solutions deliver.
Price, Demand, and Competition: Value Needs to be Accounted For
When 2 identical products are compared, price will be the deciding factor in determining which firm receives a customer's business. Consider the case of two fruit vendors, each of whom sells oranges at the local farmer's market. Both sell delicious, freshly harvested, and organic oranges. The only difference is that Vendor A charges $2 for his oranges, while Vendor B charges $5. Naturally, Vendor A will get all of the customers, because he sells the exact same product as Vendor B, but for a lot less, for Vendor A's oranges have a lot more value due to their lower price. But what if the situation was changed? What if Vendor A and B kept their prices, but Vendor A sold oranges that were rotting, days old, and awash in pesticides? Would Vendor A still be delivering value to customers? Or would customers move to Vendor B, paying a premium for a quality product?
BioLife represents Vendor B. The company's preservation solutions are indeed more expensive than typical "home-brews" manufactured internally using generic compounds, but that does not mean they do not provide more value. CryoStor, for example, is able to recover almost 75% of stem cells after cryopreservation, well over 10% more than its closest competitor in tests conducted by BioLife (100% viability is measured at 37 degrees Celsius).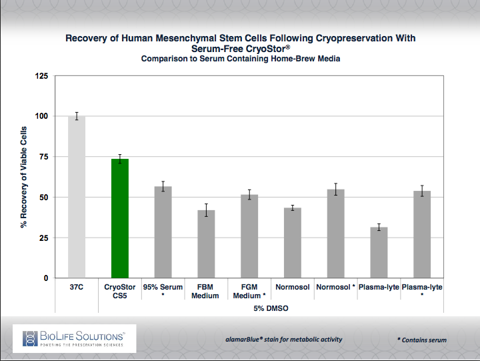 HypoThermosol, BioLife's shipping preservation solution, has also been proven to have superior efficacy relative to its competitors.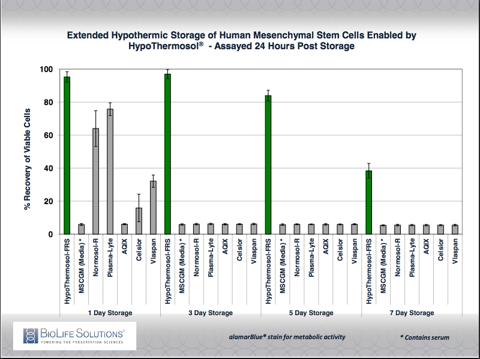 As the data above show, HypoThermosol's superiority becomes most evident after just a few days. It still retains its entire efficacy after 3 days, even as other generic solutions lose almost all of their effect (a few others did not, but that is because they had very little efficacy to begin with). We do not believe that higher selling prices will hamper BioLife's ability to grow in this market. If price were the only factor that customers used to decide what kind of preservation medium to use, BioLife would have never sold a single vial. The company's revenue growth rates show that as long as it can continue to prove to its customers that its products deliver them value.
BioLife's primary competition comes from the preservation solutions made by customers internally, and this has been echoed by Mike Rice, BioLife's CEO. In an interview with The Wall Street Transcript, Rice stated that,
"speaking of competition, the landscape is populated by a few very large companies that also offer preformulated biopreservation media products. However, these products are based on traditional non-optimized formulas and do not provide nearly the level of biopreservation efficacy as our own engineered formulations. It's interesting to note that in recognition of the performance of our products, several of these large companies also distribute our products, and we're pleased to have them both as customers and distributors. But by far, we consider our main competition to be home-brewed storage and freeze media cocktails, where a researcher, a cell-processing technician or a cryobiologist purchases raw ingredients and makes up small batches of preservatives several times per week or per month. Oftentimes, these home-brew formulas are not formulated per GMP guidelines, nor are they made using USP-grade components, and this can result in lot-to-lot variability and poor performance."
We believe that CEO Rice is correct in his assessment. If customers did not believe that BioLife's more expensive preservation solutions did not provide them with value, they would not be buying it. Clearly, that is not the case. BioLife's sales are growing rapidly, and we expect that this will continue as the company expands awareness of its products, and more customers realize that they can preserve and recover much more of their cellular products using BioLife's products.
This does highlight a challenge that BioLife faces. Once a clinical trial is underway, and it utilizes generic "home-brews" to preserve and/or ship cells, it is difficult for a pharmaceutical or biotechnology company to switch to BioLife's products during the trial, as it could break the consistency of those trials. That is why BioLife needs to convince customers to utilize its solutions before a clinical trial starts, given that the flip side of that challenge is that once a clinical trial is underway, it is also difficult to switch from BioLife's products. BioLife is ramping up its headcount to educate its customer base about the importance of using BioLife's products from the start, as well as increasing awareness of the product amongst perspective customers.
BioLife's value proposition does not end during the clinical trial stage. It extends past approval and into the manufacturing and distribution state. Consider the case of ABC Pharmaceuticals. ABC has received approval for its new drug in the United States, Japan, and Germany. It has just one manufacturing facility, located in the United States. The problem is that the pharmocological profile of ABC's new drug requires it to be chilled at the proper temperature until it is given to patients. The company's existing preservation solutions, developed internally, are not potent enough to keep its drugs from losing efficacy in time for delivery to storage locations (such as pharmacies and hospitals) in Japan and Germany. ABC has full rights to its drug on a global basis, and the CFO and CEO do not want to cede distribution to a third party. The company could build more manufacturing plants overseas, but that is a long and expensive process, and the company would likely have to issue new stock and/or debt. However, the company could use HypoThermosol, which has been proven to have far better preservation ability than its competitors. BioLife's solutions can be used to keep the cost of goods sold lower for pharmaceutical companies by removing the need to build multiple manufacturing plants for different sales regions.
BioLife's products have been proven to be superior to those from its competitors, and its higher price does not seem to be turning customers away. But couldn't another company simply copy BioLife's formulas? Wouldn't that lead to a steep fall in sales for BioLife? The facts indicate otherwise
Patents and Trade Secrets: Defending Against Copycats
The formulas BioLife uses to manufacture its preservation solutions are a closely guarded trade secret. In addition, BioLife has patent protection for each of its products, both in the United States and abroad. Readers interested in perusing BioLife's patents (at the US Patent and Trademark Office) may do so here and here. While anyone can read the company's patents, they are not enough to copy the company's products. A competitor would need BioLife's formulas and knowledge of the company's manufacturing and product development process, both of which are closely guarded. Critics of BioLife may simply argue that the company is exposed to the same risks as Questcor (QCOR), a company that has been criticized as having a weak intellectual property shield around its Acthar gel, and at risk of competition from generics. We disagree with such an assessment. For starters, BioLife has multiple products to sell, minimizing the risk of generic competition to any one product. Secondly, the company has patent protection for its product, unlike Acthar, as the patents on that drug have been expired for some time. But perhaps the biggest difference between BioLife and Questcor is that generic alternatives to BioLife's products are already widely available. And the efficacy data for those products shows that they are inferior. Generic competition is already present, and it has not hampered BioLife's ability to grow its sales and customer base.
The Financials: Exploring the Latest Quarter, the Balance Sheet, and Cash Flows
BioLife is currently unprofitable and when taking away the impact of working capital changes, the company is burning cash as well. But, that is not unexpected for a company that is ramping up production.
In Q2 2012, BioLife's net loss came in at $498,893, an increase from the $436,679 it lost in Q2 2011. Why the increase, despite a surge in revenues? The primary culprit is a jump in sales expenses, which rose from $59,132 to $160,658. That represents a jump of 171.69%. BioLife is spending cash to build out its sales force. But, those expenses will begin to slow as the company reaches the necessary scale, and as sales shift towards indirect channels (such as through Sigma-Aldrich or Thermo Fisher). In Q2 2011, indirect sales accounted for 25.76% of revenue, a figure that rose to 33.8% in the latest quarter. Gross margins dropped in the latest quarter, from 53.6% to 41.5%. The decrease is due to a ramp up in personnel costs that are reported under the cost of goods sold, as well as a ramp up in production operations to meet anticipated future demand. We believe that in the long run, gross margins will rebound to levels close to those seen in 2011 as BioLife benefits from economies of scale as revenue continues to grow. It is true that gross margins for all of 2012 are set to be "somewhat" lower than 2011, due to a shift towards contract manufacturing revenues. While lower gross margins should be taken into account, we believe that in the long run, they will not derail the company. BioLife's revenues are still growing at solid levels, and the company's increase in operating expenses should abate over the next several quarters as the company expands to meet the growing demand for its products. As part of its Q2 2012 release, BioLife provided full year revenue guidance of $4.1 million, for full year growth of 48.62%. Based on the company's revenues for the first 6 months of 2012, that implies combined Q3 and Q4 revenues of $2,166,711, a growth rate of 42.07% from Q3 and Q4 of 2011. BioLife, by proving to customers the value of its solutions, will continue to grow its revenue base, and we are confident that the company can reach profitability within the next several quarters.
At first glance, the company's balance sheet appears to be weak. BioLife ended the quarter with $155,364 in cash, and $12,991,408 in total debt and accrued interest. When looking at just the headline numbers, such debt levels are indeed concerning. But, as with most things investing, the truth lies below the surface. Most healthcare start-ups choose to fund themselves with equity until they become profitable. That is why most development-stage biotechnology companies have relatively clean balance sheets. But, constant equity offerings lead to dilution, as the number of outstanding shares keeps rising. BioLife, however, has chosen a different funding strategy. The company has chosen to concentrate on debt financing instead. BioLife ended Q2 2012 with 69,679,854 outstanding shares. BioLife ended Q2 2008 with 69,639,854 outstanding shares. But, BioLife's total debt and accrued interest that quarter was $4,081,526. BioLife has been judicious when it comes to issuing new stock, and has chosen to finance itself with debt until it reaches sustainable profitability. While BioLife's debt burden is quite large relative to its existing cash position, it is important to note that this debt is not due in 2012. Or 2013. Rather, the debt and interest are due on January 11, 2016 (per the company's latest 10-Q). Furthermore, BioLife's debt is owed to an investor group that sits on the company's board of directors. One of the concerns that has been holding back BioLife's stock in 2012 is the company's debt burden, originally scheduled to mature in 2013. When the deal was announced, CEO Mike Rice stated that,
"more than ever, our largest investors are pleased with the direction and growth trajectory of the Company and understand that the near-term maturity of debt was seen as an overhang for potential new investors in BioLife stock. The extension of the maturity date until 2016, gives us time and financial flexibility to execute on our current growth ramp and continue to make prudent investments necessary to capture additional market share."
BioLife now has 3 years to reach a stronger financial state, even though it does not need that much time. As part of the debt restructuring, BioLife has issued 2 million warrants to its debtholders, bringing its total amount of outstanding warrants to 7,718,750. The warrants have expiration dates between November 2013 and November 2017. No warrants have been exercised so far this year, and we think that it is unlikely that the warrants will be fully exercised for at least several years, when BioLife's stock price is higher than it is today (assuming that everything goes according to plan). BioLife has reaffirmed its expectation that it will reach sustainable operating cash flow by the end of 2012 when Q2 earnings were released. BioLife did post positive operating cash flow during the first 6 months of 2012, but there were several items that distorted the company's cash flow of $686,007. The primary item was the contribution of $785,112 from deferred rent. Offsetting that was a $410,854 increase in the company's inventory.
BioLife's inventories rose significantly in its latest quarter, rising from $505,956 to $916,810 (an increase of 81.2%). A steep rise in inventories is often a red flag for investors, because it implies that a company is unable to sell its products to customers, or that it has stuffed the channel in prior quarters, and is paying for it now. However, the composition of that inventory matters much more than the headline number. BioLife's inventory increase was driven by a 104.5% increase in raw materials, and a 2,617.14% in work in progress. The company's stock of finished goods, however, fell by 24.48% from $320,688 to $242,238. BioLife's inventory has risen not because it is unable to sell its products, but because it is readying itself for continued growth in demand for its products.
Conclusions
From what we have seen, BioLife is a risky, but promising company. Its products meet a clear need, and it has inked deals with some of the world's largest life sciences companies. Its revenues are growing at a solid rate, and the company is working to improve its capital structure. The fact that BioLife trades on the OTC does not make it a poor investment, in our view. The company is executing its strategic plan, and the company's debt restructuring has given it several more years to strengthen its balance sheet and cash flows, and we are confident that BioLife's best days are ahead of it. For investors with a tolerance for risk, shares of BioLife Solutions may be just the solution needed to find profits.
Disclosure: I am long COST, EMC, PFF, IAU, LIFE. I wrote this article myself, and it expresses my own opinions. I am not receiving compensation for it (other than from Seeking Alpha). I have no business relationship with any company whose stock is mentioned in this article.
Additional disclosure: We are long shares of LIFE via the First Trust NYSE Arca Biotechnology ETF. We may initiate a long position in BioLife Solutions over the next several trading days.