Yesterday I attended the International Council of Shopping Center's (ICSC) southeastern conference and I listened to this year's keynote speaker, Fox News regular and Wall Street Journal editorial board member, Stephen Moore. I thought the "take away" was interesting as Moore described "fear as the overriding sentiment in our economy (today)." The policy analyst related that the best way to move the needle is to "move pessimism into optimism by moving out of government bonds into higher yielding assets". Moore explained that moving that needle is the trigger for the U.S. economy and without offering his political preference he stated that "a regime change will see fear dissipate" but perhaps "regardless if Obama is elected (or not), fear will be erased."
While the sentiment for fear is well observed in the investor community today, there appears to be a high degree of overriding confidence in the REIT sector. Due to strong overall performance, relative to the broad market, equity REIT shares continue to trade at valuation premiums, with the catalyst being improving portfolio operating fundamentals, healthy capital structures, and the potential benefits as a hedge against, eventual higher interest rates and inflation.
On average equity REIT dividend yields are 3.2 percent (range from 2.9 percent to 4.9 percent), well above the 10-year treasury and S&P 500 (NYSEARCA:SPY) yield of 1.8 percent and 2.0 percent, respectively. Dividend payout ratios averaging 72 percent should allow for average annual near-term dividend growth of 3 percent to 5 percent.
"Don't let the fear of striking out hold you back." - Babe Ruth
In terms of capital structure, equity REITs with lower leverage that are less dependent on capital markets for growth or refinancing of capital should be relatively better-positioned to expand balance sheets and weather economic and financial volatility. Over the last three to four years, equity REITs have begun a "bullish" run that is the beginning of a broader cyclical trend. As explained by Brad Case, Ph.D., CAIA, NAREIT's senior vice president of research and industry information:
Since March 2009, access to public equity and public debt markets have given listed REITs a crucial advantage over other real estate investment managers. They used that advantage first to strengthen their balance sheets so they would be ready for exactly what they're doing now: outcompeting the others in acquiring high-quality properties at favorable prices.
According to SNL Financial, U.S. equity REITs (covered by SNL) raised $41.09 billion in 2012 through Sept. 28, $7.54 billion more than the $33.56 billion raised in the prior-year period. As of Sept. 28, common equity deals accounted for $18.09 billion of gross capital offerings, senior debt totaled $14.95 billion and preferred equity totaled $8.06 billion. In the prior-year period, common equity offerings totaled $19.65 billion, senior debt reached $10.3 billion and preferred equity accounted for $3.56 billion.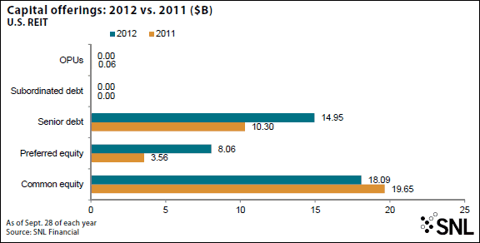 By sector, health care REITs had raised the most capital as of Sept. 28, with $9.59 billion. Retail ranked No. 2, with $8.61 billion.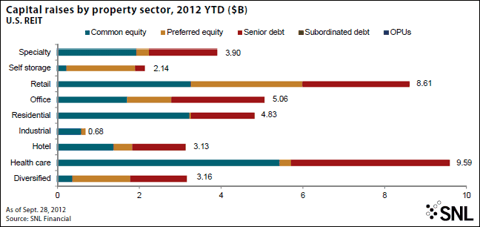 Several companies completed common stock offerings between Sept. 15 and Sept. 28. Health Care REIT Inc. (NYSE:HCN) raised the largest common equity amount during the period, with a $1.67 billion offering completed Sept. 18. The company intends to use the proceeds to repay outstanding indebtedness and for general business purposes.
Simon Property Group (NYSE:SPG) completed the second-largest common stock offering, on Sept. 19, totaling $908.3 million. The offering represented shares sold by a selling stockholder, Melvin Simon Family Enterprises Trust, which sold 5.87 million shares of the company, representative of its direct ownership interest in the company and its operating partnership. Hence, Simon will not receive any proceeds from the offering.
As I wrote in a previous article, Spirit Realty Capital (NYSE:SRC) completed a common equity offering totaling $500.3 million on Sept. 19. It intends to use the net proceeds plus available cash to repay outstanding indebtedness and for general business purposes.
On the preferred equity side, CBL & Associates Properties (NYSE:CBL) completed the only preferred offering between Sept. 15 and Sept. 28, raising $150 million on Sept. 28. It plans to use the net proceeds from the offering to redeem all or a portion of its outstanding series C preferred stock with an aggregate liquidation preference of $115 million.
A Bull Cycle for REITs Investors
In a video clip posted to the NAREIT site, Brad Case, Ph.D., CAIA, points to the industry's record during bull cycles, which he says REITs are currently in. "What we've seen historically is that REITs have had one down month for every two up months, so it's normal to have negative months in a bull market."
In that video, Case was alluding to the less robust September REIT performance measured by the FTSE NAREIT Real Estate Index where REITs lagged behind the broader stock market and were down 0.89 percent, while the S&P was up 2.58 percent. For the first eight months of the year, the FTSE NAREIT All REITs Index was up 18.62 percent and the FTSE NAREIT All Equity REITs Index was up 17.54 percent, compared to the S&P 500's gain of 13.51 percent.
Charles Darwin once said that "in the long history of humankind (and animal kind, too) those who learned to collaborate and improvise most effectively have prevailed." Likewise, REITs have improved drastically since the great recession and they continue to benefit from solid growth, operating, and dividend fundamentals. This outperformance shows that there's anticipation of a more sustainable economic recovery going forward. This bull cycle is best explained by Brad Case, Ph.D., CAIA:
The commercial real estate cycle tends to last around 18 years, including down markets of one to two years. Listed REITs are just 3½ years into the current bull market, and during each of the three previous bull markets their returns averaged more than 20 percent per year. That's because investors benefit both from increased earnings as rent growth and occupancy levels increase, and from larger property holdings as listed REITs outcompete other real estate investment managers for earnings-accretive property acquisitions.
The legendary investor Warren Buffett has said that "Americans are in a cycle of fear which leads to people not wanting to spend and not wanting to make investments, and that leads to more fear. We'll break out of it. It takes time." That time is now and REITs offer SWAN (sleep well at night) investors attractively well-balanced operating platforms and risk-aligned balance sheet fundamentals that are certain to make the bull market investors TAKE CHARGE!
I recommend the following five bull market buys: (ARCP), (NYSE:LSE), (NYSE:HTA), (NASDAQ:ROIC), and (NYSE:STAG). All offering strong dividend yields and accelerated total return opportunity.

Note: HTA listed on June 6, 2012 so its total return includes less than six months of historical performance. I wrote this article on HTA.
Source: NAREIT, SNL Financial, ICSC
Disclosure: I have no positions in any stocks mentioned, and no plans to initiate any positions within the next 72 hours. I wrote this article myself, and it expresses my own opinions. I am not receiving compensation for it (other than from Seeking Alpha). I have no business relationship with any company whose stock is mentioned in this article.