In all likeliness, you have never heard of Alanco Technologies Inc (ALAN). With a dismal chart, minimal market capitalization, and deteriorating financials backing the company there would be little reason for those to inquire further. For the sake of being candid, even upon finding it some many years ago, I never thought I would ever write about this company or even suggest for investors to investigate it further.
However, what caught my eye today was that the company's CEO, Mr. Robert Kauffman, recently made a small and seemingly insignificant purchase of the company's common stock. Found in the recently filed Form 4, Kauffman purchased 20,000 shares at $0.60 per share on October 10 in a transaction valued at a small $12,000. Yet a broader look at the recent insider purchases would show that he's also been steadily acquiring a stronger position over the past year on numerous occasions. From September 2011 to the present day, Kauffman has directly purchased a total of 270,000 shares between $0.60 to $0.72. Altogether, the CEO now holds a total of 615,159 shares according to the aforementioned Form 4. Kauffman was formerly the CEO of Photocomm, Inc (now Kyocera Solar, Inc), which was a well-known public wireless solar company in the 1980's and 1990's.
What makes this all intriguing is that the company is currently valued at an embarrassing market capitalization of $2.76 million with only 5,010,300 shares outstanding as of June 30, 2012. Alanco has also endured a volatile string of events over the past two years. Formerly associated as a struggling company in the radio-frequency identification (RFID) space, Alanco has since been turned upside down as the company sold away its entire business in order to create a fresh start for itself. The ensuing actions were then undertaken to clean up the company's balance sheet and pursue another business model.
In February 2011, Alanco sold its StarTrak subsidiary to ORBCOMM, Inc (ORBC) for $19.7 million. The move would essentially leave the company with $7-8 million in current assets according to the news release above. The company essentially became a holdings company with no long-term debt and several million in cash and cash equivalents.
In April 2012, Alanco announced the formation of a new wholly-owned subsidiary found in Alanco Energy Services, Inc. The company entered into a agreement to purchase a 160 acre parcel that would be used for the disposal of "produced water" generated by natural gas producers in Western Colorado. By June 2012, the company had invested $3.5 million into building out the evaporation ponds and equipment for the Deer Creek water disposal site. Slowly but surely, the company was taking its sales of ORBCOMM stock that it gained through the disinvestment of StarTrak and using it to fund the development of a waste disposal subsidiary.
What now makes the company seem somewhat of a fascination is the new endeavor it's committed itself to venture into. The drilling industry's use of massive amounts of fluids to pump natural gas and oil out of the ground via hydraulic fracturing has led to increased demand in the treatment of the resulting liquids. This "produced water" has become an increasing headache for the drilling industry as the use of hydraulic fracturing has grown exponentially in recent years.
Large drilling companies like Nabors Industries (NBR) and Precision Drilling Corporation (PDS) both have operations surrounding the Grand Junction, Colorado area where Alanco plans to offer its services. It remains very likely that Nabors and Precision are just two such companies who will turn to Alanco's new facility for its produced water disposal needs. According to the company's news release found here, the company's new business will be able to receive the trucks of gas producers within an approximate 100 miles of its disposal sites. The following was mentioned in the same press release:
"AES's produced water business will entail the receipt of truck delivered produced water from gas producers within an approximate 100 mile radius of AES's disposal sites for a per barrel fee in the $3 - $4 range; treatment of the received water to recover and sell the approximate 1-2% of entrained oil; and disposal of the treated water into on-site evaporation ponds. AES's target market is Western Colorado's Piceance Basin production area, with over 12,000 currently active gas wells. In 2010, Piceance Basin gas producers generated in excess of 35 million barrels of produced water, and contracted for off-site disposal of about 15% of that volume."
We see therefore that the company is picking itself off the floor and entering a very unique space inside a growing segment of energy services. One such company that has established itself in this general market of waste recovery and treatment pertaining to the energy sector is a small $2.5 billion company called Clean Harbors, Inc (CLH). From January 2001 to its recent peak in April 2012, Clean Harbors saw its stock price elevate from $0.87 to $68.24, a more than 7800% gain in a little over 10 years time.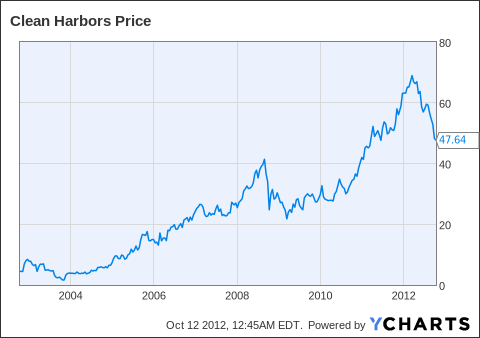 Though a very far comparison from the diversified services of Clean Harbors, Alanco appears to have clearly pressed the reset button on its business model as begins its operations in a growing industry. It remains yet to be seen how well the company will perform in its new market. Yet the company has no debt, has paid for its operations in cash, has an experienced management team, and is now operating in a growing industry. Above all, a consistent string of insider purchases and outstanding options at much higher prices suggest that management has a vested interest in supporting its new subsidiary and the company's shareholders. Offhand, I believe that the evolving situation now permits investors to at least keep this very small company on their monitored watch list.
Disclosure: I have no positions in any stocks mentioned, and no plans to initiate any positions within the next 72 hours. I wrote this article myself, and it expresses my own opinions. I am not receiving compensation for it (other than from Seeking Alpha). I have no business relationship with any company whose stock is mentioned in this article.