Shares of Target Corp (TGT) have steadily returned 16.38% over the past 12 months. At $61.25 per share, the stock is trading very close to its 52-week high of $65.80 just attained recently. I am of the view that the upward price trend will likely continue primarily because the stock is still attractively priced and the current 2.3% dividend yield is safely supported by the firm's robust cash position.
Let me walk you through my analysis.
Target's valuations remain not expensive relative to the company's financial performance (see table below). Comparing to a peer group consisting of Target's primary competitors such as Wal-Mart Stores (NYSE:WMT) and Costco Wholesale (NASDAQ:COST), growth potential seems to be Target's major weakness. Analyst in average predict Target's revenue, EBITDA, and EPS to rise by 2-year CAGR of 6.2%, 2.9%, and 6.9% over the current and next fiscal years, which are significantly below the peer averages of 7.4%, 12.4%, and 13.0%, respectively. In addition, Target's EBITDA margin is forecasted to shrink by 0.7% over the same period, compared to an average expansion of 0.3% for the peers. However, Target has a superior profitability. Except for the firm's ROIC, which is below the peer averages, all of Target's margin and capital return measures are above the peer averages. It should be noted that Target's EBITDA, EBIT, and net profit margins are the highest in the group. Target is more leveraged relative to the peers as suggested by the firm's above-average debt to capitalization and debt to EBITDA ratios. In terms of liquidity, the company's LTM free cash flow margin is below the par, and due to the high debt level, Target's interest coverage ratio at 6.2x is substantially below the peer average of 29.0x. Both the company's current and quick ratios are in line with the averages, reflecting a fairly healthy balance sheet.

Based on the financial comparisons, there should be a valuation discount (i.e. 15% to 20%) for Target to factor in the company's growth weakness. The stock's current valuations at 7.7x LTM EV/EBITDA, 14.0x LTM P/E, and 28.7x LTM EV/FCF represent an average valuation discount of 29% to the peer-average EV/EBITDA, P/E, and EV/FCF multiples (see table above), suggesting that the stock is reasonably valued.
Moreover, Target's valuation also looks not expensive relative to the historical level. Both the stock's LTM EV/EBITDA and LTM P/E multiples are trading fairly in line with their 3-year averages at 7.52x and 14.16x (see charts below), respectively, despite the fact that the revenue growth had increased from 0.6% in FY2010 to 4.2% at present (as of July 2012, on a LTM basis) and the EBITDA margin had improved slightly from 10.2% to 10.5% over the same period.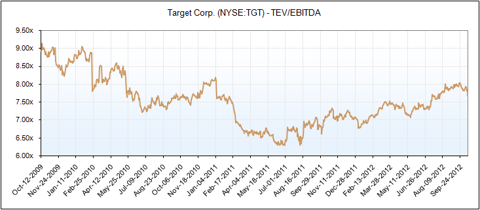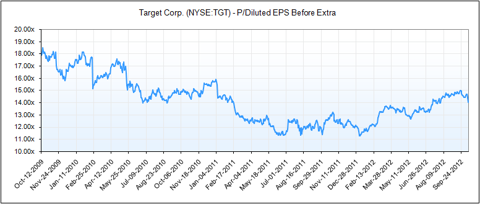 According to Capital IQ, analysts predict Target's long-term earnings growth rate to be 12%, significantly higher than the average 8% growth rate for S&P 500 companies. But over the past 12 months, Target's forward P/E trend has slightly underperformed the valuation trend of the S&P 500 index (see chart below).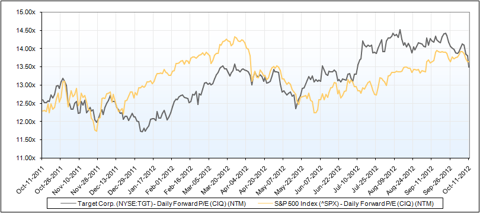 On top of the attractive valuations, Target also offers a decent 2.3% dividend yield, compared to Wal-Mart's 2.1%, Costco's 1.1%, and Whole Foods Market's (NASDAQ:WFM) 0.6%. The yield appears to be sustainable given the firm's quality dividend policy and robust cash position. Over the past decade, dividend per share has been raised steadily by a 10-year CAGR of 17% from $0.23 in FY2002 to $1.10 in FY2012 (see chart below). The dividend growth has sped up recently as reflected by the higher 3-year CAGR of 22% from FY2009 to FY2012, indicating management's strong commitment to return capital to shareholders.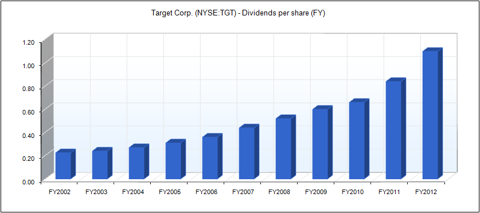 In the past few years, Target's annual dividend paid only represented a small portion of the free cash flow generated (see chart below), implying that there is ample capacity to sustain the current pace of dividend growth. Although the company saw its free cash flow decline after FY2010, the decrease was primarily attributable to the jump in capital expenditure (especially since FY2012) and the operating cash flow had always been stable over that period (see chart below).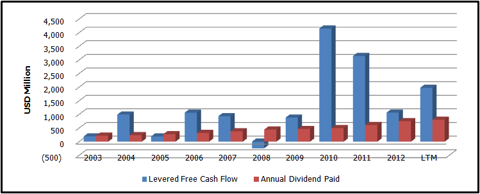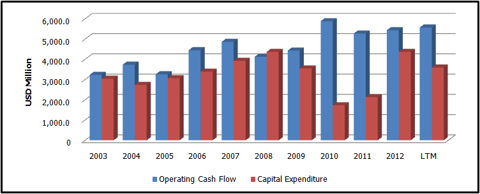 From a technical perspective, the stock's 100-day simple moving average has been a solid support for the upward price trend (see chart below) over the past 12 months. I anticipate that the price support will remain in effect given Target's reasonable valuations and stable trend of the revenue, EBITDA, and EPS estimates (see tables below).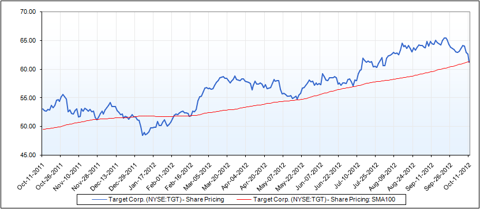 Bottom line, in the light of the favorable valuations and the sustainable 2.3% dividend yield, I believe the stock has sufficient margin of safety that warrants your buy decision.
Comparable analysis table is created by author, all other charts are sourced from Capital IQ, and all financial data is sourced from Morningstar and Capital IQ.
Disclosure: I am long WMT, [[Target]]. I wrote this article myself, and it expresses my own opinions. I am not receiving compensation for it (other than from Seeking Alpha). I have no business relationship with any company whose stock is mentioned in this article.