Chipotle (NYSE:CMG) has recently come under the gaze of David Einhorn, who is short the stock. While the share price has fallen some 10% since Einhorn's public statement [1], the share price looks as if it still has a long way to fall -- that is, if Einhorn is right. Check out Chipotle's recent price history: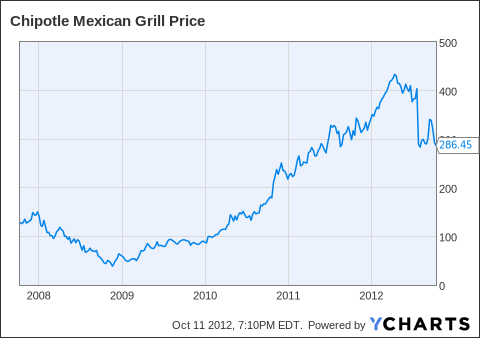 The high share price is in the wake of solid performance by the company: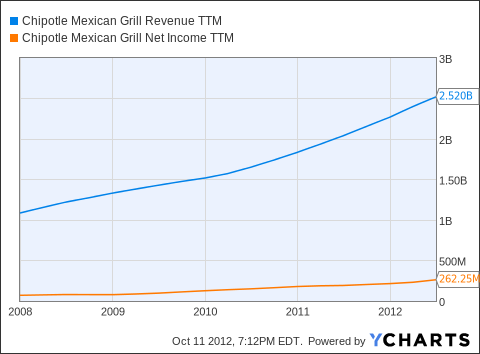 CMG Revenue TTM data by YCharts
The Company
Chipotle's burritos offer buyers a chance to eat meat and vegetables with a good conscience (see Chipotle's "food with integrity" policy). And with its slick store design and socially conscious food supply, Chipotle's business stands out from the crowd. Its historic growth rate has enticed investors and the shares have sold for pretty high prices: a PE of 34 for those who purchased shares yesterday, down from the pricey 57 times earnings Chipotle reached earlier this year.
Some (Possible) Negatives
The company has a variety of things which can count against it: (1) an expensive product, (2) competition from lower-cost providers (Taco Bell [2] has been the stock competitive threat mentioned by commentators), and (3) Chipotle will need to grow its consumer base by gaining customers who may not care about "food with integrity" -- that is, Chipotle's future growth relies on new customers who may not care to pay premium prices for Chipotle's product, even though it enjoys the labels of "organic" and "locally sourced" (not all its products fall under those labels, however).
Also, having grown up in Arizona -- and while being cognizant of the availability heuristic -- Chipotle is a poor and expensive substitute when compared with fast food Mexican restaurants generally (but that could just be a property of being near Mexico).
Most important, however, is that today's share prices are only justified by the growth rate if the company continues to perform admirably. And given that Einhorn has cast a skeptical eye on Chipotle, any performance which does not meet expectations (whether the expectations are justified or not) could cause a steep decline in the share price. For instance, like last quarter -- see this Bloomberg clip.
How Soon Can Chipotle Grow Into Its Valuation?
This company will have to continue executing very well to maintain its current market capitalization. If we defined the average free-cash-flow [3] yield of the DJIA as "fair-value," we can estimate the length of time it will take till Chipotle becomes "fairly-valued." In this case, the average FCF yield of the DJIA is 7.3%. Assuming the following:
FCF grows at the rate of the most recent quarterly sales growth year-over-year, which was 23%.
No change in market capitalization (or "price" in the tables below) -- which means no change in share price or shares outstanding.
Throwing those assumptions in a spread sheet we see (in thousands):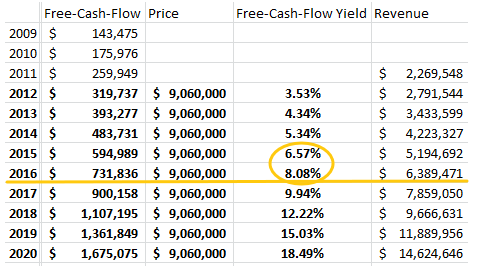 At a 23% growth rate, it would take four years for Chipotle grow into a "fair-valued" range.
But if we assumed that it only grew FCF at a rate of 15%, which would still be good growth, it pushes the date of growing into its valuation back another two years: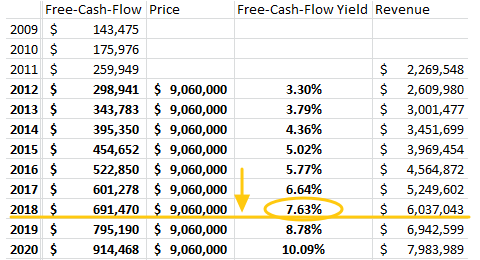 And heaven forbid growth stagnates for a quarter. The point is that while it is possible that Chipotle performs very well over the next four to six years, the likelihood is not large enough to justify a purchase at today's prices.
A purchase today is highly speculative and completely dependent on the corporation growing without a hitch. There is no margin of safety for the buyer at these levels.
Positive Trends and Negative Catalysts
As Chipotle grows larger, labor costs have decreased: down to 23.9% of revenue in 2011, from 25.4% in 2009 [4]. Further, as it grows same-store comparable sales [5] it:
"…enable[s] fixed costs to be spread over a higher sales base."
For example, its occupancy costs declined from 7.5% of sales in 2009 to 6.5% in 2011. Depreciation experienced a similar decline from 4% of revenues to 3.3%. Chipotle continues:
"Conversely, declines in comparable restaurant sales can have a significant adverse effect on profitability due to the loss of the higher profit margins associated with comparable restaurant sales increases." (Chipotle Annual Report 2011, p. 10)
Wall-Street typically reacts very negatively to same-store-sales declines [6] and even a simple decrease in same-store-sales growth could have a sharp impact on share price to the downside. With Einhorn's cloud of caution hanging over the stock, such slowing would almost certainly affect the shares negatively. And such a slowing of growth in the near term is probable by the corporation's own account:
"We expect comparable restaurant sales increases in 2012 to be in the mid-single digits due to difficult comparisons with 2011 and ongoing consumer and economic uncertainty." (Chipotle Annual Report 2011, p. 10)
A decline to 5% comps -- in itself not bad -- could still disproportionately affect the share price.
No Margin Of Safety For Buyers, But What About Short Sellers?
Chipotle's share price of $286.65, with earnings of $8.23 a share, works out to a pricey PE ratio of about 34.7. As I noted above, the share price could be maintained if the company continues to grow at historical rates over the next four to six years.
A short could lose their shirt in a few ways:
The company could continue to perform and thereby it could maintain its valuation multiple causing the price to increase over time.
The company could grow into its share price over the next year years, thereby not changing share price (not a losing position strictly but a loss in opportunity cost).
The company could perform better in the future, which could theoretically justify a higher valuation multiple and share price.
So if someone wished to short the stock, they would have to believe none of those scenarios would come about. From my standpoint, the most likely negative scenario for the short is that Chipotle continues to grow and its share price increases only to maintain its current multiple. And as Chipotle grows in size, it comes increasingly unlikely that the company grows faster in the future than in the past.
For myself, however, I would wait to take a short position when there is a clear catalyst (like bad news). Or, perhaps, if the price increased substantially, a short would look increasingly attractive. With earnings just around the corner (to be released on October 18th), a catalyst might present itself to us in short order.
Conclusion
Going long in Chipotle is not advisable. Taking a short position implies you believe that future growth will be slower than recent historical growth. But, most importantly, one missed "estimate" in earnings could disproportionately affect the shares -- precisely because of Einhorn's shadow.
Notes:
One could can see that Einhorn was short Chipotle from Greenlight Capital's 13F-HR filing dated August 14.
Free-Cash-Flow = Operating Cash Flow - Capital Expenditures
See 2011 Chipotle Annual Report, p. 30.
Comparable same store sales were 8% year-over-year, as of the quarter ending June 30, 2012.
Disclosure: I have no positions in any stocks mentioned, but may initiate a short position in CMG over the next 72 hours. I wrote this article myself, and it expresses my own opinions. I am not receiving compensation for it (other than from Seeking Alpha). I have no business relationship with any company whose stock is mentioned in this article.