The Bearish Case For A Buyout
Current Situation
OCZ Technology (NASDAQ:OCZ) was once a company on fire with growing gross margins, exploding revenue, and vertical integration via its controller chip development and virtualization software. A potential buyout (covered here) by Seagate (NASDAQ:STX) or Western Digital (WDC) was rumored to be in the works. Ah, the good ole days when NAND was cheap and everything seemed to be coming up roses.
Fast forward to a news flash: the company has been burned to a cinder, a suffering prolonged by blundering management and an inopportunely-timed NAND flash supply crisis which lead to higher NAND flash prices.
For whom the bell tolls. OCZ has two choices:
1. Shop the company for a potential buyout preserving its current size or...
2. Begin massive layoffs and attempt to evolve into a smaller, focused company.
The former is far easier than the latter.
Let's examine OCZ in a realistic view. The company is in dire straits and it is imperative to embrace one of the two choices quickly, as OCZ is simply running out of time. While we wish we could list this as the Good, the Bad, and the Ugly, let's just skip to...
The Bad
New to the fire sale, OCZ CEO Ralph Schmitt stated in yesterday's conference call that the previous downward revision cannot be trusted.
The September 5 updated revenue guidance cannot be relied upon. There will be material changes due to customer incentives that were in excess of what was normal and customary in the past.

These incentives will also have a significant impact on our gross margins and will make our loss much larger than was expected. Of course, you should assume that our cash position has also declined and we've accessed our credit facility.
Analyst Andrew Nowinski inquired why gross margins would be affected (author's note: accountants, feel free to explain this in detail)
All right. Then if they're essentially in a rebate program, I guess, why would that impact your gross margin as well? Doesn't that impact your sales and marketing line?
Ralph Schmitt, OCZ CEO:
Yeah. It's a good question. There is - again, because it's not finalized, it's a complexity there that we - will affect both revenue and gross margin line. So it depends on obviously how big those rebates were and the total impact to the whole P&L.
Analysts were predicting -$.03 to -$.25 for this quarter. The company has tapped its line of credit and decreased its cash position. We can assume from the CEO's statements that the net loss will be greater than -.25 per share. We will find out on October 15, 2012 as that is the last day they can file and still be on time according to rule 12b-25 which they used to delay the 10Q.
Interestingly, not many analysts have updated the estimates or downgraded the stock yet. Most likely this is because they have no idea what to expect.
Restatement of Earnings
Concerning the restatement of earnings, Mr. Schmitt said:
Then in regards to your last question (which is in regards to restatement), we currently are still under review process and so far have not had any indication that there will be a restatement.
Not exactly reassuring.
Credit Facility - Can OCZ Keep it?
First and foremost, on the credit facility, we're still discussing the potential impact of these financial results and that's in regards to our bank agreement.
The company is looking to see if the losses will affect the credit facility and if they can keep it or will lose it. On page 47 of the Credit Agreement, it lists the terms that OCZ must meet in order to maintain the Agreement. Per below, they have to have an EBITDA of $600k for the period ending August 31st.
Borrower covenants and agrees that, until termination of all of the Revolver Commitments and payment in full of the Obligations, Borrower will:

(NYSE:A) Minimum EBITDA. At all times during a Covenant Testing Period (including the first and last day thereof) ending on or before May 31, 2013, maintain EBITDA, measured for each period set forth below of at least the amount set forth below opposite such period:

| | | |
| --- | --- | --- |
| | | |
| Applicable Amount | | Applicable Period |
| ($8,900,000) | | 3 month period ended May 31, 2012 |
| $600,000 | | 3 month period ended August 31, 2012 |
| ($1,300,000) | | 3 month period ended November 30, 2012 |
| $1,700,000 | | 3 month period ended February 28, 2013 |
| $3,000,000 | | 3 month period ended May 31, 2013 |
The Ugly: Inventory Write Off
In response to the question about an inventory write off, OCZ's CEO said:
That is something that we're evaluating or have evaluated as well. And there is a good chance that we will be making some adjustments in regards to that.
Which is confirmed again shortly later on by the CEO:
We are in the midst of rationalizing the product line. The company itself has done an amazing job of covering a broad portfolio into almost every market segment that exists. And based on the size of the company, capital structure of the company, that's just an impossibility. So, clearly the most commoditized areas, what's called sort of the valued part of the product portfolio, and we'll be migrating more and more away from that and more into the high-end of both the client market and then obviously driving more into the enterprise market as well.
We fully expect to see OCZ narrow its focus and engineering assets to just a few lines (writing off or discounting lines per the above) rather than going up against the NAND manufacturers, like Micron (NASDAQ:MU), in markets that it cannot possibly win in the long run on a price basis alone.
Lawsuits
Expect to see a flurry of lawsuits once earnings are announced. Having spoken to a law firm, we were informed that typically a case takes 2-3 years to resolve with a 50% success rate. Principal recovered is on average 50%. Currently four lawsuits exist (two here and here) that are claiming that the CEO and CFO made misleading statements. Interestingly enough, the CFO was not in yesterday's call. We can only speculate as to why.
(click to enlarge) - Source Pacer legal system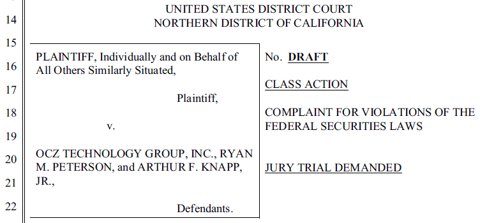 Finances
The company has $43.23 Million in cash and $95.96 Million in liabilities. Knowing that the cash position will be down as well as the line of credit tapped, we can assume the company is going to be in a jam financially. Suppliers will demand faster payment and will offer less generous terms due to the increased risk associated with OCZ.
Headcount
As of Feb 29, 2012, the company had 708 employees. That is far too large for a company that is taking losses like OCZ.
Option 1. Given all the negativity above, the company needs to sell out to a large player that can support and fund the company. The company still has some assets which are valuable such as: its controller chip Barefoot 3, virtualization division, patents, hybrid technology, and its very small-but-growing enterprise solutions.
The company still does not have insiders buying or selling due to what can be perceived as a quiet period. Granted, the recent financial snafu will certainly make any potential acquirer wait until the numbers are aired out before making any moves. OCZ simply has to sell out in order to survive in its current form or...
Option 2. Initiate massive layoffs reducing its current 708+ employees to something in line with its future cash position and sales. OCZ simply cannot afford to keep burning through cash. OCZ's consumer side is bleeding money and the enterprise segment is too small to support the company if it were to try a gradual transformation into a Fusion-io (NYSE:FIO) want-to-be.
Conclusion
OCZ has some very tough times ahead for it. If you just have to be long in OCZ, then we would suggest you buy some calls to limit your capital risk. This would still allow you to catch any positive developments while avoiding further huge capital losses.
We will watch from the sidelines until earnings are announced, inventory written off, and any accounting issues are resolved.
Disclosure: I am long OCZ. I wrote this article myself, and it expresses my own opinions. I am not receiving compensation for it (other than from Seeking Alpha). I have no business relationship with any company whose stock is mentioned in this article.
Additional disclosure: I no longer own OCZ stock but I do have some $5 strike LEAPS left over.