After announcing a blowout quarter, JPMorgan Chase (NYSE:JPM) is still trading at a discount to its book value as trade opened today.
Still, it has recovered significantly from September 2011, when it was trading at about 67% of book. The figure is now about 87%. If the company were to reach book value, it would be 13% higher than it closed yesterday, or about $47/share.
Click to enlarge image.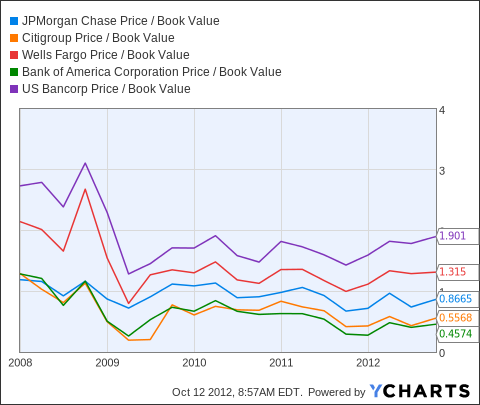 In normal times, big banks, which hold the most capital, trade at large premiums above their book value. The bailout and the great recession hit the biggest banks hard in the minds of traders, so JPM's recovery on this metric is significant. Although it's nothing like that of Wells Fargo (NYSE:WFC), which now trades at 1.37 times book. Or U.S. Bank (NYSE:USB), which is now at 1.9 times book.
The ratio of price-to-book value is the best metric I know for judging the market's view of a bank's management and its asset strength. If you're not worth your book value, the markets are telling you they think you're worth more dead than alive.
That's been the sentiment here on Seeking Alpha, as I've read it, since the 2008 bailout. There is a passionate hatred and distrust of the big banks. While that is gradually fading in some cases -- like Wells Fargo -- it still remains the case regarding JPMorgan, Citicorp (NYSE:C) (trading at 55.6% of book), and Bank of America (NYSE:BAC) (trading at 45.6% of book). There are reasons other than management for some of the biggest discounts, asset quality being one. But I still think it makes a good proxy for investor sentiment.
It's not "all good" at JPM yet. There are reports that the London Whale investigation will lead to criminal indictments. But CEO Jaime Dimon and his team seem isolated from that direct threat, according to an American Banker analysis of the headlines, and barring something like that the bank should be measured by more conventional means.
A sustainable economic recovery begins with a recovery in the price/book ratio of its biggest banks, and I think if JPM can get a pop to near $47 we will have one. In other words, Morgan's fate in the eyes of the investor world is becoming a proxy for investor sentiment about the economy as a whole.
Disclosure: I have no positions in any stocks mentioned, and no plans to initiate any positions within the next 72 hours. I wrote this article myself, and it expresses my own opinions. I am not receiving compensation for it (other than from Seeking Alpha). I have no business relationship with any company whose stock is mentioned in this article.