As winter heating season begins natural gas producer Chesapeake Energy (NYSE:CHK) is well positioned for gains. Chesapeake is America's number two producer of natural gas behind Exxon Mobil (NYSE:XOM). Unlike Exxon Mobil, nearly 80% of Chesapeake's reserves are natural gas. If natural gas hovers in the $4-5 range throughout the winter heating season, as expected, Chesapeake is currently undervalued, despite a 4% run up on Thursday.
Storage overflow fears were overblown
Voluntary price related shut-ins have successfully shrunk the supply overhang. They were, in fact, a little too successful according to the Energy Information Administration's latest natural gas storage report. Working gas in storage rose just 72 Bcf to 3.73 trillion cubic feet during the week ending October 5th. That is just a 6.8% increase from the same week one year ago and 7.8% higher than the 5-year average for this time of year.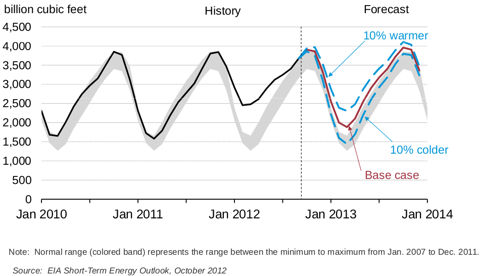 Storage levels will remain either high or at record highs.
Earlier this year working gas in underground storage was so far above the 5-year average that fears of a storage overflow helped drive natural gas spot prices to below $2 dollars. As a result gas producers like Chesapeake and Devon (NYSE:DVN) saw their share prices plummet. Further corporate governance concerns regarding former chairman, Aubrey McClendon surfacing in late spring of this year did little to help Chesapeake's share prices.
Retired ConocoPhillips (NYSE:COP) CEO Archie Dunham, was brought in as Independent Non-Executive Chairman of the Board of Chesapeake Energy Corp. to clean up McClendon's mess and restore confidence in the oil and gas driller. Chesapeake is well off its lows, but still undervalued given the current outlook for natural gas prices over the winter heating season. Dunham and other insiders must feel the same. On September 17th he purchased 68,100 shares in Chesapeake at $20 per share on the open market. More than 125,000 shares have been purchased by Chesapeake insiders over the last 6 months.
Natural gas prices could hit $5 per MMBtu this winter
This year's winter heating season is expected to be much colder than last, but still below the thirty-year average according to the National Oceanic and Atmospheric Administration. Analysts at Morgan Stanley (NYSE:MS) expect gas prices to reach $4.20 between November and March. According to the EIA Short-Term energy outlook NYMEX Henry Hub futures should approach $4 during the peak of the winter heating season and steadily rise to above 4 at the end of 2013. If this winter is even colder than predicted natural gas futures could break the $5 barrier before the end of the year.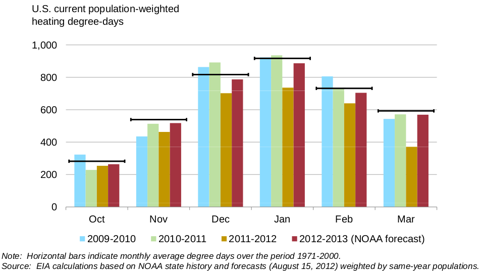 Winter weather scenarios
Natural gas futures traders and producers will have their eyes glued to the weatherman this year. Commodities traders are still feeling the sting caused by last year's unusually warm winter. If temperatures this winter are 10% colder than expected, natural gas inventories will fall within, not below, 5-year averages. Despite a near record low natural gas drilling rig count, even an unusually cold winter won't put a serious dent in inventories due to increasing rig effectiveness.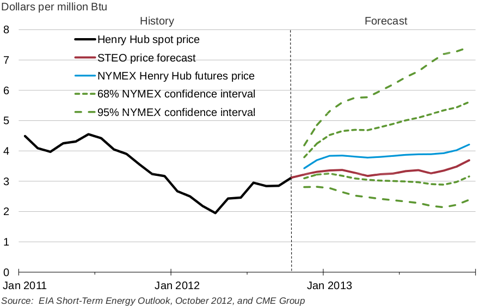 The U.S. winter 2012-13 heating season forecast is about 2% warmer than the 30-year average, but 18% colder than last winter
A winter as warm as last year's is unexpected, but unexpected weather has become the norm this decade. Despite NOAA projections, I wouldn't rule out a warmer than expected winter. According to EIA predictions a winter 10% warmer than normal would be followed by another storage glut similar to this year's. If this winter is warmer than projected, expect the United States Natural Gas Fund (NYSEARCA:UNG) to give back the gains it has made since the EIA reported lower than expected gas inventories on Thursday.
Chesapeake best positioned to gain from cold winter
The current top 5 natural gas producers according to the Natural Gas Supply Association are Exxon Mobil, Chesapeake Energy, Anadarko (NYSE:APC), Devon Energy, and BP (NYSE:BP). Among these five, as of Q2 2012 Chesapeake attributed more of its earnings to natural gas than any other. It's unusually high concentration of natural gas reserves is the main reason I believe it is the company best positioned to gain from the current rally in natural gas, and the long term.
In the longer term I expect vehicle fuel to drive domestic demand for natural gas as companies like Clean Energy Fuels (NASDAQ:CLNE) add natural gas refueling infrastructure to US highways. Chesapeake is also investing in fueling infrastructure to boost natural gas demand in partnerships with Clean Energy and Giant Eagle. Recently Chesapeake has also partnered with General Electric (NYSE:GE) to manufacture natural gas compressors that will allow consumers to refuel their NGVs in their own garage. Temporary dips aside, Chesapeake will benefit from increased demand for natural gas that will be sustained throughout the entire year, not only during winter heating months.
Disclosure: I am long CHK. I wrote this article myself, and it expresses my own opinions. I am not receiving compensation for it (other than from Seeking Alpha). I have no business relationship with any company whose stock is mentioned in this article.