Apache (NYSE:APA) has shown an impressive performance as of late, having raised its oil production to new heights of 774 MBoe/d, and having increased its international gas production by 100 million cubic feet per day, over the course of the last year. Despite the increase in production, its Q2 earnings of $2.07 missed the Street's estimates by $0.5 per share, due to the decline in gas prices in the United States. In our opinion, the increasing demand for natural gas in the U.S. will release the lower pricing pressure and enable the company to utilize its resources to make use of the increasing demand in the future. Moreover, the continuous increase in rig count, increasing momentum of growth in the Permian Basin, the transition towards horizontal drilling, and an improvement in vertical drilling in midland Dead Wood, will all boost the growth when natural gas prices rebound. The company enjoys strong operating and gross margins as compared to its competitors, due to its operational efficiencies. The management expects production growth to be between 6%-9%, per year, for the next 5 years. The growth will be driven from the Permian Basin and the Central Region. Both these regions posted better than expected results, and have a high capacity to drive organic growth for the company. The stock is trading at a price of 8.2x to its forward earnings, at a discount when compared to the industry average. Therefore, we are bullish on the stock.
Company Overview
Apache is engaged in the exploration, development and production of natural gas, natural gas liquids, and crude oil. Its business operations of production and exploration are being conducted in six countries; United States, Australia, Argentina, Egypt, United Kingdom and Canada. In North America, its operations are being overseen in the Gulf Coast, Permian Basin, Western Canada, and Central United States.
Industry Overview and Growth Catalyst
Natural gas prices have significantly declined over the last two years. Currently, prices are near $3 per thousand cubic feet; they were previously at $4.5 per thousand cubic feet two years ago. The main reason behind the considerable increase in natural gas production is the discovery of hydraulic fracturing. It is further expected to increase by around 40% by 2020. The increase in supply does not match demand for natural gas. Thousands of unconventional wells have been developed due to directional drilling and hydraulic fracturing.
Household consumers, chemical companies, and all those manufacturers who are dependent on natural gas will benefit from the fuel's low cost and abundant supply for the foreseeable future. It is likely that gas prices might go up in the coming period due to an increase in demand. Manufacturers are opting for gas-powered plants and machinery in order to achieve cost efficiencies. Moreover, because of its low cost, natural gas will also be used in extraction of crude oil from the Canadian oil sands.
Energy specialists are anticipating an increase in future gas demand. The additional gas will be utilized in the power sector to replace coal-based power plants. Natural gas is the only source that could help generate cheap electricity; at around 6 cents per kilowatt-hour. This rate is 20% lower than new coal, nuclear energy, and other alternative energy sources.
The U.S. government is expected to export natural gas in order to take advantage of price discrepancies in various regions. In North America, the price of natural gas is $3 per thousand cubic feet as compared to $15 and $10 per thousand cubic feet in Asia and Europe, respectively. Therefore, there is a great potential for arbitrage and leveling out demand and supply.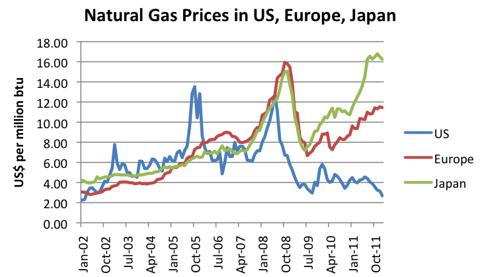 Source: Ourfiniteworld.com
Inorganic Growth
APA has decided to achieve growth through inorganic channels, alongside the organic channels. It has recently acquired Exxon Mobil (NYSE:XOM)'s Beryl field and other properties in the North Sea region. Apache Energy Limited has acquired 49% of Burrup Holdings Limited (NYSE:BHL)'s equity. Its YTD acquisition expenditure increased to $3,357 million in 2012 from $95 million in 2011.
Growth Through Organic Channels
Apache has brought an improvement in the Permian Basin volumes, which have increased considerably to 104.5 MBoe/d, up by 5% from the first quarter. The company has substantially raised its rig count by 38% in the Permian Basin. This improvement is driven by increases of 3.7 MBoe/d in natural gas liquids and 1 MBoe/d in oil. Furthermore, it has planned to add six horizontal rig counts in the region. The company has also shown impressive results in Granite Wash, with 1,625 Boe/d in the last quarter. Apache's rig count has also considerably increased from 19 to 24 in the Central Region. APA has announced that it will start drilling in offshore wells in Kenya as well.
Financial Analysis
Despite its earnings of $2.07 per share, APA missed the Street's estimates of $2.53 per share. Its production rose by 3.5% YoY and 0.7% QoQ. The major reason for missing the estimates was the company writing down $480 million on its Canadian assets. The company has posted EPS of $3.17 in the second quarter of 2011. The impact of its higher production was offset by the lower oil and gas prices, reflected in its decreased earnings. Exploration and development spending rose by 23% YTD from 2011 to 2012.
Direct Competitor Comparison

Apache

Anadarko Petroleum (NYSE:APC)

Newfield Exploration (NYSE:NFX)

ConocoPhillips (NYSE:COP)

Market Cap:

$34.96B

$36.41B

$4.45B

$70.06B

Gross Margin (NYSE:TTM):

84%

80%

68%

22%

Operating Margin :

46%

11%

40%

9%
Source: Yahoo Finance
Due to the company's operational efficiencies, it has posted strong gross and operating margins of 84% and 46%, respectively, which are much higher than those of its competitors - Anadarko Petroleum, Newfield Exploration and ConocoPhillips.
Price Appreciation

Source: Google finance
The stock is almost flat in the last 3 months. Its 50-day and 200-day moving averages are $87.9 and $89.8, respectively. APA has found 67,000 drillable locations in the United States, and the management has decided to commence drilling in this liquid-rich land. The impact of these drillings on the stock price appreciation will be significant.
Valuations
| | | | | |
| --- | --- | --- | --- | --- |
| | Apache | Anadarko Petroleum | Newfield Exploration | ConocoPhillips |
| P/S : | 2.1x | 2.71x | 1.74x | 0.3x |
| Forward P/E | 8.29x | 16.97x | 10.67x | 10.13x |
| EV/EBITDA | 3.58x | 6.14x | 3.87x | 3.21x |
Source: Yahoo Finance
The stock is currently trading at forward P/E of 8.2x, at a discount when compared to 16.9x, 10.6x and 10.1x for Anadarko Petroleum, Newfield Exploration and ConocoPhillips, respectively. Its EV/EBITDA is 3.5x as compared to 6.14x and 3.8x for Anadarko Petroleum and Newfield Exploration, respectively. However, it is trading at a premium when compared to its competitor ConocoPhillips Enterprise's EV/EBITDA of 3.2x.
Conclusion
The company has strong growth prospects and is trading at cheap valuations. We advise investors to take a long position in the stock based on management's estimated projected annual growth rate of around 5-9% for the next 5 years and the transition towards horizontal drilling. The lucrative projects of thePermian Basin and central region are expected to bring substantial amount of growth for the company. Because of its high exposure to natural gas, the stock will benefit from a reversal in natural gas prices.
Disclosure: I have no positions in any stocks mentioned, and no plans to initiate any positions within the next 72 hours.
Business relationship disclosure: The article has been written by Qineqt's Energy Analyst. Qineqt is not receiving compensation for it (other than from Seeking Alpha). Qineqt has no business relationship with any company whose stock is mentioned in this article.