A bond is a debt instrument and a stock is an equity instrument. Before an investor buys a bond at par he should ask "What can go wrong?" If everything goes right he will only get back his principal on the bond's maturity date. But if things go wrong he will be stuck with a loss so he must avoid risk. With a stock it's different and when determining its suitability as an investment the investor should ask "What can go right?" It is the successful assumption of risk that produces significant investment gains. To improve my chances for success due diligence dictates that I rely on both fundamental and technical analysis; the former tells me what to buy and the later tells me when to buy or sell it. Neither discipline can provide all of the answers for picking winners in the stock market; but the two together can be better than either alone.
Fundamentally, what can go right?
PetroLogistics (NYSE:PDH) is a MLP and it operates the only propane dehydrogenation plant in the U.S. currently producing propylene from propane. Propylene is one of the basic building blocks for petrochemicals used in the production of a wide variety of end uses including paints, coatings, building materials, clothing, automotive parts, packaging and various other consumer and industrial products. The company is the only independent, dedicated "on-purpose" propylene producer in North America. It is strategically located in the vicinity of the Houston Ship Channel and within 50 miles of approximately one-half of all U.S. propylene consumption; and it has easy access to the leading global fractionation and storage hub for propane located at Mt. Belvieu, Texas. That area has the heaviest concentration of petrochemical and refining complexes in the world and provides PDH with unparalleled access and connectivity to both customers and feedstock suppliers. Its plant has an annual production capacity of approximately 1.4 billion pounds of propylene. It commenced operations in October 2010 and, after a year-long start-up and plant optimization phase, achieved production rates at or near capacity beginning in December 2011. Expansion of its plant's capacity is being planned for nearby years.
There is a transformational change taking place in the way that the market for propylene is supplied. Until recently, much of the propylene produced was a "by-product" of steam crackers while refining crude oil. With lower ethane prices resulting from exploration for and development of shale gas reserves, the ethane-fed steam crackers got a feedstock advantage over their naphtha-fed counterparts. That change put naphtha-fed steam crackers at a disadvantage and many of them shut down or revamped their operations to use ethane as feedstock. Since the propylene output from ethane-fed crackers was negligible, the decline in propylene supply resulted in a tight propylene market. That created a need for new and lower-cost chemical processes for "on-purpose" propylene production technologies such as propane dehydrogenation. PetroLogistics was the first company to use the new technology to bring a plant on line and other companies will be doing so during 2015-2018. And like PDH, they too will have to go through a long process of start-up and optimization.
Since PDH is in the business of converting propane into propylene (and a few other chemicals) which it sells to petrochemical and chemical companies, the spread between the price paid for propane (its only feedstock) and price received for propylene is the major determinant of the company's profitability; other determinants are (1) its propane-to-propylene conversion ratio (it takes about 1.2 pounds of propane to make one pound of propylene; one gallon of propane yields about 4.2 pounds of propylene) and (2) its plant utilization rate (downtime occurs because of planned or unplanned maintenance requirements).
Management does not expect to initiate a major maintenance project until the second half of 2013, at which time the most significant activity will be change-out of the reactor catalyst; that takes about four weeks to complete and is required approximately every three years. A more substantial maintenance project will be required about every nine years and will include replacement of the reactor catalyst and overhauls of selected pieces of equipment; that will take about six weeks to complete. Major maintenance projects are expensive propositions and additions to a maintenance reserve are charged against quarterly operating results.
The price spread between propane and propylene largely determines the company's gross operating margin and is the key driver of profitability. Propylene, which accounts for nearly all of its sales, is a commodity and its price can be cyclical and volatile due to a number of factors, including general economic conditions, cyclical trends in end-user markets and supply and demand imbalances. The customers currently under propylene sales contracts (Dow Chemical (NYSE:DOW), Total (NYSE:TOT), BASF (OTCQX:BASFY), and LyondellBasell (NYSE:LYB)) each pay market-based prices for propylene; those contracts expire in 2012-2018. One vendor supplies 100% of PDH's required propane feedstock volume under a multi-year contract at market-based prices; that expires in 2015.
Being competitive in a commodity based market is critical for a company like PDH. So it is worth noting that (1) it has a production facility based upon state of the art technology. (2) Its strategic location gives it obvious logistical advantages. And (3) management had the foresight to recognize a business opportunity and now it will be up to management to exploit its advantage and deliver favorable operating results while growing the company. Hence, the company has well defined potential to prosper.
The company's start-up phase is over. It is now solidly profitable and paying dividends to its shareholders. Operating results for Q3 will be released on October 24 and I expect them to be pretty good. Regarding the dividend, a stub of 26 cents per share was paid for Q2 whereas the dividend policy would have permitted 45 cents for the full quarter. Yahoo (NASDAQ:YHOO) and AOL (NYSE:AOL) have the annual rate pegged at $1.04 but it may be $1.80 or somewhere in between. I think the annualized rate will be closer to the $1.80 than the $1.04. We won't know for sure until the dividend is declared. But we do know that the company proved it has the potential to distribute sizable sums (45 cents per share in Q2) to its shareholders. That in itself provides part of the answer to the "what-can-go-right" question that I am addressing.
Technically, what can go right?
Let's look at the chart I constructed from data in my workbook: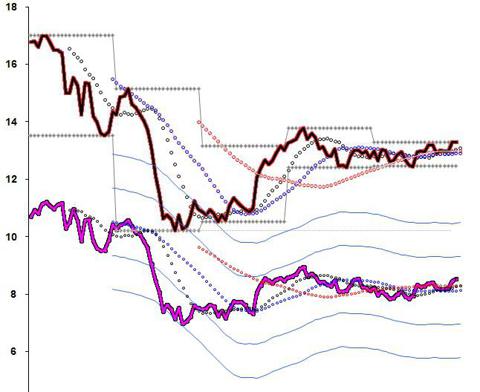 (1) The bold black line on top is price and the bold pink line below it is relative strength. (2) The dotted lines are moving averages and there is a set of those for price and a similar set for relative strength; they are used to define trends and reversals. (3) The five sets of gray parallel lines that frame the stock's price action are 22-day trading ranges and their progression shows how the trading range shifted during the 110 days charted. And (4) the four wavy blue lines that straddle relative strength are Bollinger Bands and they are used to detect overbought or oversold situations. Any one of the items listed as (2) to (4) is independent of the other two and could be cited as a valid technical indicator for buying or selling the stock.
PDH swooned after the IPO at 17 to about 10 where it bottomed (note what happened when the relative strength line touched the lowest Bollinger Band on the bottom chart to indicate an oversold situation). The stock then stabilized by moving sideways before showing positive price and relative strength reversals some 44 days ago (oftentimes the two don't reverse at the same time and it's important to know when a divergence occurs, and which leads the other). During the past 22 days the relative strength wasn't great but it wasn't bad either, it was neutral. On the price chart the most recent 22-day trading range was in the middle of the range indicated for the previous 22 days. So the recent price action was also neutral. (If the "recent" had shifted upward like the "previous" did from the "prior" 22-day period, the recent price action would have been bullish; downward, bearish.) The stock has a short history so I don't really know what its real beta is. But I think that the narrow trading range of the past 22 days will not continue much longer. I recently bought a small position in PDH. If the price drops below $12.04 that will indicate that the trading range broke to the downside and I made a mistake; therefore I should (1) cut my losses short or (2) hold on and collect the dividend. (With the stock currently priced at $13.10 and assuming I collected $1.80 in dividends over the course of a year, the dividend could offset any losses down to a stock price of $11.30.) But if it breaks $13.79 on the upside I made a good call because the trading range broke to the upside; therefore I should let my profits run while collecting the dividend.
Having studied the chart, I am now ready to answer the "what-can-go- right" question: The either-or situation I just described about a trading range breakout looks like it's a win-win situation because the thing that can go right for the stock would be very good while the thing that can go wrong (while disappointing) would be no worse than minimal. Therefore, I use it as my reason to rate the stock a "qualified buy" at this time; the qualification is that the buyer should decide in advance that he likes the company's fundamentals enough so that he is willing to retain the stock in his portfolio, collect the dividend, and be willing to buy additional shares when technical analysis shows that a positive reversal of trend is underway. Technical analysis is a continuous process and the trading range is what I will concentrate on until I find it necessary to switch emphasis to trend analysis. "If" I am fortunate and the trading range shifts upward, the price and/or relative strength lines will strengthen and, therefore, my focus would switch to trend analysis as defined by the moving averages (but right now such thoughts are merely wishful thinking because I can't cross that bridge until I come to it). The stock is thinly traded so buyers should use "limit" not "market" orders.
I am inclined to be a buyer of additional shares in coming days. I never render an opinion about a target price because (1) I let Mr. Market (aka the investment community) do what he alone can do with regard to price action (and he himself doesn't know what he can do until he does it) and (2) I use technical analysis to determine my exit point just as I used it (with a big assist from fundamental analysis) to determine my entry point. I am as interested in getting high returns on my investments as anybody else and I'm willing to let Mr. Market be as bountiful as he can be. I will post progress reports as needed until the time I write a sell recommendation and close out my position.
Disclosure: I am long PDH. I wrote this article myself, and it expresses my own opinions. I am not receiving compensation for it (other than from Seeking Alpha). I have no business relationship with any company whose stock is mentioned in this article.