P.H. Glatfelter (NYSE:GLT) is a global supplier of specialty paper and engineering products that has a long history of success, dating back as far as 1864 when it was originally founded in south central Pennsylvania. GLT was later incorporated in 1906, and today is headquartered in York, Penn. This article outlines the history behind GLT's fundamentals and allows you to understand why a company can consistently provide investors year after year with a strong dividend that they can rely on.
Strong History of Survival
Taken directly from FundingUniverse.com:
In 1928, just a year before the great stock market crash, annual production at P.H. Glatfelter Company had reached 50 million pounds, and the number of employees stood at 300. That year, in keeping with the company's policy of "maintaining a modern, efficient mill," P.H. Glatfelter II, William's son, introduced a new, ten-year modernization program, which included the installation of an even larger, 190-inch fourdrinier machine. As a result, the outlook for the company seemed especially bright, but just two years later conditions noticeably changed for the worse. By 1930 the country was quickly falling into an economic crisis, and sales at P.H. Glatfelter Company and other paper concerns were plummeting. William Glatfelter, moreover, unexpectedly died in April. Unlike many other firms, P.H. Glatfelter Company managed to survive the Great Depression of the 1930s, and its new president, P.H. Glatfelter II, was even able to complete his modernization program, at a cost of some $2 million. As part of this program, one of the company's pulp mills was refurbished, and its capacity was doubled. When the economy picked up again during World War II, P.H. Glatfelter Company added, among other improvements, new equipment for bleaching paper.
Since then, GLT has expanded tremendously, not only in the United States but globally as well. For example, in 1998 GLT acquired Scholler & Hoesch Group, which is a company based out of Germany that specializes in the engineering design process and manufacturing of specialty papers. Today, GLT has transformed operations into three business units that are each responsible for a different set of products, including:
Specialty Papers: These products are carbon less papers and foams, book publishing, envelope and converting papers, and fiber-based engineering products.
Composite Fibers: These products consist of single-serve coffee and tea filtration papers, metalizing papers, composite laminates, and various technical papers.
Advanced Airlaid Materials: This material is a specialty non-woven fabric that is commonly used in products such as feminine hygiene products, adult incontinence products, cleaning pads, wipes, food pads, napkins, tablecloths, and baby wipes.
For further information covering GLT's full line of specialty products, please visit GLT's website.
Given GLT's area of specialty, it is common for individuals to be concerned about the environment. To comply with regulations in today's regulatory environment and to satisfy customers as well as shareholders, GLT has acquired the ISO 14000 Environmental Management certification. The certification is the international standard that outlines the planning and operational elements of an Environmental Management System (EMS) and requirements for review and improvement. Figure 1 below represents a diagram from GLT's website that outlines the facilities that are certified.
Figure 1: ISO 14000 Certified Facilities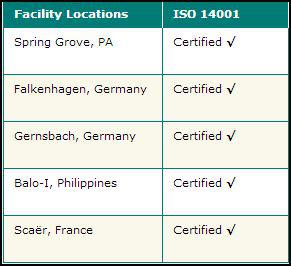 GLT has an extremely wide customer base. Through an efficient supply chain management it is capable of distributing products around the entire world. Its products are made easily accessible for businesses in the United States, as well as around the globe.
2:1 Split in 1992, Solid Dividend Ever Since
On May 14, 1992, GLT split 2:1 and shortly after distributed the first dividend to shareholders on Jan. 11, 1993. As you can see in Figure 2 below, GLT has consistently paid a dividend ever since. The first dividend was an annual dividend of 70 cents (17.5 cents per quarter).
Figure 2: GLT Dividend Distribution Graph
Click to enlarge images.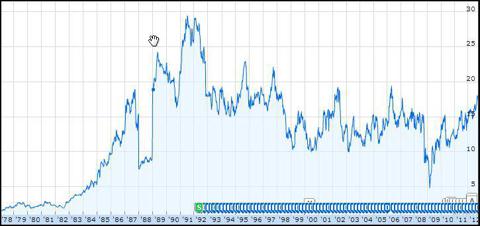 The only changes made to this cash distribution occurred in October 2003, when management decided to reduce the dividend to 36 cents annually (9 cents per quarter). Because of this steady dividend pattern, it is evident that institutional investors had made note of this judging by their holdings -- institutional investors hold roughly 93% of GLT's shares outstanding.
Backed by Strong Performance
Figure 3: GLT's Yield Vs. Competitors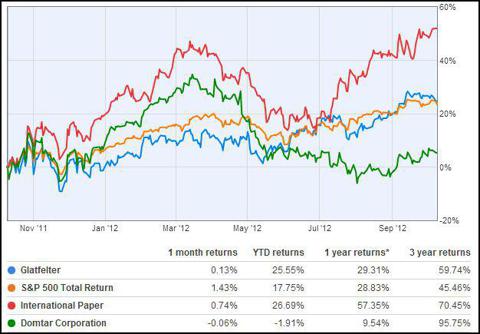 Looking at Figure 2, you can see that overall GLT has outperformed the S&P 500. It has a very favorable three-year return of approximately 59.74% compared to the S&P 500, which only yielded 45.46% over that same three-year period. GLT has consistently provided investors with a steady return on their investment in addition to a steady dividend yield.
Figure 4: GLT Earnings Vs. Dividend Yield

In Figure 4, you will notice the dividend yield remains very steady, given the company has not changed the dividend at all in the time period shown in this graph. However, with a significant increase in earnings, management did not increase the dividend yield. Down the road, as GLT excels and continues to generate returns that outperform the S&P 500, an increase in GLT's dividend is something to watch out for.
Conclusion
GLT's has a strong business model that is backed by a long history of success. In addition, it has provided investors with a significant return on their investment as well as a very solid stream of dividends year after year. Institutional investors have evidently realized this steady source of fixed income, and with the demand for GLT's products, this stream of income is only going to continue.
Data sourced from YCharts, FinViz, Google Finance, Yahoo Finance, and GLT's website.
Disclosure: I have no positions in any stocks mentioned, but may initiate a long position in GLT over the next 72 hours. I wrote this article myself, and it expresses my own opinions. I am not receiving compensation for it (other than from Seeking Alpha). I have no business relationship with any company whose stock is mentioned in this article.