The 3Q2012 releases for the big banks are upon us, and the accounting is still a frightening prospect. Among the ghouls and goblins and zombies, you can expect the following:
Haunted by litigation and putbacks, the banks will take hits well beyond the levels reserved.
Zombie legacy accounting, particularly DVA (and CVA) appear in all financials
Ghosts of acquisitions past continue to generate hits, as revaluation or sale occurs
Witches from legacy impairment choices appear as good witches or bad witches - all material.
Goblins from losses or gains in OTTI and OCI still spook anyone who just looks at earnings
New gremlins constantly appear from crop insurance losses to expenses related to charities
The demon of TruPs redemption, and related swap transactions now appears regularly.
The Halloween season gets scarier, since many of these accounting 'tricks' have been carried (often not mentioned in the notes) as if they were 'treats'. Add in the large potential effect of DTA (now declared a Zombie by FASB), and the fact that many accounting items offset, and it is obvious that stated earnings may be misleading, particularly for analysis.
Accounting demons are widespread, systemic, and material; making valuation (for investment or for risk) problematic or require massive efforts for analysis. Add three elements; 1) the items mentioned above and below are but a few of many, 2) the volume of the 10Q's has become prohibitive, and 3) there are still many activities that remain opaque. Note: all items have a 'b' =billions of USD. The data for prior periods for Bank of America (BAC), Citigroup (C), JPMorgan Chase (JPM), PNC Financial (PNC), SunTrust Banks (STI), and Wells Fargo (WFC) have similar items.

The potential confusion is compounded by the fact that so many of the extraordinary items offset. There is little comparability from period to period and company to company in methodology or transparency. Comparative analysis becomes a quest for 'core earnings' and their drivers.
For practitioners watching banks there was always the folklore of 'do the work' when quarterlies were released. Whatever methodology you used, you had to sort through the financial statements and compare period to period and across the peer groups with a sum-of-the-parts approach. It is clear that these material items must be stripped out, but how to manage comparability becomes a question. There is also the issue of work load. The massive bulk of most 10Q's exceed 600 pages and the reporting remains spotty if not altogether opaque in many areas. Each name has its own unique accounting nuance. Wells Fargo is one example, where the revenue recognition has assumed an extreme posture - similar to Apple (NASDAQ:AAPL) - or the large banks booking investment banking business in OCI and not revenue. The deeper a non-CPA wanders into this haunted house the spookier it becomes.
For individuals, the task is daunting. For equity and risk analysts consistent data appear from established teams (thank you all). I note an increase in 'dropping coverage' notifications for F.I.'s.
Halloween comes and goes, but the continued complexities remain and compound. FASB is eliminating DVA, but not soon enough. IASB (for better or worse) has been pushed further down the road. The bank culture still seeks every small esoteric advantage possible. Are there any voices for simplification?
For readers who have not roamed the haunted house of bank financials, a selection of detail is presented below. For those of you on teams in the analysis community, please keep trying and sort through our trick or treat bags in case there are dangerous items.
Note: Some initial scary details are anticipated in 3Q2012 bank financials, and I'm still looking: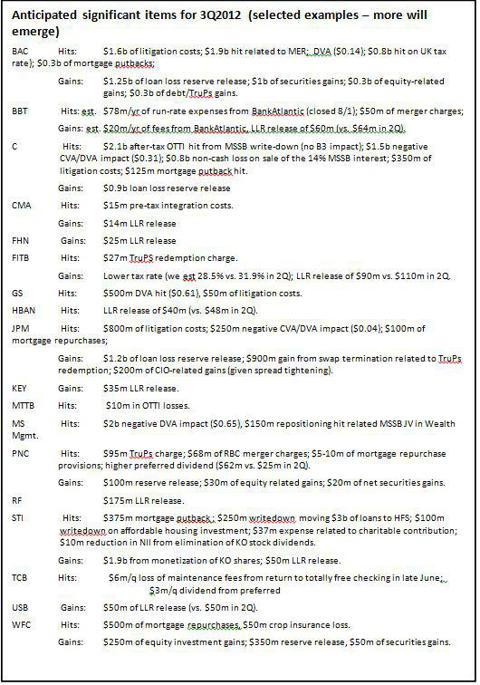 Selected data: Deutsche Bank (O'Conner), Credit Suisse (Orenbuch), and Citi (Horowitz) -- only teams seem to get this correct.
Disclosure: I have no positions in any stocks mentioned, and no plans to initiate any positions within the next 72 hours. I wrote this article myself, and it expresses my own opinions. I am not receiving compensation for it. I have no business relationship with any company whose stock is mentioned in this article.