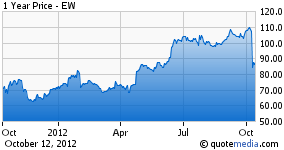 The acquisition of the bloodflow-monitoring specialist BMEYE could help improve the landscape for Edwards Lifesciences (NYSE:EW) after a disastrous fall in its stock price this week, precipitated by lower-than-expected third-quarter sales.
The $42m transaction will bring Edwards equipment synergistic with its operations in the transcatheter aortic valve implantation (TAVI) market and ought to be good news long-term. And good news is what Edwards needs: its disappointing sales figures, which it ascribed to austerity measures in Europe and delayed reimbursement of its transcatheter valves, caused its biggest share price fall in over a decade.
BMEYE's Nexfin and ccNexfin technologies employ a finger cuff to measure haemodynamic parameters including a patient's cardiac output, blood pressure and haemoglobin content. The technology can be used to monitor patients as they undergo diagnostic and therapeutic procedures, not least cardiac surgery.
The private Dutch company is already selling the systems in Europe and the U.S., where they are mostly used outside hospitals. Edwards says it intends to use the technology in the acute care setting in hospitals, where it has already positioned its own haemodynamics monitors.
The acquisition is expected to have no effect on Edwards' net earnings in 2012, and will be slightly dilutive in 2013, presumably because BMEYE is loss-making.
Sales stall in Europe
Edwards' earnings are much in focus. On Tuesday the company said total third-quarter sales came to $448m, significantly missing its $465-$485m guidance. Edwards' share price fell 18% to $88.07, its greatest single-day fall since 2000, as a result.
Austerity measures had limited the number of TAVI procedures performed in Europe, Edwards said, with transcatheter valve sales flat at $124m worldwide. Analysts from Bank of America Merrill Lynch said that Edwards had seen zero TAVI growth in Europe, where a rate in the mid-teens had been expected, and suggested that this accounted for 30-35% of the total shortfall.
There is no indication that European TAVI sales will grow faster in future. Edwards is the leader in TAVI, and much of its success is due to it being the first company to bring transcatheter aortic valves to market (Therapeutic focus – Transcatheter aortic valves boosted by guidelines, October 1, 2012).
But with St Jude Medical set to release a new TAVI valve onto the European market this year, and Boston Scientific's Lotus device expected the year after, competition is about to get serious. If austerity's grip on Europe starts to relax from now on, these new players could be well placed to gain share of a fast-growing market.
The other factor cited by Edwards was the non-reimbursement of transapical TAVI procedures in inoperable patients in the U.S.; provision of this reimbursement had been expected last month but is now expected in the next few weeks. The company's position is more secure in the U.S., where it appears to have a lock on the market until 2014 at least. Nevertheless, Edwards must make its lead count here too, and the delay to the broader market opportunity that the reimbursement would have afforded will be a disappointment to the company.
US rebound?
If the company's fortunes improve, it will be U.S.-based successes that pull it out of the European mire.
Edwards will get a boost when its TAVI device Sapien gains FDA approval for use in a new patient population – those at a high risk of death when undergoing surgical valve repair. This approval, expected any day now, will double Sapien's potential market in the US and could help Edwards achieve the lower end of its current global transcatheter valve sales guidance of $550-$600m. Full-year 2012 transcatheter heart valve sales are forecast to hit $578m, according to EvaluateMedtech data.
This message does not seem to have filtered through to the company's investors, though. Edwards' share price has fallen further still in the last few days, hitting $85.96 at yesterday's close.