Wells Fargo & Co. (NYSE:WFC) is performing like a well-oiled machine despite the lackluster economic environment. The company has increased its market share dramatically in the lucrative mortgage origination and servicing markets, and the company continues to gain low-cost deposits, providing it with the ammunition to deal with the pressure that is coming from net-interest margin contraction. We've profiled the stock two times, and our long-term investment thesis really remains the same. With the stock now trading at around $33.99, it trades at a well-deserved premium to the other banks at 1.25 times book value, which increased to $27.10 at the end of the quarter. I believe Wells Fargo has the potential to earn between $3.80 and $4.00 in 2013, which would put the forward P/E ratio on the low end at about 8.94. This means that the forward earnings yield on WFC is greater than 11% allowing ample room for dividend increases and share buybacks moving forward. I believe Wells Fargo will likely compound equity at 15-16% per annum over the course of an economic cycle, so at the current valuation, I believe an investor can expect 50-75% total returns over the next 3-4 years depending on any changes on the multiple applied to the business.
It is our opinion that the market is mispricing the decreased risk profile of Wells Fargo's business resulting from increased capital requirements, and the historically conservative nature of the company's operations. While bank stocks have performed well in 2012, the valuations of the large U.S. banks have very little relation to the companies' intrinsic business values in our estimation. Despite dire predictions for the housing market, the U.S. economy, and the impact of the European turmoil, banks are reporting strong profits. While any sensible analyst would agree that Wells Fargo has performed exceptionally in 2012, the new reason for selling the stock is based on low net-interest margins. The beauty of Wells Fargo's business model is that during low-rate environments, mortgage production increases, and because money markets are impacted just as much if not more, deposit share has been increasing steadily allowing the company to increase net interest income. I view that figure as being more important than the margin, and when rates do increase, the margins will expand, potentially boosting WFC's ROE above its 15% target. Analysts aren't fully comprehending Wells Fargo's core business momentum, where for instance new account growth for credit cards is up 46% from a year ago. Think about how big Wells Fargo is and how dramatic of an increase that really is. The retail brokerage business is still an emerging component of the overall earnings profile with managed account assets up 25% over the last 12 months. The company has marvelously improved its efficiency ratios which I'll discuss in more detail, and just this quarter non-interest expenses were down $285MM. For these reasons, Wells Fargo is a wonderful core long-term holding, and any weakness in the stock should be seen as a buying opportunity.
On Friday, Wells Fargo reported exceptionally strong net income of $4.9 billion, which equates to earnings per share of $0.88. These results were up 22% from the prior year, and a staggering 27% sequentially. The strong results were primarily the result of outstanding mortgage production, and a consistently improving efficiency ratio which improved to 57.1% in the quarter, down from 58.2% in the 2nd quarter. Pre-tax pre-provision profit (PTPP) increased 9% from the 2nd quarter to $9.1 billion on revenue of $21.2 billion. Return on assets (ROA) was 1.45% and ROE increased 52 basis points from the 2nd quarter to 13.38%. Total average core checking and savings deposits were up $16.9 billion in the quarter, while total loans increased to $782.6 billion, representing a $7.4 billion increase from the 2nd quarter. Core loans grew by $11.9 billion in the quarter. These strong results came despite an extremely difficult net interest margin environment, which for Wells Fargo slipped to 3.66% from 3.91% in the previous quarter. Wells retained about $9.8 billion in first mortgages on the balance sheet to combat reduced opportunities to obtain reasonable yields through other investment avenues due to record-low interest rates. For the first nine months of 2012, Wells Fargo has generated net income of $13.8 billion, or $2.45 per share, up from $11.8 billion or $2.09 per share a year ago.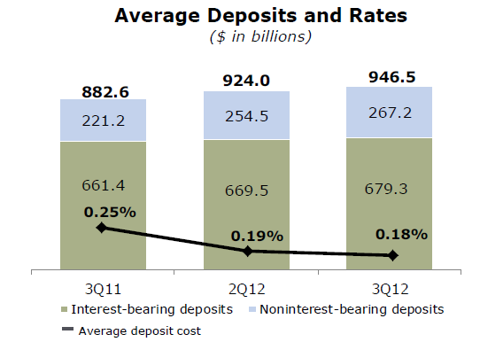 Source: Wells Fargo 3rd quarter earnings supplement.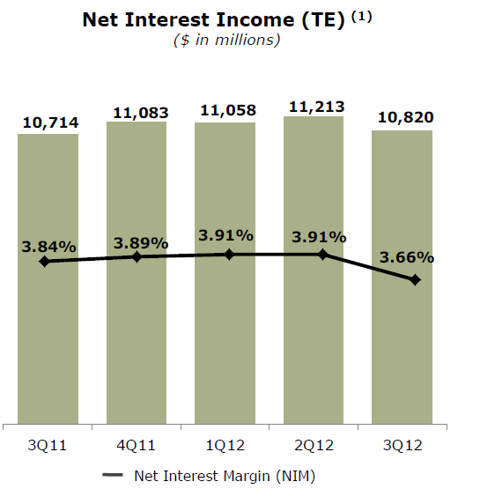 Source: Wells Fargo 3rd quarter earnings supplement.
Source: Wells Fargo 3rd quarter earnings supplement.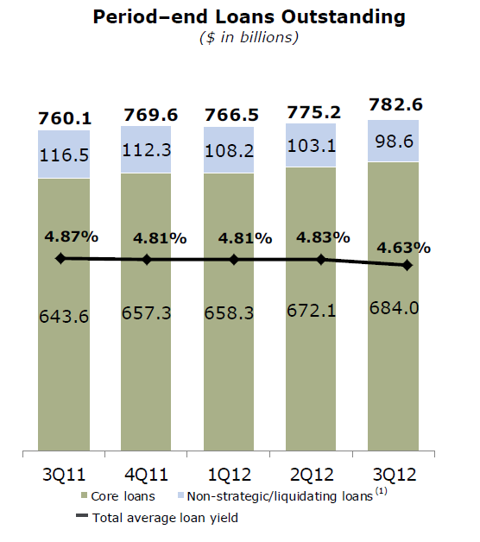 Source: Wells Fargo 3rd quarter earnings supplement.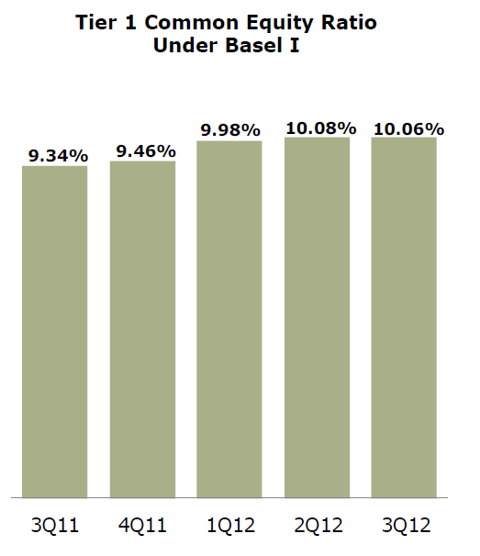 Source: Wells Fargo 3rd quarter earnings supplement.
Wells Fargo continues to significantly improve its capital position with Tier 1 common equity under Basel I increasing $4.1 billion to $105.8 billion, or 10.06% on September 30, 2012. The Tier 1 common equity to total risk-weighted assets anticipated under Basel III now stands at 8.02%, putting WFC in a strong position to achieve its capital goals. Wells Fargo only purchased 17MM shares in the quarter, which was down from 53MM in the 2nd quarter. The company also bought about 9MM shares through a forward repurchase transaction expected to settle in the 4th quarter. Wells Fargo should aggressively be buying back stock in the low 30's, as I believe that any price below 1.4 times book value, Wells Fargo offers 15% compounded return potential. Due to OCC guidance pertaining to charge-offs of certain loans, Wells Fargo took an additional $567 MM of charge-offs putting the total at $2.4 billion, or 1.21 percent of average loans. Without the changes in accounting, net charge-offs would have only been $1.8 billion or 0.92% of average loans. Only 8% of the loans that were charged off due to the accounting change were 30 days or more past due, so it very likely that Wells Fargo will recoup some of this money. The provision for credit losses was less than net charge-offs in the quarter at $767MM, as the $567MM of net charge-offs from the implementation of the OCC guidance had already been provisioned. The allowance coverage to total loans was still a robust 2.27%, compared to 2.41% in the 2nd quarter. Wells Fargo continues to be plagued by mortgage loan repurchases resulting in losses of $462MM in the quarter, but that was actually down from $669MM in the 2nd quarter. The mortgage pipeline continues to remain robust with unclosed deals of $97 billion, compared to $102 billion after the 2nd quarter.
Source: Wells Fargo 3rd quarter earnings supplement.

Source: Wells Fargo 3rd quarter earnings supplement.
WFC saw growth in both the community and wholesale banking divisions, while wealth, brokerage and retirement continued to post solid performance. Essential to Wells Fargo's growth and decreased risk in relation to its peers is its use of the cross-sell to generate fee income. In the 3rd quarter, the retail bank household cross-sell improved to 6.04 products per household, up from 5.9 YOY. Because the cross-sell in the legacy Wells Fargo branches is 6.4, versus 5.56 in the legacy Wachovia branches in the East, there is still room for improvement for the overall company.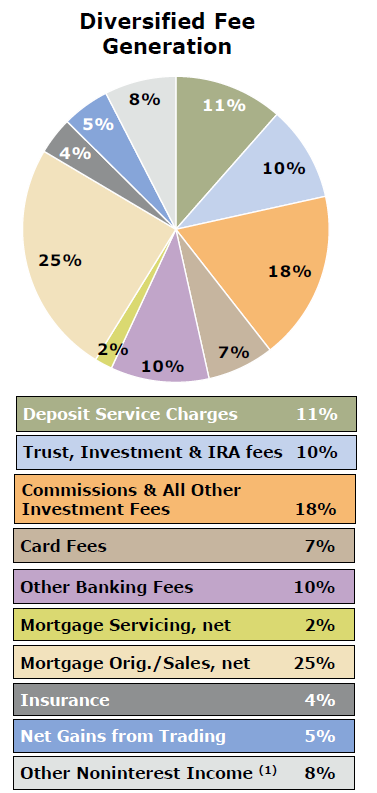 Source: Wells Fargo 3rd quarter earnings supplement.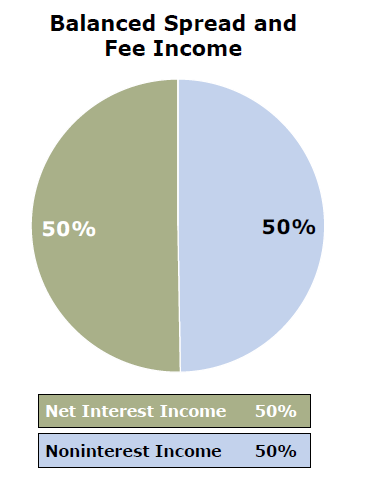 Source: Wells Fargo 3rd quarter earnings supplement.
As Wells Fargo continues its steady growth over the next several years while increasing book value per share regularly, I'd expect the market to assign a slightly higher multiple for the company. While currently all of the headlines surrounding banks are negative, I could easily see the situation reverse to where the bank's business model seems to have changed to more of a utility type model, meaning a higher valuation due to less perceived risk is reasonable. Instead of worrying about market sentiments which are fickle, it is more important to focus on buying businesses at large discounts to intrinsic value, and while the discount has shrunk with WFC's share appreciation, any sell-offs should be bought in our estimation.
Disclosure: I am long WFC. I wrote this article myself, and it expresses my own opinions. I am not receiving compensation for it (other than from Seeking Alpha). I have no business relationship with any company whose stock is mentioned in this article.