Should education ever be shorted? In light of the news that DeVry, Inc. (NYSE:DV) is one of the 6 Most Highly Shorted Stocks of the S&P 500 we discuss if the short sellers are justified. To be fair, and to keep it educational, we will discuss both the fundamental positives and negatives for DeVry.
Let's start by saying that the competitive landscape consists of Apollo Group (NASDAQ:APOL), ITT Educational Service (NYSE:ESI), Bridgepoint Education (NYSE:BPI), Education Management (NASDAQ:EDMC), and Career Education (NASDAQ:CECO). The top institutional holders of the stock according to a recent Form 13F are BAMCO Inc, Ariel Investments, FMR LLC., Vanguard Group and International Value Advisors.
Stock performance has been weak with DeVry stock trading at $24.37 versus its 52-week range of $18.15-$46.92, down 40% in the last year. It trades at a P/E multiple of 13x versus the forward P/E multiple of 11x. DeVry's stock has a dividend yield of 1.2%. The stock clearly indicates further downside.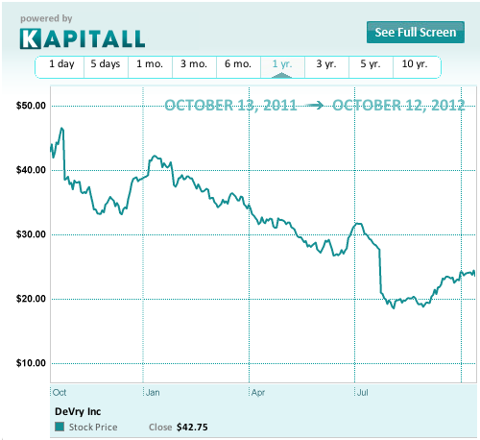 Our next focus is on the fundamentals. Positive thoughts on the DeVry story relate to:
1. Management has looked at the performance of the stock to be an opportunity to buy back shares at discounted levels. Early September, the board approved a $100 million buyback program.
2. DeVry's acquisition of Fifth Brazilian School is a long term positive for the company. The economic growth in Northeast Brazil provides a great expansion opportunity to DeVry.
3. The company has a solid balance sheet with no near-term maturities
Negative thoughts on the DeVry story relate to:
1. There is potential for further downside in the for-profit education sector given the higher regulation related to postsecondary education
2. Although current enrollment is high, consider the risk of higher job growth going forward. Lower unemployment rates surely help the economy, but it also increases the opportunity cost of going to school. A continued increase in job growth could potentially drop enrollment rates, and the company's EPS growth.
3. A combination of acquisitions and stock buybacks has decreased cash levels on the balance sheet to $174 million versus $322 million in September 2011.
Conclusion: If you are looking to make an investment in education, this is surely a stock to put on your radar screen. The stock has traded down 40% in the last 1 year, and these trading levels might be an attractive investment opportunity if the company's fundamentals continue to improve.
Risk in investing in DeVry remains the lack of a short-term catalyst that will prove to be a positive for either the stock or the fundamentals.
Interactive chart: Use the Compar-O-Matic to compare analyst ratings for the stocks mentioned below: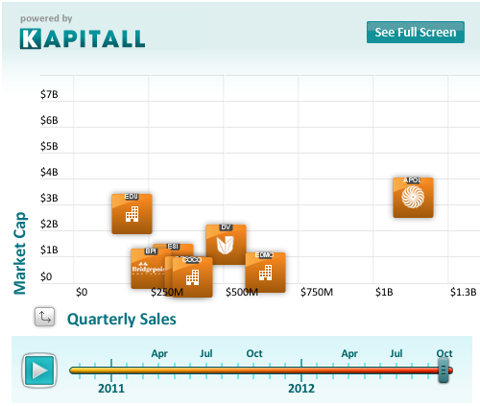 Written by Kapitall's Sabina Bhatia. Tool provided by Kapitall.
Disclosure: I have no positions in any stocks mentioned, and no plans to initiate any positions within the next 72 hours. I wrote this article myself, and it expresses my own opinions. I am not receiving compensation for it (other than from Seeking Alpha). I have no business relationship with any company whose stock is mentioned in this article.