Warren Buffett and Bill Gates, ranked #1 and #3 richest in Forbes [respectively], took an unusual summer trip together - to northern Alberta on Wednesday to explore Canadian Natural Resources' (NYSE:CNQ) multi-billion dollar oil-sands project.

The Horizon project is an "open pit mining strategy [which] will consist of mobile equipment and bitumen extraction facilities to mine and separate the raw bitumen from the oil sands. Canadian Natural will further upgrade the bitumen to a sweet synthetic crude oil using proven delayed coking and hydro-treating technologies" (CNRL).

The project comes with some drawbacks: Budgeted costs have risen to (est.) $8.5 billion and drilling in the oil sands is not as environmentally clean as the likes of Transocean's (NYSE:RIG) deep-water drilling. CNQ projects that the costs will be easily covered, though, with the 40 year project life-span. Drilling technology over the next few decades will undoubtedly advance, as well.

In all, the oil sands of Canada are the second largest such reserve for crude oil production – an estimated 175 Billion barrels- not a bad output to help curb the supply-curve while alternatives to fossil fuels are explored.

I think it is unlikely that Buffett and Gates will invest in CNQ or one of its competitors – a lot of investors, politicians, journalists and government officials take trips to explore the future of energy in North America and the world.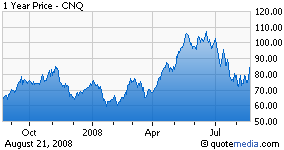 "We were asked to come up and give a general overview on the oilsands and Canada's role in the world of energy in general, which we did," said Greg Stringham, CAPP's [Canadian Association of Petroleum Producers] vice-president. "They were exercising curiosity, basically saying, 'Wow, this is neat.' " (Calgary Herald)

Even if Buffett has a desire to invest here, history says he is always highly educated on both the sector and company he invests in (i.e. no tech companies). I'm sure the idea has crossed his mind, but unless he's seen more than a small presentation about how the industry operates, I would not expect anything more than a flicker of hope for CNQ longs (who, not to mention, have had a nice ride with CNQ already).

So, whether it be an investing trip, sightseeing trip or both- one thing is certain: Both institutions and individuals follow every footstep of Buffett. If there is a remote chance he will put capital towards this form of oil harvesting, you bet your house that the money will follow.

Edward Jones analyst Lanny Pendil apparently did not get the memo that these billionaires really do move stocks: "The fact that people were up there kicking the tires means nothing from a financial standpoint and therefore really shouldn´t really play into what the price of these stocks is doing today."

So, why did CNQ jumping the highest since 2005 on the day of the visit? Hmm. I'm still amazed how Buffett can materially move stocks, especially from my point of view as a young investor who has not had the privilege of following Buffett.

CNQ added 7% on Wednesday on the speculation and another 3% Thursday on higher oil.

Disclosure: None