The IMF-World Bank Tokyo convention of super bankers has attracted 20,000 attendees, including their staff and friends. Missing from this group is the Chinese foreign minister, and the head of the Chinese central bank. Replacing them are their assistants. This seems to be a snub to the Japanese because of the dispute over uninhabited islands in the East China Sea.
These islands are thought to be near large deposits of oil and natural gas. IMF head Christine Lagarde has requested China and Japan settle their differences "harmoniously and expeditiously," but with patrol boats from both sides dispatched to the islands, this has to potential to be more than a food fight.
Since the end of WW II, Japan has relied on the U.S. military as its protector. There have been many changes since this arrangement from 67 years ago. The biggest is China, when it become a major world power, and concerned with its future energy supply. With higher energy prices, and modern drilling techniques, these barren, lonely islands now have enhanced value.
There is another issue -- what role the U.S. will play on the world stage going forward. For years, the U.S. has played the role of the global policeman in Asia, as well as being a NATO member. For the U.S., it has been an expensive and thankless job, and regardless of the winner of the coming election, the American people do not want to continue that role.
A large segment of the American population, tired of America's military being used as a world policemen, sent Obama to Washington. He did leave Iraq, which pleased his supporters. He also has vowed to leave Afghanistan in the future, and said he will bring home about 90 thousand troops currently deployed in Europe.
The current Washington political debate leaves little time for anything else but fundraising and debate for the next month. If the election is close, the vacuum in Washington will continue longer. Could this be the time when one of those black swan events could appear and spook the markets?
If so, what might this event be? Certainly, sabre rattling in the South China seas might be one. What if China, to soften Japan's resolve, becomes aggressive, trying to prove the U.S. is no longer Japan's benevolent benefactor? Or perhaps Japan wants the sabre rattling. Why? Because they want a weaker yen.
This week, NewsOnJapan reported:
Japan may intervene on yen without U. S. support

Japan's economy minister said Thursday that Tokyo may intervene in the currency market on its own to rein in the yen's strength, even without the consent of the U.S.

The minister, Seiji Maehara, also said foreign exchange was an issue over which Japan and the U.S. were at odds, and that their differences couldn't be resolved through negotiations.

"If we judge that the yen has become excessively strong, even if we have held prior talks, it's true that Japan may intervene on its own," Mr. Maehara said in an exclusive interview, when asked about U.S.-Japan relations over currency policy."
They say it is best not to fight with the central banker. If the Bank of Japan wants a weaker yen, maybe it is time to sell. The yen has been meandering sideways in a narrow range for the past several months. There seem to be little chance the yen will strengthen very much, and a pop in the USD (NYSEARCA:FXY), (USDJPY) to above the 80 mark might result if there is a surprise.
(click image to enlarge)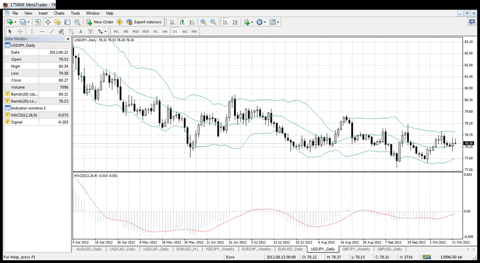 Click to enlarge
Disclosure: I have no positions in any stocks mentioned, and no plans to initiate any positions within the next 72 hours. I wrote this article myself, and it expresses my own opinions. I am not receiving compensation for it. I have no business relationship with any company whose stock is mentioned in this article.