On September 7th, 2012, Southwest Airlines (NYSE:LUV) reported less-than-expected operating results. Overall, September was a tough month for the airline sector due to an additional Saturday in 2012, which is bad for pricing, and the Jewish holiday, which diminished RASM by 1%. On October 5th, 2012, Southwest announced that September RASM declined 2% to 3%, which was worse than what the company had expected. Capacity declined 1% in September, while the load factor was 77% versus 77.8% a year ago. On September 12th, 2012, Southwest's closest competitor, JetBlue Airways (NASDAQ:JBLU), reported weaker pricing for Q3-2012. The weak economy and higher gas prices have been a challenge for the industry, and for Southwest.
Southwest stock trades around $8.71 versus its 52-week range of $7.37-$10.05. It trades at a P/E multiple of 15 times, and a forward P/E multiple of 9.5 times. The stock's twelve-month trailing average P/E multiple is 11.5 times. JetBlue Airways, a close competitor of Southwest, trades around $5, at a P/E multiple of 11 times, and a forward P/E multiple of 8 times. The stock's twelve-month trailing average P/E multiple is 10 times. Based on the valuation of both discount carriers, further downside in fundamentals is expected.
Fundamental drivers of Southwest Airlines' stock valuation:
1. 1. Weak economic growth will continue to impact pricing, and margins.
2. 2. In July, Southwest delayed the delivery of 30 new aircraft, which might be a reflection of a weak demand environment going forward. That being said, the positive outcome of this delay is reduced capital expenditures in 2012 and 2013.
3. 2. Southwest has a solid balance sheet, which consists of $3.3 billion in cash, and an $800 million credit facility, which remains undrawn. Near-term maturities consist of $190 million in 2013, and $540 million in 2014. Given the solid liquidity position, the maturity schedule is not a near-term concern.
4. 3. On its Rapid Rewards program upgrade, Southwest expects incremental revenue by 2014.
5. 4. The reservation system upgrade is expected to be completed by 2014, which will provide an additional growth opportunity.
6. 5. The Southwest-AirTran Airways integration is expected to be completed by 2014. Merger synergies from this transaction are yet to be seen by shareholders.
We will conclude by saying that Southwest Airlines stock lacks any short-term catalyst. It will be important to analyze the structural progress made by the company in a tough airline industry, and a weak economic environment. The company's strong balance sheet does provide a floor for the stock. A disciplined approach on liquidity has made Southwest Airlines a survivor in the industry. It's a name worthy of your radar screen while the company makes fundamental progress.
To track other airline stocks with a low P/E, and institutional buying, see our report published on September 21st, 2012.
The chart below compares share performance over the past year. "E"s mark earning reports.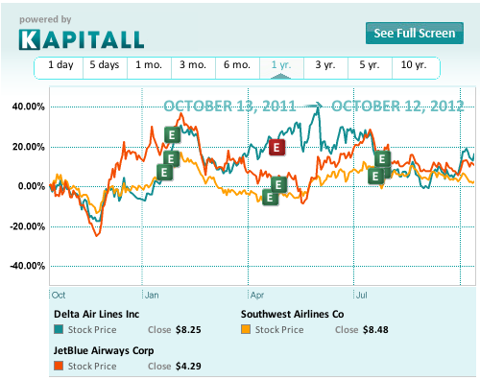 Written by Kapitall's Sabina Bhatia. Tool provided by Kapitall.
Disclosure: I have no positions in any stocks mentioned, and no plans to initiate any positions within the next 72 hours. I wrote this article myself, and it expresses my own opinions. I am not receiving compensation for it. I have no business relationship with any company whose stock is mentioned in this article.