Are mortgage real estate investment trusts (mREITs) still a good investment in a changing real estate market? Not if you judge by the market's recent treatment of CYS Investments (NYSE:CYS). As you can see from the chart below, its share values have been going down.
Click to enlarge images.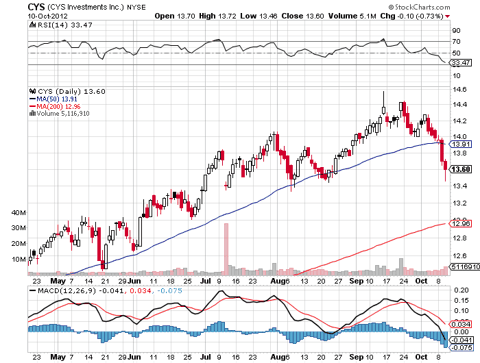 The interesting thing is that CYS's share price has been dropping at a time when the mortgage-refinance market has been given a huge boost by Ben Bernanke. Lender Processing Services estimates that one in five homeowners will refinance in the next year because of record low interest rates. The record lows were created by the Federal Reserve's stimulus scheme, which involves purchasing $40 billion worth of mortgage bonds a month for the foreseeable future.
CYS is not the only mREIT that has seen its share values drop lately. Two Harbors Financial (NYSE:TWO) has seen a similar drop of about 30 cents per share. PennyMac Mortgage (NYSE:PMT) has fallen by nearly 50 cents a share. Annaly (NYSE:NLY) has seen an even bigger drop, losing nearly a dollar in share value in the past month.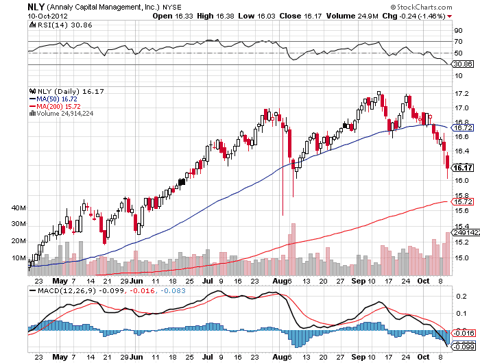 So what's going on here? Is the mREIT party finally over? Are these high-flying shares heading in the opposite direction? That's hard to say because these trusts don't function like other companies; to some extent they play by rules of their own that seem to defy logic and the market.
CYS Investments, for example, has a free cash flow of -$1.52 billion and income growth of 1,289.3% at the same time. The company has a sales growth figure of 208.3% and a debt-to-equity ratio of 0. That makes for a net profit margin of 118.2%. If those figures seem contradictory to you, you might be right.
At the same time it delivered those figures, CYS had cash and ST investments of $13.85 million and a long-term debt of $9.76 billion. That's right -- CYS had less than $20 million in the bank, and it had debts of $9.76 billion on assets of $14.62 billion. To make matters worse, the company's liabilities totaled $12.99 billion.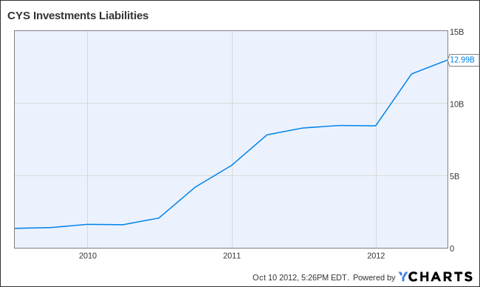 So the fastest growing thing at CYS appears to the company's liabilities. That doesn't seem like a very good business strategy to me. Yet that figure isn't the scariest thing at CYS. Just take a look at the cash the company makes from operations. The latest figures for CYS -- those from June 30 -- show that the cash operations totaled -$2.5 billion. That's right, folks -- CYS was $2.5 billion in the hole on June 30.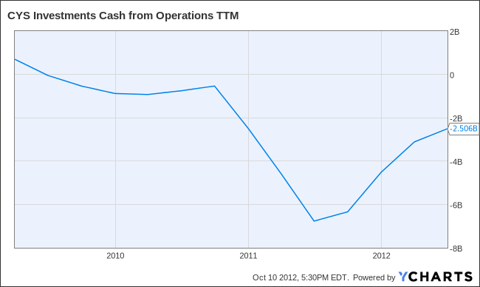 Even though CYS has delivered some impressive fundamentals, the company seems to have little cash and is losing money. The question value investors have to ask is: Is this typical of the mREIT sector or not? The situation at CYS is particularly bothersome because the company is investing in supposedly safe government-backed mortgage paper.
Maybe not. Two Harbors had $1.63 billion in cash and ST investments and $10.8 billion in liabilities for the same period. Unlike CYS, Two Harbors also managed to generate a modest amount of cash from operations, around $193.88 million. Hatteras Financial (NYSE:HTS), on the other hand, had $556.78 million in cash and long-term liabilities of $21.15 billion.
Even though it seems to be doing a lot of business, CYS doesn't seem to have that much cash. One has to wonder if it is committing the classic trader's fallacy of putting everything on the margin and hoping the deal works out. If the deal doesn't work out, the trader ends up with a pile of debt and no cash to pay it with. The market slang term for this among traders is "blowing up."
The scary thing is that CYS is not the only mREIT that might face this situation. As of June 30, Annaly Capital Management had cash and ST investments of $2.95 billion and liabilities of $112.5 billion. Since Annaly's total assets were worth around $128.3 billion, you can see the problem. The company's liabilities are growing, and the amount is close to the value of the assets.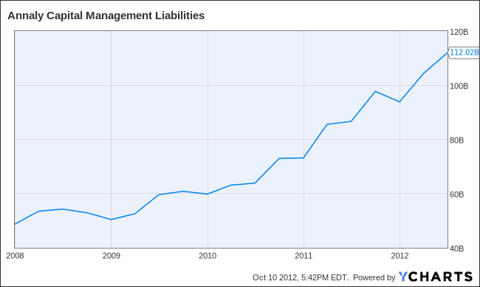 The only bright spot at Annaly is that the company had $3.72 billion in cash operations. That figure sounds good until you figure in cash from investing. As of June 30, 2012, Annaly had lost $20.30 billion on its cash investments. CYS apparently did not make any cash from investing in the same period. Hatters Financial lost $5.89 billion in cash investments and Two Harbors lost $6.487 billion on cash investment during the same period.
If you crunch the numbers, it looks as if mREITs such as CYS and Annaly are going to have a hard time surviving. They will have a hard time because they don't seem to be generating any cash, despite the rosy picture in the mortgage market. Instead, some of them seem to be bleeding cash, which can't go on for much longer. If mREITs start going down, CYS Investments might be the first to fall.
Disclosure: I have no positions in any stocks mentioned, and no plans to initiate any positions within the next 72 hours. I wrote this article myself, and it expresses my own opinions. I am not receiving compensation for it (other than from Seeking Alpha). I have no business relationship with any company whose stock is mentioned in this article.