The stock market has enjoyed a healthy break over the last few weeks. But the time has come for stocks to get back into the game and continue their advance higher. For if stocks wait too much longer to make their move, they may find themselves stuck on an increasingly slippery slope to the downside.
The pause in stocks over the last few weeks has been notable. For months, the stock market eagerly anticipated and hoped for another round of balance sheet expanding quantitative easing (QE) from the U.S. Federal Reserve. And as these dreams increasingly swelled among investors from early June through the Fed's most recent meeting in mid-September, so too did the stock market, which advanced by over +12% over this same time period as measured by the S&P 500 Index (NYSEARCA:SPY). On September 13, investors at last received the Fed stimulus they longed for so desperately. But after an initially euphoric response on the day of the announcement, stocks have since lost their verve. Since the day after the Fed launched QE3, stocks have declined by -2.2%, including losses in 12 out of the last 19 trading days.
The recent consolidation in the stock market since the launch of QE3 is not surprising. In fact, it has generally been expected, as a close examination of QE2 has proved particularly instructive, at least so far, in providing a useful road map for QE3. For example, the stock market rallied by +15% in anticipation of QE2 from late August 2010 to its official launch in mid November 2010. This was very similar to the +12% stock rally in the months leading up to QE3 this time around. And we have seen a very similar pattern unfold for the stock market immediately following the launch of both QE2 and QE3.
(click images to enlarge)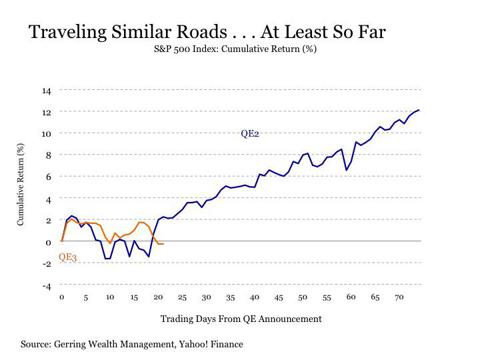 Following the launch of QE2 in November 2010, the stock market was trading below its pre-announcement levels as many as 18 trading days later. It was only after this initial period of consolidation that the stock market began to melt higher over the next several months. What has been notable to this point is that the stock market has, for the most part, performed somewhat better this time around immediately following the launch of QE3. The peak to trough decline of -2.2% today has been more shallow than the -3.9% experienced just after the launch of QE2. And the stock market has shown greater resilience during this consolidation phase in holding above pre-announcement levels over much of the last few weeks.
But following this predictable respite, crunch time has now arrived for the stock market. We are now 21 trading days removed from the Fed's announcement of QE3, and the time has arrived for stocks to now shake off their recent malaise and begin making their move higher.
The good news for stock investors is that some key indicators are highly supportive of the idea that stocks may have arrived at an inflection point. When QE3 was launched back in mid-September, the stock market quickly lurched forward and got way ahead of itself. For example, the day after the Fed announcement, the S&P 500 had not only blasted through previous resistance at 1422 to levels that on a short-term trading basis were +2 standard deviations above normal price movement, but it had also lurched to levels that represented frothy premiums to its 20-day, 50-day and 200-day moving averages. In this regard, the consolidation experienced over the past few weeks has been very healthy in setting up for a further stock advance.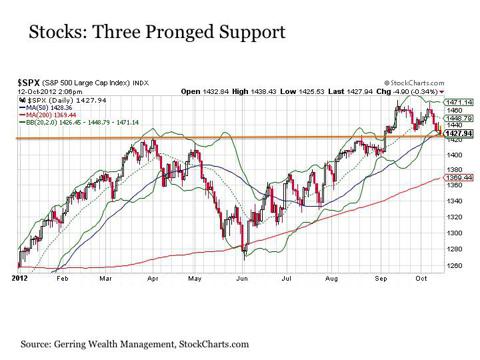 Three key indicators support a potentially positive inflection point for stocks. First, the S&P 500 has essentially returned to what now represents support at its previous resistance level at 1422. Second, the stock market has also now arrived at key support represented by its 50-day moving average. Third, stocks on a short-term trading basis are now at levels that are -2 standard deviations below normal price movement, and a reasonable -1.2% discount to its 20-day moving average.
Thus, if stocks are looking to enter another phase of drifting higher on the Fed-induced intoxication of balance sheet expanding monetary stimulus, the time to make this move is sooner rather than later. For if this monetary numbing agent does not set in soon and some of these key technical support levels begin to break, the harsh realities of the deteriorating fundamental environment for stocks may bring an increasing degree of pain to stock investors.
The fact that economic and market fundamentals have not at all supported the stock market rally to this point are well documented, and is a topic that I have expanded on in detail in past articles. I will also further elaborate on selected points here.
First, stocks valuations are far from anything that would be considered attractive at present. With a P/E Ratio on the S&P 500 Index of 16.5x 12-month trailing reported earnings and 15.0x 12-month estimated forward reported earnings, stocks are already trading at or above long-term average historical valuations. And for the latter valuation metric, this assumes that corporations will actually hit current earnings estimates over the coming year. I, for one, am highly dubious on this point. More on this in a moment.
Second, global economic growth is decelerating. And many regions are threatening to fall into recession if they are not already there. A decelerating to declining trend in GDP growth is hardly the recipe for increasing stock prices, particularly with uncertainties such as the fiscal cliff looming in the months ahead.
Third, the upcoming corporate earnings season promises to be lackluster at best. A weakening global economy does not bode well for the operating performance of companies seeking to sell goods and services into the worldwide market. Thus, corporate earnings are expected to have declined in aggregate for the third quarter. And unless economic conditions suddenly shift toward the better, companies will be hard pressed to reverse this trend in the coming quarters, particularly at a moment when corporations have already cut to the bone with profit margins historically high at over +2 standard deviations above the long-term average. Thus, stocks may actually be more expensive today on a forward P/E basis than currently projected.
Accounting for both the potential upside and the meaningful risks in the current environment, staying hedged remains the best way to position investment portfolios.
Certainly, an allocation to stocks remains warranted. For if stocks are now at an inflection point and are ready to board the latest magic QE carpet ride for the next few months, it would be fruitful to participate. In this regard, a risk controlled allocation to stocks that incorporates selected positions that have traditionally benefited most from past bouts of Fed money printing makes good sense. On the risk control side, emphasizing defensive positions that have demonstrated the ability to take part in past QE-induced ramps, but also hold up relatively well when the QE high wears off is a prudent approach. Representative names include McDonald's (NYSE:MCD), Nike (NYSE:NKE) and Hormel Foods (NYSE:HRL), along with more diversified offerings such as the S&P 500 Low Volatility PowerShares (NYSEARCA:SPLV) and the Utilities SPDR (NYSEARCA:XLU).
On the higher beta side, commodities names focused in the energy, mining and agriculture space are also suitable, as these areas tend to benefit first and most strongly from a QE-sparked rally. This includes positions such as Occidental Petroleum (NYSE:OXY), BHP Billiton (NYSE:BHP) and Potash Corporation (NYSE:POT). In this same context, emerging markets (NYSEARCA:EEM) are also worth a close look. This includes China (NYSEARCA:FXI), which has much greater scope than the U.S. to apply additional stimulus, and since the July 2011 stock market peak, is down -15% versus the S&P 500, which is up over +5% during the same time period. But while these stock allocations remain worthwhile, any such allocation should be managed carefully and held in proportion to other asset classes in a broadly diversified portfolio mix.
A variety of even more attractive investment opportunities exists outside of the stock market. Leading among these is gold (NYSEARCA:GLD) and silver (NYSEARCA:SLV), in which I chose to maintain allocations via the Central Fund of Canada (NYSEMKT:CEF) and the Central GoldTrust (NYSEMKT:GTU). Both gold and silver provide the dual benefit of hard asset protection against inflationary balance sheet expanding monetary stimulus and currency debasement, as well as the threat of crisis. For these reasons, both precious metals have demonstrated the ability to perform well whether the Fed is applying QE or not.
And other categories have demonstrated the ability to post consistent gains -- regardless of whether the Fed is stimulating the economy or not -- with a far lower level of risk. These include U.S. TIPS (NYSEARCA:TIP), Municipal Bonds (NYSEARCA:MUB) and Agency MBS (NYSEARCA:MBB), the latter of which is the direct focus of the current Fed stimulus program.
Overall, if stock investors wish to enter into a dreamy QE-induced trance, the time is drawing near. Otherwise, fundamental forces may soon seize control of the market. And if this occurs, a key crutch of market confidence may be shattered along with it. After all, the almost exclusive driver of market gains in recent years has been the seemingly boundless excitement over Fed stimulus. If investors begin to think that this remedy no longer works in lifting stock prices higher, hardly anything else is left to prevent stocks from heading sharply lower from currently elevated levels. On this important point, the clock is ticking away in what is now a crucial time to keep a close watch on the markets.
Disclosure: I am long BHP, OXY, POT, FXI, MCD, NKE, HRL, SPLV, XLU, CEF, GTU, TIP, MUB, MBB. I wrote this article myself, and it expresses my own opinions. I am not receiving compensation for it (other than from Seeking Alpha). I have no business relationship with any company whose stock is mentioned in this article.
This post is for information purposes only. There are risks involved with investing, including loss of principal. Gerring Wealth Management (GWM) makes no explicit or implicit guarantee with respect to performance or the outcome of any investment or projections made by GWM. There is no guarantee that the goals of the strategies discussed by GWM will be met.