On August 15, 2008 the shareholders of ESA (Energy Services of America) voted their approval of the two natural gas pipeline companies the management purchased earlier this year. ESA is now a viable ongoing concern listed on the American Stock Exchange and out of Spacland. This is a small company flying under the radar for now but don't look for that to happen for much longer.
One look at the management should tell you that this company will be aggressive and make ESA a big player in the natural gas boom that is coming. The chairman of ESA is Marshall Reynolds, a West Virginia native who has made more millionaires than perhaps Bill Gates for people who have invested with him over the years.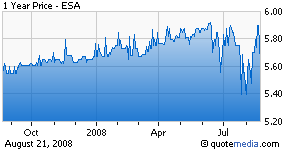 If one was to Google him you would see no less than 6 companies Mr. Reynolds has started, built up and then sold for huge profits for the shareholders. Each deal seems to have the same format. He buys private small successful companies in the industry and keeps adding to them until it is large enough for a big player in the industry to buy them out.
That is exactly what is being planned with ESA. The two companies just purchased and recently approved by the shareholders are both old, established, and profitable companies in the natural gas pipeline business.
The revenues for 2007 combined were $175 million with EBITDA of close to $28 million. The company projects 2008 revenues to be similar and earnings to be in the range of $0.80 to $1.00 per share. At ESA's price today of $5.75 they would have a P/E ratio of under 7 with the industry's average close to 12. ESA is located in the Appalachian Basin of West Virgina, which is home to one of the USA's most promising natural gas fields known as the Marcellus Shale. The plan is to have ESA become a vertical natural gas company through acquisition and get the gas from where it is in the Appalachian Basin to the Northeast corridor where there is strong demand.
Don't be surprised if ESA issues a dividend in the near future as well. Mr. Reynolds who is chairman of Champion Industries (OTCQB:CHMP) and is a major holder in other public companies likes to pay out dividends to his shareholders.
Lastly, for those more risk tolerant investors,  ESA sells warrants that expire in 2011 and have a strike price of $5.00. The warrants are now trading at $1.20 which is a small premium to pay when the common is already 75 cents in the money and you have a three year time frame to exercise at $5.00. ESA is trading under the radar for now and should be bought on valuation and future prospects aggressively. Don't be surprised if a major brokerage firm does a report on this little firm very shortly and puts them on the map.
In closing there are three questions that have to be answered yes before you should buy a stock. Excellent management? Compelling valuation? Strong business prospects for growth? All three can safely be answered in the affirmative for ESA, making it a buy.
Disclosure: Long