Summary: Apple (NASDAQ:AAPL) is a superb company trading at a reasonable price. Its stock is historically volatile. Two ways to play it are:
as a buy-and-hold growth company—if you are convinced that it will be continue its recent successes well into the future and can stomach the price volatility
using a momentum or trend-following strategy that attempts to catch its upward swings and minimize damage from periodic downturns
Company/Stock Type: Apple is what I call a "Type A" company. That means it has a corporate personality and behavior pattern characterized by:
Fast-rising revenues and earnings, well in excess of the economy's
A tendency toward high valuation ratios
A dynamic environment and reputation
High sensitivity to news, which contributes to price volatility
No dividends
Apple is usually thought of as a technology company, but I regard it as a consumer products company that is becoming more and more a business products company too. Their products are all technology based: PCs, iPods, and iPhones, and service products such as iTunes and Apple Apps. Beyond the technology, though, it is their ability to repeatedly innovate and develop highly desirable and user-friendly products that sets Apple apart.
Morningstar characterizes Apple as Large Growth, its industry as Computer Equipment (Hardware), and its stock type as Cyclical.
Story and Company Quality: Apple designs and sells desktop and laptop PC's ("Macs"), proprietary operating systems and software, plus devices including iPod portable digital entertainment systems and the iPhone. It also runs the successful iTunes online store for music and videos and the new online Apple Apps store for touch-product applications developed by third parties.
Prior to its entry into entertainment and mobile phones, Apple was for many years a niche computer supplier, popular in schools and in certain graphic-intensive industries, but never cracking the lucrative general corporate market, which was dominated by Windows-based machines.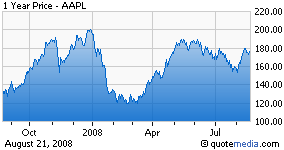 In the past few years, however, Apple has found new life by (1) spearheading a digital music and video revolution with its growing variety of innovative iPod music and video players and its iTunes online store, (2) introducing Intel-based PC's and ever-more-innovative Mac models, and (3) crashing the smartphone market with its innovative iPhone line and services. These successes, in turn, have built the formidable Apple brand, and recently more people than ever before (and some businesses) are considering Macs for their PCs.
For most of its life, Apple's main source of revenue has been Macs and related hardware and software. Apple's share of the PC market has been growing, due to its popularity with younger users, better functionality and reliability than Windows-based machines, and brand desirability. The company's PC share is approaching 10% of the market and gaining on its competitors (one report put its share at 20% in June). It is reported that Apple dominates the market for expensive machines (over $1000), but that is not where the biggest growth opportunities lay. While Apple has made important inroads into the huge corporate market, that market is still dominated by Windows-based competitors. Most of Apple's 38% sales gain in Q2 2008 was driven by Mac and associated products.
In 2001, Apple launched the popular iPod brand of portable media players. The current product line includes several models with varying storage capacities and features. iPods revolutionized music storage, portability, and to some extent the popular culture, with their extreme portability and unique and popular user interface. In 2003, Apple introduced the iTunes online music store, selling individual songs for $0.99, an approach which caught on quickly. iTunes became the market leader soon after its launch. Videos were added in 2005 and movies in 2006. Steve Jobs has stated that Apple makes little profit from song sales, but the iTunes store is integral to the overall success of the iPod lineup. More than 150 million iPods have been sold worldwide, making it the best-selling digital audio device in history and giving it about a 1/3 market share in the portable music device market.
Continuing its string of successes, in 2007 Apple successfully introduced the iPhone—taking it into an entirely new line of business—and in July, 2008 significantly upgraded the product with the new 3G iPhone. The iPhone has not revolutionized the mobile handset business with the impact that iPod had on the music business, but the phones have proved very popular, based in part on the intuitive user interface and its capability to bring the full Web experience to a portable device. Originally, iPhones were sold exclusively through Apple-owned retail channels and AT&T (NYSE:T) (the only service provider), but they will move into Best Buy (NYSE:BBY) in September, 2008. iPhone sales are accelerating, and the new applications business for touch models shows promise (apps are independently developed, sold through the Apple App store, and Apple gets 30% of the revenue). AT&T and other partners have been carrying some of the advertising load for Apple. The iPhone is becoming an important growth driver for Apple, and it is not unreasonable to think that it might over time achieve a worldwide market share in smartphones approaching the 1/3 share it has achieved in iPod-like devices.
Apple sells its products through more than 200 highly profitable retail stores (aiming for 240 by the end of 2008) and online. These stores are important; Apple reports that more than half of Mac purchases in stores are to Mac newcomers (presumably switching from Windows-based machines). Apple is investing heavily in international distribution to widen its customer base and make its business less USA-dependent. More than 20 countries are scheduled to come online in September along with the Best Buy channel.
Apple has plenty of room to grow in both PC and smartphone share. In the former, it has less than 10% market share, and it is just getting started in the latter market. Demand is likely to remain strong if Apple repeatedly hits sweet spots in consumer desires and needs. Hardware and software sales have grown roughly 30% to 40% in recent periods, while music sales growth has been around 30%. iPod sales growth has slowed (most recent quarter up 20% on 12% unit growth), suggesting some maturing of the market and cannibalization of some iPod sales by iPhones (which have iPod functionality).
Apple's iconic brand strength in the USA can hardly be overstated. Apple has excellent brand cachet—it's not cool if you don't have an Apple—and its products often achieve "must have" status. Few people switch from the Apple brand for similar products, even for much lower prices. The power of its brand shows no signs of waning, although it is not nearly as strong outside the USA. Apple's brand strength plus its products' desirability results in pricing power. That in turn enables Apple to retain strong margins. If Apple lowers prices and margins (as some expect it to do in Macs), it will be to make a strong run at increasing market share, not to retain current share.
Apple is a superb marketing company, forward-thinking in its product development, able to introduce trend-setting items repeatedly. Customers are attracted to its ease-of-use features and compelling designs. It has a reputation for strong customer service.
Financially, Apple is very strong, with impressive growth rates, margins, returns, a sizable cash hoard, and no debt. The company has a reputation for "gaming" the quarterly guidance-earnings dance by understating outlook, then beating consensus expectations each time. Apple uses subscription accounting for iPhone revenues (spread over two years), so some future results are already in the bank.
Concerns about Apple include:
Its ability to penetrate meaningfully into the corporate markets for PCs and mobile handsets
Its ability to continue to introduce successful new products; its fast product design and upgrade cycles are taxing and expensive, but necessary to fulfill Apple's growth potential
Its ability to expand significantly overseas and reduce its dependence on the USA, where its sales are concentrated
Overall, Apple is a superb company. It is one of the highest-scoring non-dividend-paying companies that I have evaluated.
Valuation: There has been considerable discussion on this site about how to value Apple, with most debate focused on the usefulness of using the P/E ratio versus the P/CF (price-to-cashflow) ratio. P/CF, it is argued, is superior, because Apple is spreading iPhone revenue out over 48 months even though the money has already been received. I would note that the Forward P/E ratio theoretically also captures "future" money, as does the PEG (price-to-earnings-growth) ratio.
Over the past decade, Apple's different valuation ratios have varied all over the lot, by factors of 3x to 10x. As a Type A company and stock, people tend to get emotional about it, and opinions can vary widely on various aspects of the company and its prospects.
In my Easy-Rate™ system, I use all of the ratios mentioned, plus a couple others, to get a blended assessment. Any valuation method—including discounted cash flows—results in an estimate, because there are so many unknowns and assumptions built into the model. A stock's "intrinsic value" is not a physical quality of the stock, it is a modeled or imputed value. Garbage in, garbage out. Current estimates from various broker-employed and independent analysts place Apple's value or one-year price target anywhere from $104 to more than $200. Clearly, Apple is hard to value, and there will be widespread disagreements about it. It is, in many respects, a speculative stock, and its price per share can be expected to display wide swings. Its 52-week range is $115 to $293 (a 2.5x difference).
My own system, as it happens, rates Apple's value as "Fair" at its current price of $173.
Investment Thesis and Conclusion: One invests in Apple for growth, not dividends. It is a superb company, with tremendous growth prospects and a recent history of achieving spectacular growth. Whether it will continue to do so in the future is speculative. If you believe that it will continue its growth record of the past few years, and you can stomach price volatility likely to exceed 50%, Apple can be a buy-and-hold stock for many years. If you basically believe in Apple's strength but want to "play" the volatility, you can swing-trade it or play it as a momentum investment. (That's what I do.) If you have no stomach for wild price volatility, you probably should not buy Apple at all. Buy its products and enjoy Apple that way.
Disclosure: Long AAPL