Overview
I recently wrote an article on "Challenges for Australian Banks in a Resource Driven Economy," and in doing so I questioned not only how the biggest Australian bank by market capitalization is performing against its peers, but more so how does it stand up against its leading global competitors such as Wells Fargo Corporation and HSBC Holdings. This article will analyze and discuss the key challenges facing the four largest western banks by market capitalization (by region) as follows:
America: Wells Fargo Corporation (NYSE:WFC)
Britain: HSBC Holdings (HBC)
Australia: Commonwealth Bank of Australia (OTCPK:CBAUF)
Canada: Royal Bank of Canada (NYSE:RY)
Long-Term Ratings Downgrade
In June 2012, ratings agency Moody's downgraded 15 leading banks with global capital operations, and of the 15 banks two of the above banks were downgraded as follows:
HSBC - Long-term senior debt to Aa3 from Aa2, outlook negative; Provisional Short-term (NYSE:P)P-1 affirmed.
RY - Long-term deposit rating to Aa3 from Aa1, outlook stable; Short-term P-1 affirmed
Moody's offered the following synopsis for the ratings downgrade for these two banks:
"The first group of firms includes HSBC, Royal Bank of Canada and JPMorgan. Capital markets operations (and the associated risks) are significant for these firms. However, these institutions have stronger buffers, or 'shock absorbers,' than many of their peers in the form of earnings from other, generally more stable businesses. This, combined with their risk management through the financial crisis, has resulted in lower earnings volatility. Capital and structural liquidity are sound for this group, and their direct exposure to stressed European sovereigns and financial institutions is contained."
Of further note is that of the four leading US banks by market capitalisation, Citigroup (NYSE:C), JP Morgan (NYSE:JPM) and Bank of America were all downgraded as well, with only Wells Fargo excluded. Also downgraded was the Royal Bank of Scotland, while no Australian banks were included in the ratings downgrade. From Moody's Global Banking Managing Director Greg Bauer:
"All of the banks affected by today's actions have significant exposure to the volatility and risk of outsized losses inherent to capital markets activities. In the past, these risks have led many institutions to fail or to require outside support, including several firms affected by today's rating actions. Today's actions, however, reflect not only the credit implications of capital markets operations. They also reflect ((i)) the size and stability of earnings from non-capital markets activities of each firm, (ii) capitalization, ((iii)) liquidity buffers, and (iv) other considerations, including, as applicable, exposure to the operating environment in Europe, any record of risk management problems, and risks from exposure to US residential mortgages, commercial real estate or legacy portfolios."
Recent Financial Performance
For each the banks I have compiled a comparative table below that shows share price, market capitalization, dividend yield, net profit after tax, diluted earnings per share, return on equity and Tier 1 Ratio for capital adequacy:

Profit
From the tabulated data above I have graphed profit and diluted earnings per share for each bank below. Of note is that while HSBC is generating the most profit, it does so at a comparative marginal EPS compared with the other three banks. Conversely, while CBA generates the second lowest amount of profit, it does so at a significantly higher EPS ratio compared to HSBC and Wells Fargo Corporation. This is notable given overall market capitalization and total cash assets of the bank is significantly less than each of the three other global banks. Wells Fargo has also generated the biggest one year return of 38.52%, outperforming Commonwealth Bank by ~6%.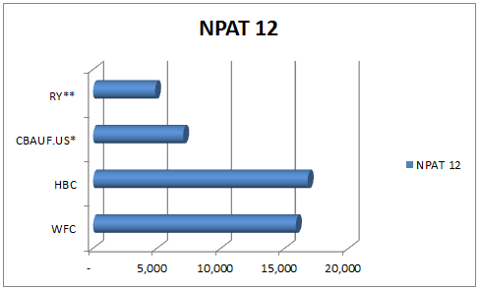 Earnings Per Share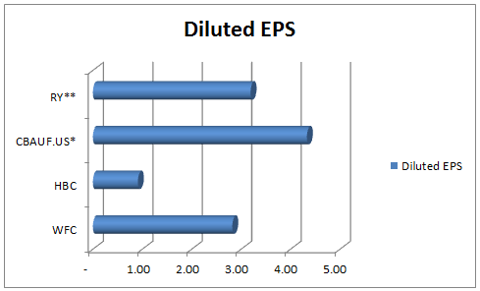 Potential Strengths and Opportunities. Potential strengths/opportunities that apply to each global bank:
Wells Fargo
Largest bank by market capitalization and the strongest Tier 1 capital adequacy ratio.
Increased Revenue overall by 8.1%.
Ability and capital to pick up opportunity asset sales from stressed European banks.
HSBC Holdings
Increased revenue by 13% in Hong Kong, 13% in the Rest of Asia Pacific and 80% in Latin America.
Reorganized company business structure; previously constructed on country lines over 80 separate businesses, now restructured into 4 global businesses and 10 global functions to make it easier to manage and control the firm. Basic global integration allows for a coordinated and consistent approach to compliance and risk.
Risk.net 2012 Awards HSBC - Best bank, Interest Rate and Inflation Risk.
Commonwealth Bank
Increased demand for $AUD high quality liquid assets to satisfy global demand in meeting BASEL III capital adequacy requirements.
Well regulated banking and finance sector governed by the Australian Prudential Regulatory Authority; the strength of this regulation contributed to Australian banks strong performance during the global financial crisis.
Will continue to dominate residential property loan market.
'AA-' rating for bank.
Royal Bank of Canada
Good record of maintaining a high dividend payout ratio.
Domestic wealth management increased revenue from $222

million

to $1.7

billion

.
Ability and capital to pick up opportunity asset sales from stressed European banks.
Future Risk / Weaknesses. Potential risks/weaknesses that apply to each global bank as follows:
Wells Fargo
Stability risk due to increased concentration in the US mortgage market and lower interest revenue from refinanced loans.
HSBC Holdings
Commonwealth Bank
Flat property market affecting new business in residential mortgages (significant component of CBA business).
Higher wholesale funding costs due to the Eurozone crisis driving increased reliance on domestic deposits.
Weaker credit demand from consumers concerned about a potential recession or secondary global financial crisis.
Strong $AUD above parity with $USD.
Royal Bank of Canada
High debt-to-income ratios fuelled by mortgage credit expansion.
Effect of a potential recession on the Canadian economy.
US Commodities Futures Trading Commission sues bank for illegal trading activity.
Shareholder Returns
The bottom line for investors in any company is a return on investment that outperforms low risk available returns on assets such as certificates of deposit, term deposits and government bonds. All four banks have generated significant one year returns (24% - 38%) which is reflected in market share price. Of note is that in comparing return on equity and dividend yield for each bank, CBA is the clear front runner delivering the highest ROE at 18.02 and a significantly higher DY of 6.81%. Dividend growth investors who target stable high returns should note that CBA has a consistent history in paying strong dividends (see here), which are fully franked and (therefore) tax expempt for overseas investors, and the bank is the franchise market leader within the Australian finance sector. Likewise Royal Bank of Canada which is one of the five pillars of the Canadian banking system has delivered a strong ROE of 16.25 and the second highest DY of 4.20%.
Return on Equity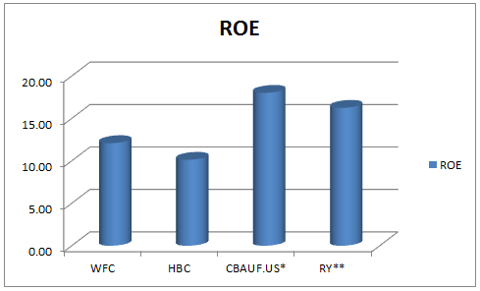 Dividend Yield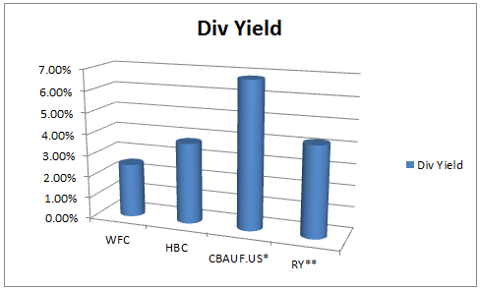 Summary
This article has sought to highlight the challenges facing the four largest western banks by market capitalization (by region), in what are unique yet intertwined operational environments. The key comparative indicators have represented the banks current level of performance, and demonstrated that sufficient levels of liquidity are held (and continue to be developed) to meet capital adequacy requirements in accordance with the BASEL accords. However in reviewing relative strengths, weaknesses, threats and opportunities we are able to identify significantly different factors affecting the banks' future performance in each operating environment. While the strength of Wells Fargo may be appealing to US investors, other investors seeking a higher ROE and DY may wish to further examine the relative merits of investing in the Commonwealth Bank and the Royal Bank of Canada, noting the specific market risks for those banks, and that currency hedging for the investments would need to be taken into account regarding investors' own personal circumstances.
I also believe there is further potential in the Australian and Canadian banking sectors and I will look to examine these in more detail with a fellow Seeking Alpha contributor in my coming articles.
Disclosure: I have no positions in any stocks mentioned, and no plans to initiate any positions within the next 72 hours. I wrote this article myself, and it expresses my own opinions. I am not receiving compensation for it (other than from Seeking Alpha). I have no business relationship with any company whose stock is mentioned in this article.
Additional disclosure: I utilise Commonwealth Bank for banking services in Australia.