Today we are going to look at Silver Wheaton (NYSE:SLW) and examine this stock from both a fundamental and a technical aspect. Many investors today seem to base their investment decisions on yield alone. This is not the best strategy to follow, as in some cases the performance of high-yielding stocks has been dismal over the years. It is best to focus on issues such as earnings growth rates, profitability margins, payout ratio, quarterly revenue growth rates, current ratio, etc. Before we decided to take a deeper look at Silver Wheaton, we put it through the following screen, and it met and exceeded all the listed requirements.
A profit margin of 50% or higher
Net income should be trending upward for the past three years
EBITDA should be trending upward for the past three years
Three- to five-year projected growth rate of at 15% or higher
Annual EPS before NRI should be trending upward for the past five years
Interest coverage ratio of 4.5 or higher
A retention rate of 70% or higher
Points of Interest
The company has an exceptional profit margin of 73%, a very good five-year EPS growth rate of 46%, and a positive levered free cash flow of $312 million. It also sports a very strong current and quick ratio of 6.3 and 6.3, respectively.
Technical Outlook
Click to enlarge images.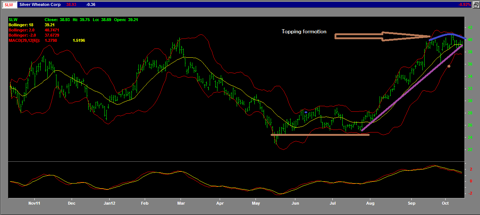 The stock has had a nice run over the past few months and is currently trading in the overbought ranges. It could still potentially trade to the $42-$43 range before pulling back. As the stock is overbought and appears to be putting in a top, we would wait for a pullback before opening a new position. It is more likely to be trading in the $34-$36 range over the next few months than in the $45-plus range.
A weekly close below $36.50 should result in a test of the $30.00-$32.00 range. Consider waiting for a test of the $30-$32 range before committing new money to this play. The long-term outlook is bullish, but this stock can experience huge swings, so it's best to divide your money into several lots and deploy some each time instead of making one big purchase.
If the stock closes below $27.50 on a weekly basis, there is a good chance that it could test its lows ($22.90-$23.00) or even trade to new lows. If you are a long-term investor, this could be viewed as a great long-term entry point. If you are not a long-term investor, then consider placing a stop at $22.90 and wait for the stock to give new signs that it's putting in a bottom before opening up a new position. A pullback to the $22.90-$23.00 range is not a high-probability event at this point in time.
Another good strategy to employ is to sell puts at strikes you would not mind owning the stock at. If the stock trades below the strike price the puts were sold at, the shares could be put to your account. This strategy allows you to get in at a price of your choosing, and your final price after the premium is applied could end being significantly below the strike price the puts were sold at. If the shares are not assigned to your account, you get to keep the premium.
Fundamental Outlook
The detailed data provided below should enable you to quickly decide if fits your investment bill. The key areas to pay attention to on net income, cash flow, quarterly revenue growth rates, three- to five-year projected EPS growth rates, profit margins, retention rate, and current ratio. For those who are not familiar with the current ratio and retention ratio, we have provided a brief explanation of both below.
The retention ratio is the amount of net income that is not paid out as dividends. In other words, it is the money the company retains that can be used to grow the business, etc. It is calculated by subtracting 1 from the dividend ratio.
The cash ratio allows investors to determine how fast the company would be able to pay its short-term debts if push came to shove. Higher numbers are better because it makes it easier for a company to ask for new loans, increase in credit lines, etc.
In all the key areas, the company has shown tremendous improvement over the past few years. Net income and cash flow per share have increased for the past three years. Annual EPS has increased for the past five years. It also sports a very strong current ratio of 6.3.
Company: Silver Wheaton
Key Ratios
1. Profit Margin = 73%
2. Quarterly Revenue Growth = 3.4%
3. Operating Cash Flow = $ 667 million
4. Levered Free Cash Flow = 312 million
5. Five-year EPS growth rate = 46%
6. Next Three- to Five-Year Estimate EPS Growth rate = 22.99
7. ROE Five-Year Average = 13.09
8. Current Ratio = 6.3
9. Quick Ratio = 6.3
10. Retention rate = 81%
Growth
1. Net Income ($mil) 12/2011 = 550
2. Net Income ($mil) 12/2010 = 290
3. Net Income ($mil) 12/2009 = 118
4. Net Income ($mil) 12/2008 = 18
5. Net Income Reported Quarterly ($mil) = 147
6. EBITDA ($mil) 12/2011 = 616
7. EBITDA ($mil) 12/2010 = 334
8. EBITDA ($mil) 12/2009 = 159
9. Cash Flow ($/share) 12/2011 = 1.72
10. Cash Flow ($/share) 12/2010 = 1
11. Cash Flow ($/share) 12/2009 = 0.47
12. Annual EPS before NRI 12/2007 = 0.37
13. Annual EPS before NRI 12/2002 = 0.33
14. Annual EPS before NRI 12/2009 = 0.38
15. Annual EPS before NRI 12/2010 = 0.83
16. Annual EPS before NRI 12/2011 = 1.55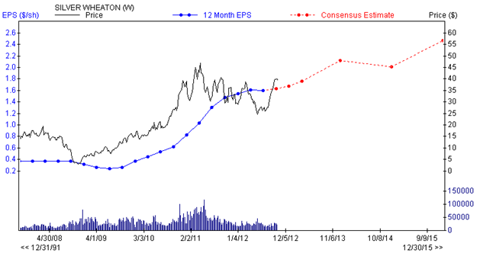 The price of the stock tends to perform better when the stock is trending above the EPS line. The stock has just managed to trade above this line again.
Dividend history
Dividend Yield = 1.00
Payout Ratio = 0.19
Payout Ratio Five-Year Average = 0.03

While it has been paying dividends for a relatively short period of time, the extremely low payout ratio of 19% gives it plenty of room to raise the dividend. The dividend should be safe for many years to come.
Growth of $1,000 if it was invested nine years ago in Silver Wheaton: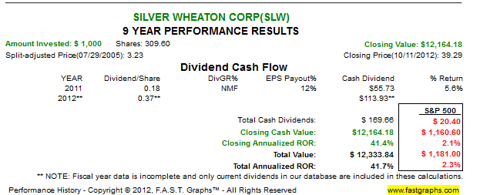 If we replace the $1,000 with $100,000, the sum would have grown to $1.2 million.
Conclusion
Silver Wheaton is the largest metals streaming company in the world. Its production costs are fixed and it sports impressive profit margins. The company is also a good long-term hedge against inflation and unstable currencies. At one point, the euro was viewed as being a far better bet than the dollar. Today, the opposite is true. With the Fed stating that it will purchase $40 billion worth of mortgage-backed securities indefinitely, inflation is certainly going to be an issue going forward. This company provides investors with an opportunity to hedge their bets.
EPS charts and a large portion of the historical data used in this article sourced from Zacks.com. Dividend history was sourced from Dividata.com.
Disclosure: I have no positions in any stocks mentioned, and no plans to initiate any positions within the next 72 hours.
Business relationship disclosure: This article was prepared for Tactical Investor by one of our analysts. We have not received any compensation for expressing the recommendations in this article. We have no business relationships with any of the companies mentioned in this article.
Disclaimer: It is imperative that you do your due diligence and then determine if the above play meets with your risk tolerance levels. The Latin maxim caveat emptor applies -- let the buyer beware.