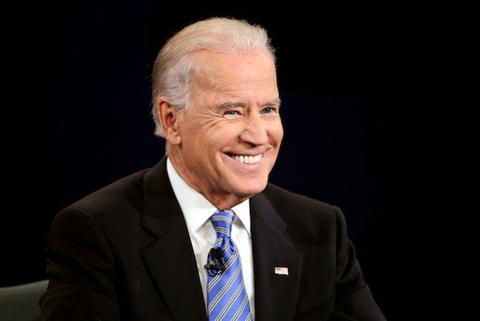 Click to enlargeHad the Dow Jones not added in a couple of points in the final minutes, this past week would have witnessed 5 days of declining averages. As alarmist moods were sweeping in, the fear was compounded as one realized that we had not seen levels this low since Labor Day.
In a week when there really wasn't much news to logically move markets in one direction or another, it's understandable why Joe Biden's facial expressions took center stage. Who doesn't like the appearance of confidence and optimism? Maybe his muscles of facial expression were no match for the vacuum that moved them upward. That same vacuum moved stock prices downward.
There's been so much discussion over the appropriateness of Vice President Biden apparently having too good of a time during his recent debate with opponent Rep. Paul Ryan. Personally, I think he was just streaming the audio of the latest episode of Workaholics to his earpiece. How could you not laugh?
I'm not really certain why there's much of an issue, as debate is more than just presenting facts in a persuasive way. It's also about introducing uncertainty into your counter-part and giving the appearance that your ground is higher than their ground.
That is precisely the dynamic that makes the stock market move. There's much more than fundamentals and sanitized data.
As this week approaches, I find myself smiling and unusually confident and optimistic. Maybe it's because I know that I don't have to be anyone's Vice President.
This week there really wasn't much to smile about if you were fully invested in the market, although, if you are the kind that sells covered options, you may have had some reason to feel a bit vindicated after suffering through this implausible melt up of the past 3 months
Maybe not the best of weeks even with all of the insurance, but still the ground can be higher when protection is in place.
Just as Cummins (NYSE:CMI) gave an encore performance as it provided its obligatory quarterly warning, and the heavy machinery cousins all marched downward in stride, so too did the market once again follow Alcoa (NYSE:AA) downward after it started off earnings season.
And precisely as in the second quarter, the response to Alcoa's numbers were initially positive, driving shares up in the after hours market. Of course, the script wouldn't be complete had Alcoa not mightily reversed course the first full day of trading after earnings were released.
As numbers were released in the second quarter, the self fulfilling prophecy of disappointment became true, but that lasted for barely a week and quickly the expectation of lowered expectations took hold and has only now started looking back, as the process starts all over again.
I've been one of those waiting for the market to restore its sanity all through the summer. That manifested itself by predominantly using in the money calls to cover purchases and sometimes seeing the option cycle come to a conclusion with the need to replace 50% of a portfolio while feeling compelled to buy only bargain priced stocks.
Good luck with that.
But after a week of pessimism and after Alcoa has greased the pole, the talk is all of how horrid earnings will be as we progress through their releases. Add to that shares of Apple (NASDAQ:AAPL) now being described as inhabiting correction territory and you have the makings of a disastrous slide.
Yet, for the first time in a few months, I have a sense of optimism as preparing for the coming week. Prices appear to be a bit more reasonable, the decline was orderly and without emotional spikes in either direction, and precious metals seem to have found their ceiling.
Whereas others may look at the disassociation of precious metal prices and the U.S. dollar and the degradation of correlation between volatility and the S&P 500 as signs of the Apocalypse, I see signs of life coming from a breakdown of order.
This coming week appears to have no shortage of candidates to add to the portfolio. The only regret is that an insufficient number of my holdings were assigned this week.
Potential additions are classified as being either Traditional, Momentum or Double Dip Dividend (see details)
The very first on my list among Traditional selections is Wells Fargo (NYSE:WFC). Hammered after they released earnings on Friday morning and having some liability with mortgage related overhangs, Wells Fargo has simply returned to comfortable price from which to set up a base of operations.
The same holds true for American Express (NYSE:AXP). As with Wells Fargo, I get particular delight seeing shares assigned and then repurchased shortly after at the same or lower prices. Although it's not very exciting, it's also not tiresome. The only caveat is that American Express reports earnings on October 17, 2012 and sometimes the excitement of earnings interferes with my need for ennui.
Also reporting earnings on Wednesday is Textron (NYSE:TXT). A one-time perennial in my portfolio, I haven't owned shares in about a year. It is one of those few that haven't taken the time or effort to come back to the old neighborhood and present itself with a more reasonable purchase price. What is has done, instead, is to have found a stable price, at least since its last earnings release, when it skyrocketed higher. Based on Friday's close and the premium obtained for selling an in the money call at $25, the 2.6% net return on investment seems to be very appealing. Maybe there will still be enough premium left to make the purchase after earnings are released.
DuPont (NYSE:DD) is another position that I haven't owned in a couple of months, but one that I'm always anxious to add. I've recently been on the wrong side of the choice between purchasing shares of DuPont or Dow Chemical (NYSE:DOW), but have come to the realization that there is room for both.
The final candidate for inclusion or addition, as I already own shares is Transocean (NYSE:RIG). Together with the other two components of the "Evil Troika," I currently own shares of BP (NYSE:BP) and Halliburton (NYSE:HAL), and despite their annoying habit of bouncing abruptly at times, they are always very good candidates upon which to write covered calls.
Most recently, I've had some difficulty identifying selections in the Momentum category, but not this week. Perhaps it's a little easier because the upcoming week is also the final week of a monthly cycle and that creates more opportunity to purchase shares without the mental burden of thinking that I may have to hold shares for an entire month or more.
As with so much else in the next, earnings are ever present. In the cases of Lexmark (NYSE:LXK), Las Vegas Sands (NYSE:LVS), Freeport McMoRan (NYSE:FCX) and Yahoo! (NASDAQ:YHOO), they all report earnings the first week of the November 2012 cycle, so I'm intrigued by a possible series of hit and runs that could see shares assigned at the end of the October 2012 cycle this coming Friday.
As opposed to my newly found optimism looking much more critically at using out of the money strike prices with the Traditional selections, the caution creeps back in as it comes to the Momentum plays and I think the bottom line would be best served by utilizing protective in the money strike prices.
I currently own shares of Las Vegas Sands and Lexmark and have repeatedly done so over the past few months. Within the past two weeks have owned both Yahoo! and Freeport McMoRan. It wouldn't be terribly difficult welcoming any or all of them back, even if only for a week.
The most difficult selection this week was finding a reasonable Double Dip Dividend selection. Unfortunately, the only one that I could identify was Caterpillar (NYSE:CAT). Despite being priced just right, after having suffered in the wake of Cummins need to confess, it also reports earnings during the first week of the November cycle and my personal portfolio is currently overweight with Caterpillar. Common sense tells me that even if common sense tells me Caterpillar is a good short-term selection, I might be best served by not heeding logic.
Traditional Stocks: American Express, DuPont, Textron, Transocean, Wells Fargo.
Momentum Stocks: Freeport McMoRan, Las Vegas Sands, Lexmark, Yahoo!
Double Dip Dividend: Caterpillar (ex-div 10/18).
Remember, these are just guidelines for the coming week. Adjust accordingly with market movement, and you'll have the makings of a healthy income stream for the week with reduced risk.
Disclosure: I am long RIG, CAT, LVS, LXK, HAL, BP, DOW. I wrote this article myself, and it expresses my own opinions. I am not receiving compensation for it (other than from Seeking Alpha). I have no business relationship with any company whose stock is mentioned in this article.
Additional disclosure: I may initiate purchases in DD, TXT, YHOO, FCX, AXP, WFC.