On September 22, I wrote an article entitled QE-Infinity: A Game Changer for Mortgage REITs. In it, I explained my thinking why I was pruning my REIT holdings. My main point was I expected mREITs' revenues to be squeezed after a temporary uptick in book value. The comments off the article were incredibly lively and intelligent and worth a read all by themselves.
Looking 3-6 months out, I thought the danger of loss of capital had increased enough that investors needed to take a hard look on whether the juicy dividends of the group was worthwhile. It turns out my ideas may have been wildly optimistic. Several mREITs may be on shakier ground than I thought.
Price Performance

The last three weeks, mREITs in general have taken a sharp hit: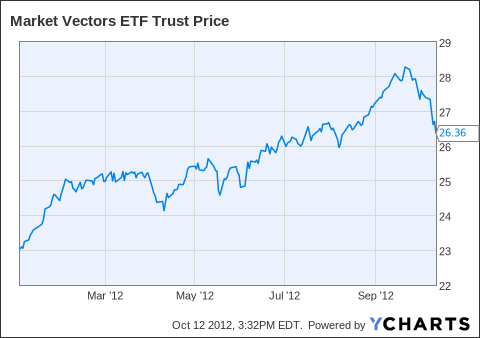 The Market Vectors ETF Trust (NYSEARCA:MORT), an exchange traded REIT ETF, had an almost 24% runup since the start of the year before retreating over 5.5%. What has caused this sharp sell off so soon?
Book Value
A key idea assumption why mREITs would not be immediately affected by QE3 was that sharp upscale of demand by the Fed buying mortgages would raise the value of those mortgages (book value of mortgages go up as interest rates fall). With book values rising, this should give a one-time increase to the overall values of mREITs.
In fact many commentators on my original article defended mREITs specifically over the idea that mREITs' share prices are more closely tied to book value than dividends. I disagree at that, as I believe the quality of the assets are more important than the actual book value. Digression aside, the strong belief was stated by many that mREITs would advance at least into the short term due to rising book values. I thought it would delay any sharp price decrease in the near term. That argument may be off the table because of mREIT hedging.
Dan Freed in an article on The Street, talking about the recent mREIT selloff, said that Barclays analyst Mark DeVries was concerned that attempts by REITs such as American Capital Agency Corp. (NASDAQ:AGNC), Annaly Capital Management (NYSE:NLY), and CYS Investments (NYSE:CYS) to hedge their exposure to rising interest rates may have compromised their QE3-driven book value gains. Those hedged funds will not enjoy a bump in book value so any upside has been capped.
The problem here is it is difficult to know how wide-spread is the effect of the hedging. Most REITs do hedge their positions, especially in those areas that can be impacted by market movement or interest rates. This may be a case, though, where safety took away upside.
Annaly has been the poster child for mREIT troubles the last few weeks. In a JP Morgan analyst downgrade of the stock;
...the stock that presently trades at a premium to the target price; QE3 that may further erode margins; and the OMT program of ECB that lessens down Euro risk, which may weaken the value of NLY as a portfolio hedge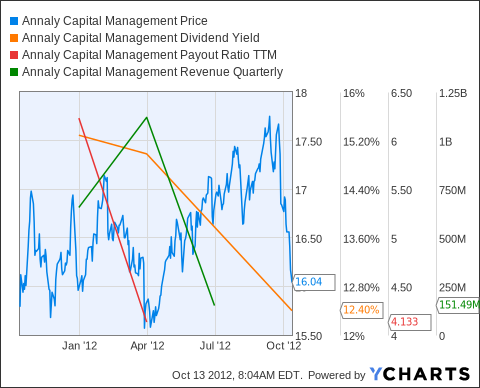 Annaly, like a lot of mREITs, is highly leveraged. It borrows money at low rates to loan out, making money on the spread. It also has often paid out greater than 100% of revenues to keep up the dividend. Now a recent dividend cut sent share price tumbling.
Revenues
With reports hitting that mREIT revenues are getting squeezed, and with sharp increases in mortgage refinancing, revenues at other REITs looks to already being hurt, and the reporting season we just began look to have many disappointments, with disappointing dividends and more tumbling stock prices.
Two possible REITs that stand outside the fray are Two Harbors Investment (NYSE:TWO) and Resource Capital Corporation (NYSE:RSO) (an mREIT still in my portfolio). Both are REITs that are a bit more diversified than only mortgages. General guidance from the two seems to show that, so far at least, book values are advancing and revenues are holding up. They may be well enough positioned to continue to provide the high yields investors expect from mREITs without the same level of the danger of capital loss as some others.
Disclosure: I am long RSO. I wrote this article myself, and it expresses my own opinions. I am not receiving compensation for it (other than from Seeking Alpha). I have no business relationship with any company whose stock is mentioned in this article.