One of things I've found most surprising about this year's market rally has been the strength in consumer-facing stocks despite the seemingly sluggish economic recovery in the West. Retailers have outperformed yet again, with stocks such as Wal-Mart (NYSE:WMT) and Gap, Inc. (NYSE:GPS) jumping out of multi-year trading ranges. Mega-cap consumer staples stocks have seen considerable multiple expansion, with Coca-Cola (NYSE:KO) and Anheuser-Busch InBev (NYSE:BUD) trading around 20x trailing earnings. From a big-picture standpoint, it seems the market is pricing in a consumer recovery that appears to be far from guaranteed.
One consumer stock that has lagged the market, however, is Procter & Gamble (NYSE:PG). At Friday's close of $67.94, PG is up just 4.4% year-to-date and less than 9 percent over the last twelve months. Including dividends, PG's return rises to something in the range of 8% year-to-date and 12% over the past year -- but both figures still lag both the Dow Jones Industrial Average (of which PG is a component) and the S&P 500.
A key culprit has been slow growth. Revenue growth in fiscal 2013 is guided to flat to negative two percent from FY12's $83.7 billion. At the midpoint, fiscal 2013 sales should come in around $82.8 billion. Amazingly, fiscal 2008 sales were $83.5 billion, meaning Procter & Gamble will have gone five full years with essentially no revenue growth. Earnings growth has been a touch better, but not by much:
PG Earnings 2008-2013
| | |
| --- | --- |
| Fiscal Year | Core EPS |
| 2008 | $3.41 |
| 2009 | $3.47 |
| 2010 | $3.67 |
| 2011 | $3.95 |
| 2012 | $3.85 |
| 2013* | $3.90* |
data from PG earnings releases; EPS is "Core EPS," a non-GAAP measure which excludes one-time items; fiscal year ends in June
* -- at midpoint of company guidance for $3.80-$4.00 per share in core EPS
Over the five year period, earnings are projected to rise just 14.3 percent in total, or about 2.7% on a compound annual basis, with FY13 earnings likely to be below FY11 levels.
Despite the sluggish growth, PG remains richly valued. Trailing P/E based on the FY12 Core EPS is 17.9; the forward price-to-earnings ratio sits at 17.4, based on the midpoint of the company's guidance at $3.90 per share (a figure echoed by analysts). Given the flat top-line growth, and modest earnings improvements, that multiple seems awfully high.
PG bulls offer several narratives to justify PG's valuation. The most recent has appeared courtesy of hedge fund manager Bill Ackman, who disclosed a billion-dollar stake in PG in August. Ackman reportedly has pressed for the firing of CEO Bob McDonald; earlier this month, Ackman told the Value Investing Congress the CEO was "on a tight leash" while blaming PG management for failing to control costs and deliver sales growth. "I attribute a lot of these problems to senior management," the hedge fund manager later added, according to Reuters.
McDonald had already announced a restructuring intended to cut some $10 billion in costs by 2016, though many observers believe he will not be around the see that plan's outcome. But the problem with Ackman's thesis is that the problems facing Procter & Gamble are not just company-specific. Procter & Gamble's legacy middle-class customer has been squeezed, creating what the Wall Street Journal called the "hourglass effect," where companies such as PG and many others must now market certain products upward -- but most downward, pressuring margins. Meanwhile, cutthroat retailers such as Wal-Mart and Costco (NASDAQ:COST), along with discount dollar stores such as Family Dollar (NYSE:FDO) and Dollar Tree (NASDAQ:DLTR) are taking market share from traditional grocers by competing almost solely on price, limiting PG's ability to pass higher input costs along to its end customers. Generic and store brands continue to increase their market share, adding another level of price competition. Internationally, growth has slowed, particularly in emerging markets, while a slowly strengthening dollar has provided a headwind to PG's dollar-denominated earnings.
PG's struggles can be seen in a slide from its Q4 earnings presentation in August. The slide breaks down the effects of FY13 earnings guidance, guided to grow slightly -- or perhaps fall slightly -- from FY12 results: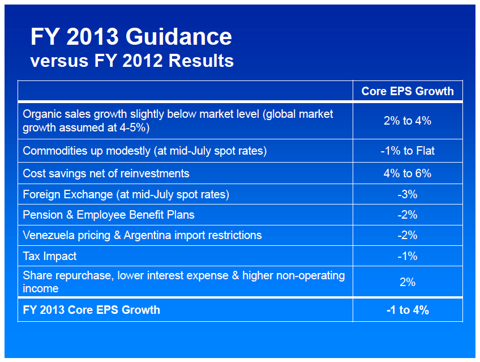 Click to enlarge
Slide courtesy Procter & Gamble Q4 earnings presentation
Investors should ask: what here is going to change in the future? Perhaps PG can create organic sales growth above global market growth, and add a few percentage points. But that will be no easy task, particularly in the US. Commodity prices seem likely to continue to rise given worldwide money printing and increasing demand. Forex reversals could provide another boost, but a weakening dollar would not only increase revenue but commodity costs as well, limiting its beneficial effect. The issues in Venezuela and Argentina may dissipate, but similar costs could easily arise elsewhere in emerging markets, which offer significant political risk.
PG did attempt to answer the question: later in the presentation, the company offered its pathway to a new "target EPS growth range" in the "high-single digits to low-double digits."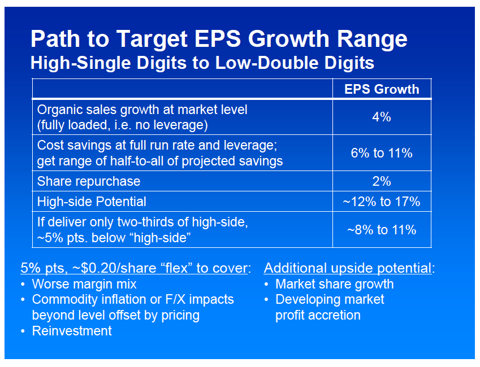 Click to enlarge
Slide courtesy Procter & Gamble Q4 earnings presentation
While the slide looks nice, an awful lot needs to go right for the company to hit its target range. Sales growth must improve, particularly in North America, which still accounts for 39% of sales, and developing markets, which account for 38% of revenue. With the aforementioned headwinds in both markets, that will be no easy task. And commodity and FX effects must be limited. Most importantly, the $10 billion restructuring must be executed correctly without limiting the investments needed to increase organic market growth. And the company must lay out roughly $4 billion annually in share repurchases for those buybacks to create the expected 200 basis points in annual EPS growth.
And, even after all that, investors are paying 17-18 times earnings per share for 6-9 percent net income growth and revenue growth in the 4-5 percent range annually. It's difficult to see the point of such an investment; surely, better opportunities exist with similar valuations.
Of course, much of PG's appeal comes from its long-standing, shareholder-friendly dividend policy. PG has raised its dividend for 56 consecutive years, with another raise likely due in early 2013. But dividend growth investors should be cautious about PG's future policies; dividend growth has slowed over the past few years:
PG Dividend Growth
| | | |
| --- | --- | --- |
| Year | Dividend* | Growth |
| 2003** | $0.92 | 10.5% |
| 2004 | $1.00 | 8.7% |
| 2005 | $1.12 | 12.0% |
| 2006 | $1.24 | 10.7% |
| 2007 | $1.40 | 12.9% |
| 2008 | $1.60 | 14.3% |
| 2009 | $1.76 | 10.0% |
| 2010 | $1.93*** | 9.5% |
| 2011 | $2.10 | 9.0% |
| 2012 | $2.25*** | 7.0% |
* -- annualized
** -- adjusted for 2-for-1 stock split in 2004
*** -- rounded (percentages calculated to actual amount)
Annualized total calculated after January distribution for ease of comparison; data from P&G investor relations website
Assuming that 2013 dividends are paid at 60 cents quarterly -- a 6.7% raise, lower than any hike in the past decade -- the dividend will have risen 50 percent from 2008 to 2013, a period over which earnings are expected to rise just 14 percent. That is simply not sustainable, and as a result, in fiscal 2013, PG's payout ratio will almost definitely surpass 60 percent. In fact, on a free cash flow basis, PG's payout ratio has already passed that level, jumping from 58 percent in FY2011 to nearly 66 percent in FY2012.
There is simply not much room for Procter & Gamble to create dividend growth and reinvestment opportunities at the rate that it has in the past. Adding to the difficulty is the aforementioned share buyback program. In fiscal 2012, the company generated $9.3 billion in free cash flow, but spent some $10 billion on dividends and share repurchases, a figure that is expected to increase in fiscal 2013. With earnings poised to remain flat, it seems likely that once again PG will generate less cash than it distributes.
A company in that situation cannot create the dividend growth long-term income investors seek without substantial earnings increases down the line. For Procter & Gamble to fund buybacks at 2% per year, increase its dividend at a more historically typical 10-12% annual rate, and maintain an acceptable payout ratio will require significant earnings growth by FY15 -- growth well above the "high-single digit to low-double digit" growth the company is hoping for by 2016.
No matter how you look at Procter & Gamble, whether as a value investor, a growth investor, or an income investor, the stock simply doesn't seem to make much sense at current levels. At 17x forward earnings, there are better value stocks. At a hoped-for 6-9 percent growth rate, there are better growth stocks. And with significant pressure on its future dividend prospects, there are definitely better income stocks. As such, investors should look elsewhere.
Disclosure: I have no positions in any stocks mentioned, and no plans to initiate any positions within the next 72 hours. I wrote this article myself, and it expresses my own opinions. I am not receiving compensation for it (other than from Seeking Alpha). I have no business relationship with any company whose stock is mentioned in this article.