Questcor Pharmaceuticals, Inc. (QCOR) closed at $22.01 with 4.61% gain on Friday. The volume of 3.79M is 55.4% less than the 30 day average volume of 8.50M. While the share price for QCOR remained volatile after the news that Aetna (NYSE:AET) was dropping the coverage of Questcor's H.P. Acthar on Sep. 19, 2012, where details can be reviewed in my first QCOR article: Questcor Pharmaceuticals: A Risky Opportunity For Option Traders, QCOR had been gaining 27.6% from 52-week low of $17.25 on Sep. 27, 2012.
Fundamental Supports
As reported by David Moskowitz from Thomson Reuters, the recent strengths of QCOR was supported by 2 key fundamental factors: 1) QCOR noting in its last prescription trend update for H.P. Acthar Gel that, "Patients with serious, difficult-to-treat medical conditions continue to have access to Acthar through commercial insurance, Medicare, Medicaid and other government programs," and 2) The clinical trial abstracts, posted ahead of next month's American Society of Nephrology, ASN, are showing that the clinical data significantly support Acthar use in treating patients with nephrotic syndrome, NS, perhaps the most valuable indication for the product. The full data will be presented to doctors at the "kidney Week" meeting from Oct. 30 through Nov. 4 in San Diego, CA. From valuation standpoint, at current PE ratio of 10.74, QCOR is far below the industry average of 42.4 in the biotechnology industry. QCOR is definitely under-valued if above two fundamental key factors can be confirmed.
Short-Term Technical Analysis
As seen from the chart below, MACD (12, 26, 9) turned bullish on Oct 9, 2012 and the MACD difference continued to diverge in the past 3 trading days. From momentum perspective, the RSI (14) increased to 35.32, coming out of the oversold territory of 30. While QCOR is still well under its 50-day moving average of $35.7 and 200-day moving average of $39.62, if this bullish trend continues, QCOR still has a lot of upside potential.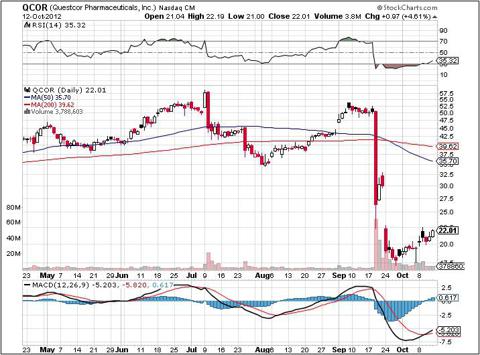 Source: StockCharts.com (http://stockcharts.com/h-sc/ui?s=qcor)
Bullish Option Play with 2:1 Profit/Risk
We are reviewing the following Call spread option play for the traders with a short-term bullish view.
Buy 1x Nov., 2012 Call at the strike price of $22 at the cost of $2.45
Sell 1x Nov., 2012 Call at the strike price of $26 for the credit of $1.12
The maximum risk is $1.33 ($2.45 cost - $1.12 credit received) and the maximum profit potential is $2.67, so the profit/risk ratio is 2:1. All the prices quoted are based on Oct 12, 2012's closing and all calculations are before fees and expenses.
While we are giving up the further upside gain above $26 before November expiration, we are gaining three major benefits: 1) reduced cost/risk for the $22 call; 2) reduced time decay incurred by $22 call option; and 3) possibility to trade short-term volatility with this short call position. Of course, for more aggressive option traders, an outright out-of-money call can generate the X times of return if QCOR continues to go up quickly. However, for more conservative traders, we are very satisfied with 2:1 profit/risk ratio.
Disclosure: I am long QCOR. I wrote this article myself, and it expresses my own opinions. I am not receiving compensation for it (other than from Seeking Alpha). I have no business relationship with any company whose stock is mentioned in this article.