Verizon Communications' (NYSE:VZ) dividend yield is not appealing based upon historical data. I believe the telecom is overvalued based upon historical 1) price to earnings multiples, 2) earnings per share, and 3) growth potential. Income investors should avoid Verizon Communications based upon fundamental dividend stock valuations.
Dividends
Verizon Communications continues to increase as profits rise. Verizon currently pays $0.50 per quarter ($2.00 annualized). With shares trading at $44.62 as of October 12th, 2012, Verizon offers a dividend yield of 4.48%, a price to earnings ratio of 43x and a market capitalization of $127.1 billion. This is well above Verizon's $90.4 billion book value.
Historical Dividend Data:
The data shows investment dollars should be allocated to other income choices. Verizon Communications has provided investors a 1.7% annualized rate of return over 15 years. This is slightly higher than the 1.1% SP500 return over the same time frame.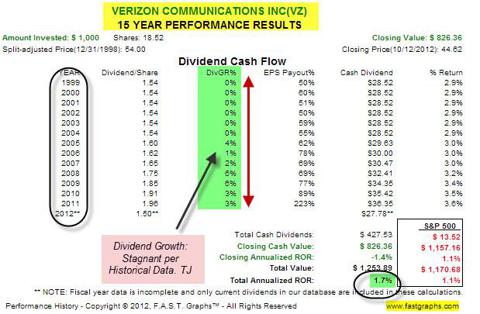 Valuation
As of October 12, 2012, Verizon shares closed at $44.62 with a quarterly dividend of $0.50 and a dividend yield of 4.7%. The 3rd quarter dividend is 51.5 cents. The SEC 10Q 3rd quarter has not been filed to compare expenses versus revenues. Looking into the future, Verizon will likely see a fair amount of growth from increased demand for mobile services, but much of that growth is already factored into its stock price.
The trend chart below shows Verizon's price to earnings ratio over the past three years, where it's up into the 18x range from historical levels of 12x. Also note that the price to earnings graph below shows an averaged trend line. Verizon's actual price to earnings ratio as of August 30, 2012 was 43x, well above historical averages, which suggests that the stock has broken away from its longer term averages and moved significantly to the up side.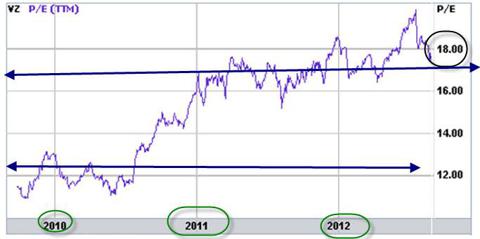 Let's also look at the fundamentals of Verizon's business - its revenues and earnings over the past few quarters (3rd quarter and 4th quarter 2012 estimates are estimates for future revenue and earnings). As the table below shows, Verizon's revenue has increased by about $1.7 billion from $26.9 billion in 1st quarter 2010 to $28.6 billion in 2nd quarter 2012, with projections of $29.5 billion for 4th quarter 2012. Verizon's revenue clearly has not grown at the roughly 50% rate that its shares have gone up in the same period.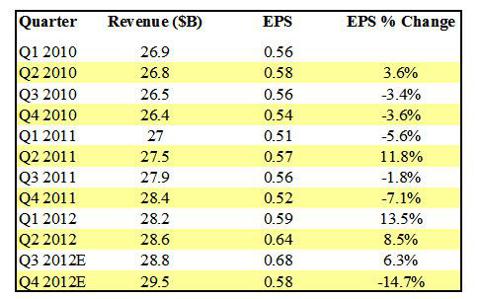 More importantly, its earnings per share, a key driver of stock prices, have moved from $0.56 in 1st quarter 2010 to $0.64 in 2nd quarter 2012, up merely 14%. And estimates suggest earnings could fall back to $0.58 in 4th quarter 2012.
So, as the graph below also shows, Verizon's revenue and earnings growth are nowhere near the growth in its share price, and this is also reflected in Verizon's exceptionally high current price to earnings ratio of 43x.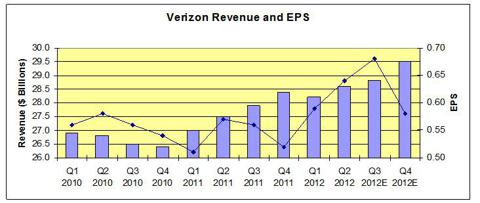 For dividend investors, rising share prices translate into falling dividend yields that reduce the attractiveness of the stock at higher price levels.
The table and graph below show that though Verizon has successively increased quarterly dividends (from $0.475 in 1st quarter 2010 to $0.50 in 2nd quarter 2012), its rising share price (from $27.68 on the dividend payment date in February 2010 to $42.77 as on August 30, 2012) has caused annualized dividend yields to fall from 6.9% to 4.48%, a substantial drop.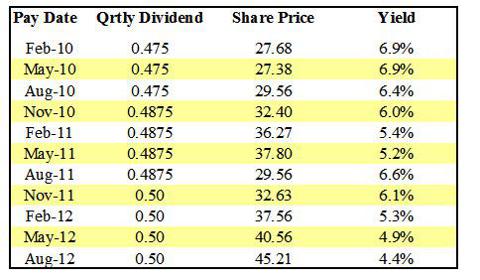 Business Strategy & Outlook
Verizon's wireless segment continues to lead the company's revenue, profit and growth. On the wireless front, Verizon is actively pushing its 4G LTE (long term evolution) coverage which is now available in 337 markets covering nearly 75% of the US population. 4G LTE was recognized by an independent agency for excellence in mobile performance. Verizon wireless is also focused on balancing growth and profitability, and is on track to reduce expenses by $2 billion in 2012.
On the wireline front, Verizon has seen increases in FiOS adoption and enterprise strategic services, but revenue shrank in the quarter and operating income was down considerably despite an 8.5% increase in ARPU to slightly over $100. FiOS now makes up 65% of consumer revenue in the wireline business and has a much higher ARPU of $149. Increasingly, Verizon's old copper line customers are migrating to FiOS bundled offerings but challenges remain.
Verizon Enterprise Solutions is focused on offering the benefits of cloud computing and mobility to the enterprise market. This segment had significant wins in the quarter. Verizon also beefed up its operational capabilities in this sector with new nodes in Denver, Colorado and London, England.
Verizon expects to improve financial performance through portfolio rationalization which may entail selected divestments, price reductions to lure more customers, and continued focus on cost management and long-term profitability.
Financials
For its 2nd quarter ended June 30, 2012, Verizon reported a 3.7% increase in revenue over 2nd quarter 2011 (year over year), a 1.1% increase in operating expenses, a solid 15.5% gain in operating income and an 18.9% increase in net income. After attributing net income to non controlling interests, net income to Verizon shareholders was up 13.4%.
All in all, Verizon delivered a solid quarter with operating revenues of $28.55 billion, operating income of $5.65 billion, net income of $4.3 billion ($1.83 billion to Verizon shareholders) and fully diluted earnings per share of $0.64, up 12.3% year over year.
In the quarter, Verizon was intensely focused on cash management and profitability.
Revenue and income growth was driven by a 7.4% gain in wireless revenues and a 21.8% increase in wireless operating income. Wireless revenue totaled $18.58 billion, roughly 65% of total revenue, wireless operating income was $5.7 billion, and substantially all of Verizon's consolidated operating income in the quarter.

Wireless revenues were driven higher by a solid 4.9% gain in wireless connections. Postpaid connections were up 4.2% to 88.8 million subscribers. While prepaid connections went up 19.6%, they did so based upon a much smaller base and grew less in subscribers than postpaid connections. At quarter end, Verizon had 94.2 million wireless subscribers.

In the quarter, wireless data revenues were up 18.5% and retail postpaid data ARPU (average revenue per unit) was up 15.4%. On the voice side, retail service ARPU grew a more modest 3.7%. The jump in data revenues was partly driven by higher smartphone sales - 73% of all new phones sold were broadband-enabled smartphones (versus 59.5% a year ago). Increased smartphone purchases resulted in 50% smartphone penetration (smartphones as a % of all units held by Verizon wireless subscribers) up from 36% a year ago.
Wireless churn (retail) dipped to 1.11% from 1.22% a year ago, another positive for the company that directly reflects customer satisfaction and stickiness.
Verizon's wireline business contributed roughly 35% to consolidated revenues but had a much smaller operating income contribution of just $188 million. Wireline operating revenues were down 3.1% and operating income fell 41%.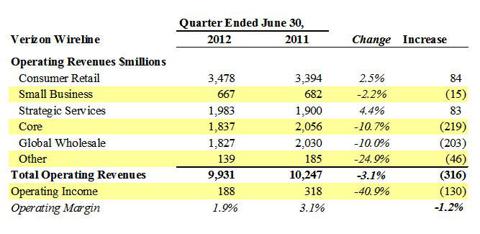 Verizon wireline saw solid growth in its fiber FiOS offering - connections were up 28.8% year over year to 12.3 million subscribers and included a 16.2% jump in FiOS video subscribers (4.5 million at quarter end), a 14.9% jump in FiOS Internet subscribers (to 5.1 million) and a 121.6% increase in FiOS digital voice connections (to 2.6 million).
Broadband connections (slower than FiOS) were up 2.6% to 8,776,000 subscribers. Voice connections decreased 6.9% to 23,278,000. Overall, wireline consumer ARPU jumped 8.5% to $100.26. Still, profitability challenges remain.

Verizon saw cash from operations increase to $15.3 billion from $12.8 billion in the first half of 2011, driven largely by disciplined capital expenditures across all business segments. Capital expenditures in the first half were $7.4 billion, significantly less than the $8.9 billion spent in the first half of 2011.
Hughes Telematics Acquisition: Verizon Enterprise Solutions, a smaller contributor to Verizon's revenues and profits but a key strategic segment of the company, agreed to purchase Hughes. This acquisition is expected to accelerate revenue and profits for the Enterprise Solutions segment across the automotive, energy, healthcare and manufacturing verticals.
Comparing its balance sheet to December 31, 2012, Verizon saw cash and cash equivalents drop 25.2% to $10 billion by June 30, 2012. Long-term debt was down 7.6% over the past six months to $46.5 billion which is roughly half of Verizon's consolidated equity. After non-controlling interest, shareholders' equity was $37.15 billion.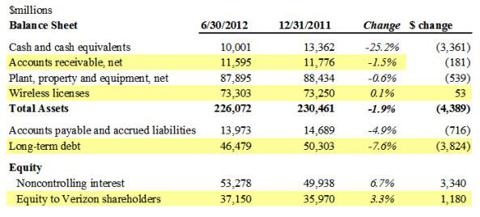 Competition
Verizon's biggest competitor is AT&T (NYSE:T), which broadly competes with Verizon on the wireline, wireless and enterprise services segments but is perceived as being behind Verizon on technology innovation, investment and rollouts such as FiOS and 4G LTE.
Verizon also faces competition from T-Mobile and Sprint Nextel Corp. (NYSE:S). Smaller competitors with niche offerings include MetroPCS Communications, Inc. (PCS), TracFone Wireless, Cricket and U.S. Cellular.
Summary
As the analysis above shows, Verizon Communications has seen share prices rise significantly above its fundamental revenue and earnings growth rates. As a result, price to earnings ratios have risen significantly above earlier levels, into the high 40x level. This does not reflect the earnings growth prospects for this mature sector.
The rising Verizon Communications share price has the undesirable side effect of reduced dividend yields. All of the above data suggests that Verizon Communications is significantly overvalued relative to the company's revenue and earnings growth expectations. I recommend income investors avoid Verizon common stock.
Disclosure: I have no positions in any stocks mentioned, and no plans to initiate any positions within the next 72 hours. I wrote this article myself, and it expresses my own opinions. I am not receiving compensation for it (other than from Seeking Alpha). I have no business relationship with any company whose stock is mentioned in this article.