One does not have to cherry pick the data right now to make a case the economy is sucking swamp water. On the other hand, there remains no smoking gun showing the economy has slipped into a recession.
Trade data is one of the major data releases used to validate Econintersect's Economic Index. With CNBC providing the background noise in my world, I noticed little discussion occurred about this data. On the surface, the trade balance deficit grew - and this should be good news as the trade balance deficit normally grows when the USA economy is expanding. But is it different this time?
click to enlarge images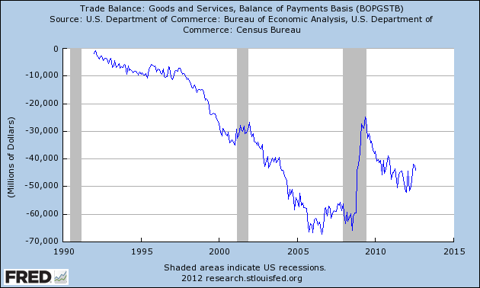 Click to enlarge
From the perspective of the above graph, all looks in order. Remember, the trade balance is the subtraction of imports from exports. Trade balance does not tell you if exports or imports are growing. What would it say about the economy if both exports and imports were in a long term "less good" trend?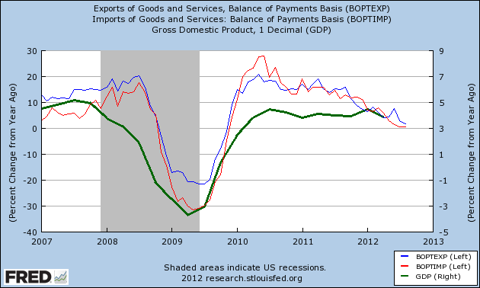 Click to enlarge
The above graph uses seasonally adjusted data and tells you that year-over-year economic growth is almost zilch. And for grins, I have tossed in GDP to show historical correlations.
However, both export and import prices have been deflating. The graph below uses unadjusted data - and uses the export and import price indices to show inflation adjusted growth.
Inflation Adjusted Year-over-Year Change Exports (blue line), Imports less Oil (black line), and Imports with Oil (red line)

Click to enlarge
So what is the bottom line?
The trade balance is a major influence of the USA GDP. This trade balance was 0.23 of the 1.3% 2Q2012 GDP. But we now have two months of 3Q2012 with marginal data - and a growing trade balance. This could turn out to be a major GDP headwind.
Unadjusted Total Imports (blue line), Exports (red line) and Trade Balance (green line) indexed to the End of Recession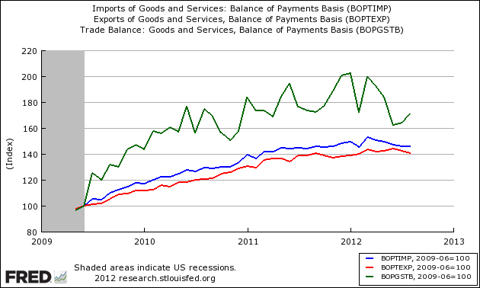 Click to enlarge
The trade data normally has almost unnoticeable current dollar backward revision. If the upcoming September data does not improve - trade will be a significant headwind to GDP. As Econintersect concentrates on the Main Street economy, import's marginal growth suggests Joe Sixpack's world continues marginal consumption improvement.
No data is yet suggesting a reversal to the economy's current weakening trend.
My normal weekly economic review is in my instablog. The big economic event this week was the Vice-Presidential Debate.
Disclosure: I have no positions in any stocks mentioned, and no plans to initiate any positions within the next 72 hours. I wrote this article myself, and it expresses my own opinions. I am not receiving compensation for it. I have no business relationship with any company whose stock is mentioned in this article.