As a portfolio manager I am constantly amazed at the amount of market timing and short-term thinking that pervades the decision making process of many market participants. This mentality, in addition to non-fundamental based forces such as high-frequency trading, provide an attractive time-arbitrage for long-term deep value investors. Nowhere is this disconnect between price and value more obvious than in financials where some of the strongest franchises trade at substantial discounts to book value, and in many cases tangible book value. JPMorgan Chase & Co. (NYSE:JPM), led by Jamie Dimon, has the strongest balance sheet and earnings power in its long and illustrious history, yet the stock still trades at a discount to book value. To be clear there are some large banks that I like more due to better relative valuations, but JPM still offers an excellent absolute value, and on dips such as were provided with the "London Whale" scandal, the stock should be bought.
On October 12th JPMorgan reported outstanding 3rd quarter net income of $5.7 billion, or $1.40 per share on revenue of $25.9 billion. Revenue was up 6% compared to the prior year, and more importantly was up 16% before the impact of DVA. JPM's return on tangible equity was a very strong 16%, highlighting the inherent profitability of the business, despite an extremely difficult regulatory and economic environment. Similar to Wells Fargo (NYSE:WFC), JPM is picking up substantial market share in its Mortgage Banking business where revenue was up 29%. Mortgage loan originations were $47.3 billion, up 29% YoY and 8% sequentially. Margins are above average in this business but I'd expect there are still 2-3 quarters of above average production as home owners continue to take advantage of the artificially low rates available because of QE3. When things slow down, servicing costs and charges will likely decline as well which should offset the decline in origination fees. Jamie Dimon estimates that there are $500MM a quarter in excess servicing cost fees, which will eventually go down to zero, but he acknowledges it could take eight quarters or so to get there. It is important to note that most of mortgage origination is refinancing, and the uncertainty related to the Basel rules is stifling lending for new mortgages, due to the fact that FICO's under 680 require a great deal more of capital than higher FICO's. If regulators eventually clear the bureaucracy somewhat, while maintaining strong but clear regulations, the banks and the economy in general would be huge beneficiaries.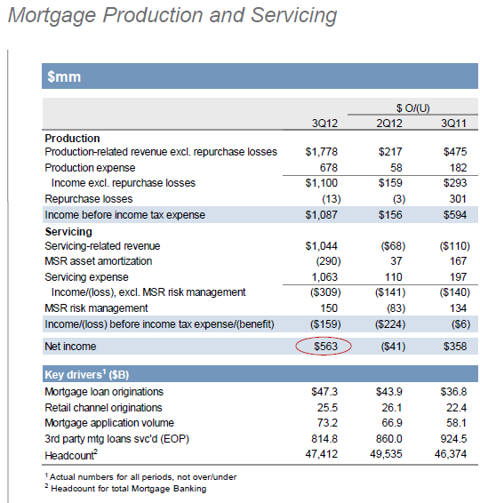 Source JPMorgan Q3 Investor Presentation
Credit card sales volume was up 11%, while the commercial banking unit increased loan growth 15% to a record $124 billion. Treasury & Securities Services increased assets by 12% to a whopping $18.2 trillion, while the Asset Management business reported its 14th consecutive quarter of positive net long-term product flows achieving record loan balances of $75 billion. JPMorgan realized a $900MM pretax benefit from reduced mortgage loan loss reserves in the real estate portfolio, which was virtually offset by $825MM pretax of incremental charge-offs pertaining to the new OCC guidance on certain residential loans. J.P. Morgan had a $888MM pretax benefit from extinguishing higher cost trust preferred securities, which was somewhat offset by a $684MM pretax expense for additional litigation reserves.

Source JPMorgan 3rd Quarter Earnings Release
JPMorgan's balance sheet has continued to strengthen with Basel I Tier 1 common of $135 billion, or 10.4%, which is up 9.9% from the prior quarter. Estimated Basel III Tier 1 common of 8.4% was up from 7.9% in the prior quarter. Despite improved credit metrics, JPMorgan still retains $23 billion of loan loss reserves with global liquidity reserves of $449 billion. In the Consumer & Business Banking division average deposits were up 9% and Business Banking loan balances grew for the 8th consecutive quarter to a record $19 billion, up 8% from the prior year. JPM's ratio of the allowance for loan losses to end-of-period loans retained was 2.06%, compare with 2.3% in the prior year.

Source J.P. Morgan 3rd Quarter Earnings Release
The Investment Bank continues to be a source of immense profitability for JPM with net income of $1.572 billion in the quarter. The non-economic DVA accounting rule actually reduced net revenue by about $211MM so results were even stronger than shown at first glance. Investment banking fees were up 38% to $1.4 billion, consisting of debt underwriting fees of $805MM, credit underwriting fees of $235MM, and advisory fees of $389MM. Fixed Income and Equity Markets combined for revenue of $4.8 billion which was on par with last year. It's important to note that one of the reasons for the large U.S. banks trading at a valuation discount to the regional banks is their exposure to the capital markets. To me this is short-sighted and foolish thinking in many respects as competition has declined over the last several years, creating a situation where the largest competitors, including JPMorgan, are in a position to gobble up market share, retaining a lion's share of the overall market's profitability. ROE's have been above 15% despite anemic M&A and equities trading allowing for ample upside potential.

Source J.P. Morgan 3rd Quarter Earnings Release
Book value per share grew to $50.17 per share at the end of the 3rd quarter. Disappointingly JPM halted share buybacks due to the problems at the CIO division, and the diluted share count now sits at 3.814 billion shares versus 3.872 billion shares a year ago. While there might have been regulatory pressure to do so, JPM missed a huge opportunity to increase intrinsic value by buying back stock in the low $30s as the market punished the stock over anxieties pertaining to the extent of losses suffered on that CIO portfolio. JPM's return on assets (ROA) was 1.01% in the 3rd quarter. Management feels that return on risk-weighted assets is a more appropriate measurement due to JPM's business model, and that ratio improved to 1.74% from 1.52% in the 2nd quarter. In addition to returning 16% on tangible equity, JPM earned 12% on overall equity which is pretty impressive when you think of all of the additional costs associated with litigation, above average legacy loan losses, and the challenging net interest margin environment.
Not long ago media-centric analyst Meredith Whitney proclaimed that the large banks couldn't earn their cost of capital, which to me sounds about as accurate as the municipal bond proclamation on 60 minutes, especially when you consider that the largest liabilities for the large banks are deposits, which for most of them cost less than 1% in the current interest rate environment. I don't mean to point her out individually, as many of the bank analysts have been consistently wrong in assessing the overall profitability of the banks despite this slow-growing economy. Rest assured most analysts will be a lot more bullish on the stocks when they are trading at higher price with less "uncertainty."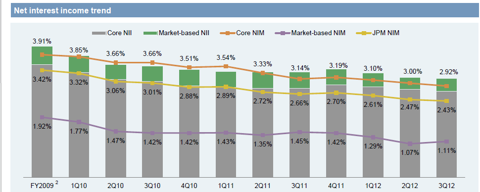 Source JPMorgan 3rd Quarter Investor Presentation
Unlike their European competitors, the large U.S. banks have enormous amounts of deposits that give them ample ability to increase lending when loan demand increases. Currently JPM's deposits-to-loans ratio is 158%, and this funding source is far more reliable than alternative channels such as wholesale funding when credit markets freeze up. Any hiccups in Europe could provide opportunities for J.P. Morgan to acquire attractive loan books to improve net interest margins. I'd also expect the company to retain more self-originated mortgages on the balance sheet. While this might seem risky to some, the time to buy mortgages is when collateral values are low and margins are high. Relative to MBS, self-originated mortgages offer higher yield spreads making this the optimal way to invest in that market.
I believe JPMorgan should trade at about book value, and I'd expect them to be able to grow that by 12-13% per annum. As I stated before, there are other banks and large insurance companies that I feel more strongly about and have written about in the past, but they are only more attractive because of the wider disparity between price and "intrinsic value." Jamie Dimon made a huge mistake with his comments and oversight of the CIO division, but the reality is that this is an absolutely huge enterprise and occasional mistakes will happen. Analysts have recently highlighted litigation risk and net interest margin pressure as reasons why these stocks aren't likely to increase in the near-term, while some momentum traders and chartists are skeptical due to the significant gains seen in 2012, which may or may not be sustainable in the short-term. For long-term investors with the patience, I'd recommend seeing the forest through the trees and overweighting the financials. Dips should be bought and it certainly makes sense to sell puts to create a self-imposed dollar cost averaging program. 3-5 years out I highly doubt that you will be sorry for doing so!
Disclosure: I am long JPM, WFC. I wrote this article myself, and it expresses my own opinions. I am not receiving compensation for it (other than from Seeking Alpha). I have no business relationship with any company whose stock is mentioned in this article.