It was one month ago now when the U.S. Federal Reserve roused the markets by announcing QE3. The fact that the Fed would once again be expanding their balance sheet was not necessarily the surprise. Instead, it was the fact that the program will remain ongoing until employment growth is sustainably improving. In short, the Fed is now all in.
Despite the Fed's generous commitment, the stock market has yet to follow suit by going all in with a sustained rally. While expectations for any such rally certainly makes little sense from an economic or market fundamental standpoint, the recent past has shown that balance sheet expanding monetary stimulus from the Fed can trump all else in lifting markets higher. And as we stand at a critical juncture in waiting for any euphoric stock rally to take hold, it is worthwhile to reflect on the past month to assess performance across various asset classes as well as what we might expect from each going forward.
Given that it is the category that dominates the headlines, it is worthwhile to begin the review with the U.S. stock market.
click to enlarge images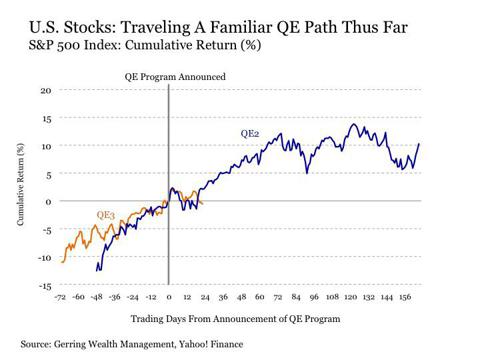 Despite the recently lackluster performance of the S&P 500 Index (NYSEARCA:SPY) thus far during QE3, it is effectively in line with what was experienced during the early days of QE2. If history is any guide, stocks may soon find their footing after a recent period of consolidation to take the next advance forward on a QE3 induced stimulus high.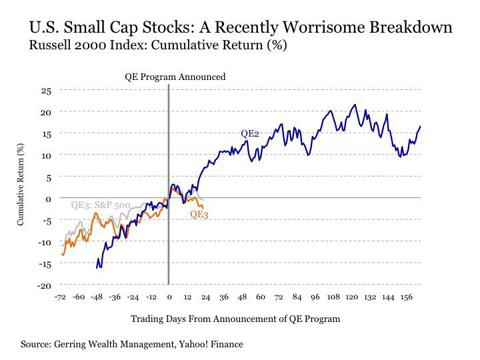 U.S. small cap stocks as measured by the Russell 2000 Index (NYSEARCA:IWM) are also following a strikingly similar path under both QE2 and QE3 thus far. It should be noted, however, that small caps have shown some signs of deviation in recent trading days from the QE2 pattern. This merits watching in the coming days for any further divergence.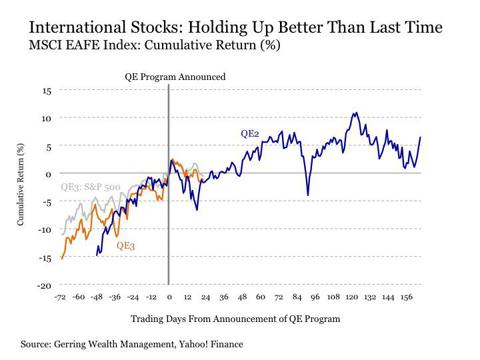 Developed international stocks (NYSEARCA:EFA) are actually performing somewhat better under QE3 than QE2 to this point. And this is occurring despite the fact that the situation is far more dire today with the European crisis than it was two years ago at the launch of QE2. This alone shows that dreamy market hope is very much alive and well in the face of extremely trecherous underlying risks.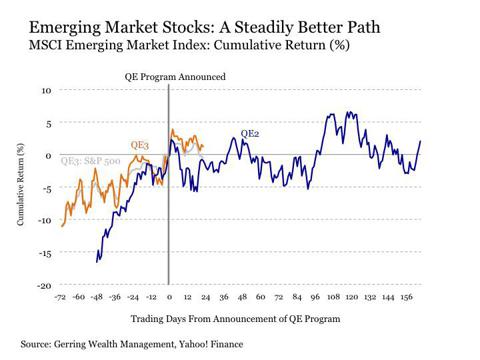 Emerging market stocks (NYSEARCA:EEM) are even more lively than their developed counterparts thus far under QE3. The category is already running ahead of its QE2 performance to this point by a reasonable margin. Moreover, it is outperforming the U.S. indices as well.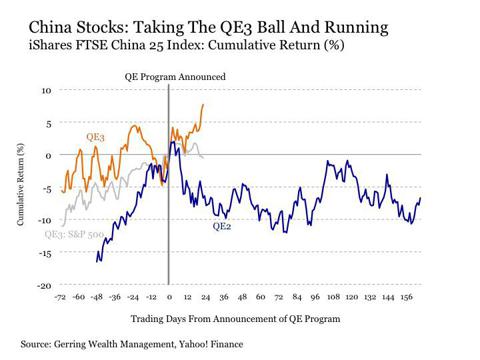 The China stock market (NYSEARCA:FXI) in particular has been a primary driver of the QE3 emerging market rally to this point. The magnitude of China's outperformance thus far makes sense despite its lingering economic woes, as it has trailed its global stock peers by a considerable margin since the end of QE2 in June 2011 and is long overdue to begin catching up, particularly since China is one of the few remaining sovereigns with the scope to apply additional stimulus to support its economy.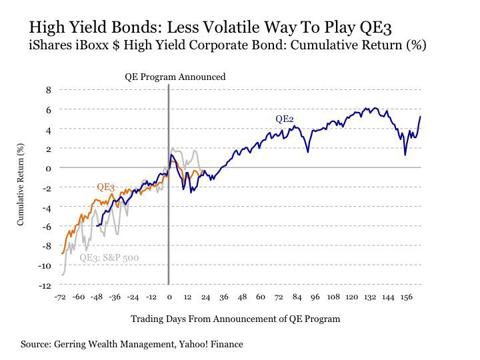 For those that remain understandably skeptical about taking on added commitments to the equity markets in hopes of a QE3 induced rally, the high yield bond market (NYSEARCA:HYG) may represent an attractive alternative. The category has performed well since the post crisis rally began several years ago with returns that have been highly correlated with the U.S. stock market but with a lower level of risk. And the same pattern appears to be setting up once again under QE3.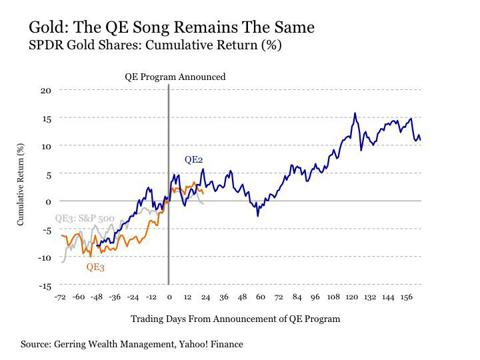 Moving into the precious metals space, gold (NYSEARCA:GLD) represents a particularly attractive holding in today's QE influenced markets given its hard asset inflation protection characteristics. Although it was a bit slow in getting moving under QE2, this can be explained by the fact that it was consolidating what had already been a strong advance in the quarters leading up to the official announcement in November 2010. Gold may show more sustainability to the upside under QE3, however, as it had been stalled for much of the past year leading up to this latest stimulus program and is now long overdue to catch up.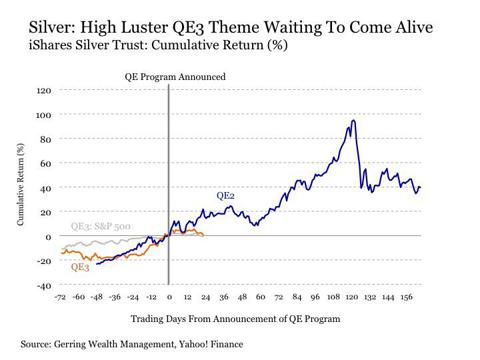 Silver (NYSEARCA:SLV) even more than gold has shown the propensity to respond extremely well to balance sheet expanding monetary stimulus. During QE2, silver made a run at testing all time highs last reached over three decades ago in 1980. Given that silver has been a bit slow on the uptake thus far under QE3, now may be the time to consider adding positions. It should be noted, however, that owning silver is not for the faint of heart, as it is a particularly volatile asset class with swings in excess of 1% the norm on any given trading day.
It should be noted that I opt to use the Central Fund of Canada (NYSEMKT:CEF) and the Central GoldTrust (NYSEMKT:GTU) to maintain exposures to the gold and silver markets.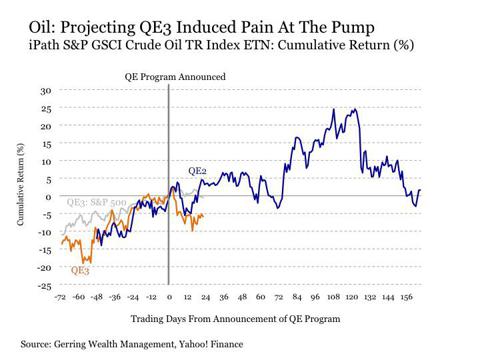 Oil (NYSEARCA:OIL) is another category that has been slow on the uptake thus far under QE3, but the same trend occurred under QE2. But after an initially slow start, oil pries eventually moved as much as 25% higher in the subsequent months. As a result, it would not be surprising to see another spike in oil prices in the near-term. For those seeking exposures to the oil market through stocks, Occidental Petroleum (NYSE:OXY) provides a particularly high correlation to the West Texas Intermediate Crude spot price.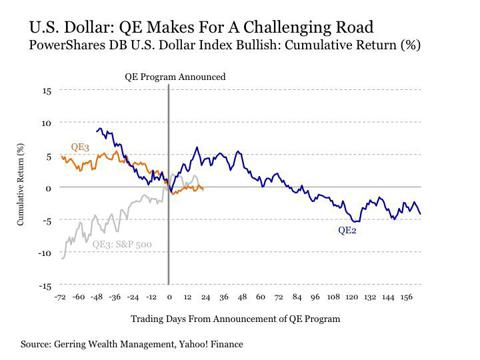 Of course, not all asset classes benefit from QE. And leading among the losers is the U.S. Dollar (NYSEARCA:UUP), which has historically shown the propensity to drift lower as would be expected when the Fed is engaged in aggressive printing of its currency. While the dollar has held steady since the announcement of QE3, it has thus far not shown the initial bounce the way it did under QE2. And a further weakening of the dollar is likely in the months barring a complete meltdown with the European crisis.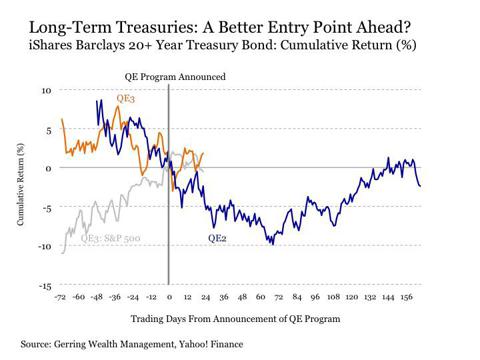 As discussed in a recent article, another category that has been known to come under pressure during periods of QE is the U.S. Treasury market. This is somewhat ironic given the fact that the Fed's primary reasoning for implementing QE is to lower interest rates. And the downside impact has been most profound on the long end of the curve. Long-Term U.S. Treasuries (NYSEARCA:TLT) have trended lower in advance of QE3 just as they did ahead of QE2 back in 2010. And although Long-Term Treasuries have livened up a bit in the days since the announcement of QE3, the trend remains for further weakening in the months ahead. But given the assumption that this latest round of QE is unlikely to provide any more of a sustained benefit to the U.S. economy than the previous programs, we will likely arrive at another ideal entry point to buy Long-Term Treasuries to protect against a weakening economy and a declining stock market.
In summary, the performance of markets across asset classes remains striking similar to what was experienced during the QE2 episode back in 2010. Whether various asset classes maintain this strong correlation in the days and weeks ahead remain to be seen, but as long as markets continue to show the ability to ignore fundamentals, the fact that these relationships are still in tact to this point bodes well for many of these categories as we move toward the end of the year.
Disclosure: I am long FXI, OXY, GTU, CEF, HYG. I wrote this article myself, and it expresses my own opinions. I am not receiving compensation for it (other than from Seeking Alpha). I have no business relationship with any company whose stock is mentioned in this article.
This post is for information purposes only. There are risks involved with investing including loss of principal. Gerring Wealth Management (GWM) makes no explicit or implicit guarantee with respect to performance or the outcome of any investment or projections made by GWM. There is no guarantee that the goals of the strategies discussed by GWM will be met.