Most seasoned investors have balanced portfolios which offer reduced risk. To protect their portfolios, sophisticated investors often utilize short positions or put options which serve to neutrally balance long positions. One strategy I enjoy (especially this week) is using put spreads, which can effectively capture profits if a stock or instrument falls (read about it here). Other investors choose slow moving, high paying dividend stocks that can have limited upside potential, but consistent dividends. These are all great strategies over time, but what about investing for big gains in the near term? Some choose penny stocks, and others attempt to invest in stocks that are way oversold, playing a continued downtrend or a quick rebound in shares. But are these techniques too risky? When a particular stock is oversold, is swinging for the fences ever appropriate? The answer isn't that simple, as it certainly depends on the individual.
Some investors with a certain level of financial comfort could decide to devote a small portion of a large diversified portfolio to risky yet possibly very rewarding trades. Although I personally believe in investing as safely as possible, I admit I'm often tempted by these home-run like trades. For the sake of my own exploratory exercise, and perhaps the entertainment of those who can afford speculation, let's take a look at several high risk/ high reward trades that somehow made their way to my saved order list.
Since we are shooting for the stars here, it seems only appropriate to mention trades on Apple Inc. (NASDAQ:AAPL). As we all know, Apple has been an outstanding investment for many investors over the years. Recently, the stock has pulled back significantly from its all time high of $705/share, to around $630/share, offering an interesting entry point. There are many reasons why investors ( including myself ) think Apple is due for a recovery, and others for why Apple could continue to move lower over time. But let's not get into this debatable analysis- let's simply explore some speculative yet possibly extremely rewarding option plays we could use to invest in a big move up and a big move down in Apple shares in the near term.
Speculative Trade #1
Play a short term bounce upwards to or beyond the 50 Day MA of 660/share, or a roughly 5% move.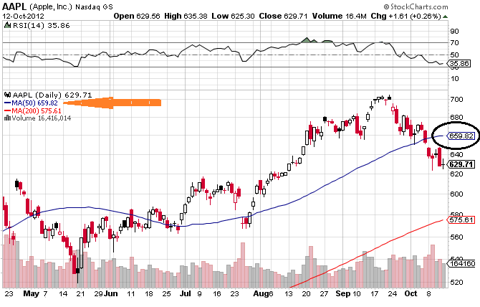 Buy to open October 19th '12 650 Strike Call for 3.00 in premium.
Current Price $630/share
| | |
| --- | --- |
| Cost | $300 |
| Max Risk | $300 |
| Break Even Point | 653/share |
| 100% Gain Point | 656/share |
| 200% Gain Point | 659/share |
| 233% Gain (50 Day MA) | 660/share |
| 300% Gain Point | 662/share |
| 700% Gain Point | 674/share |
The critical factor in this trade is time decay. Time decay will eat away at the 3.00 in premium rather quickly if the stock doesn't recover next week. The expiration for this trade is Friday, 10/19 4pm. Our maximum risk is $300, and our maximum gain is unlimited. Profits grow by 100% every 3 points once the break even point is reached.
Speculative Trade #2
Play a continued downtrend in shares through earnings and into November, and a reunion with the 200 Day MA of $575/share.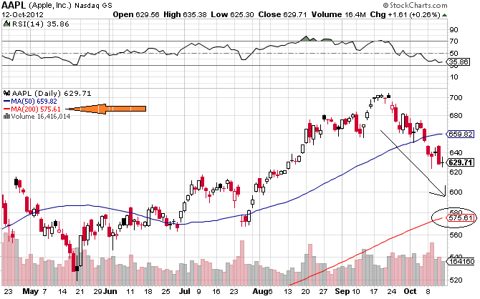 Buy to open November 16th '12 610 Strike Put for 19.00 in premium.
Sell To open November 16th '12 565 Strike Put for 7.00 in premium.
Current Price $630/share
| | |
| --- | --- |
| Cost | $1200 |
| Max Risk | $1200 |
| Break Even Point | 598/share |
| 50% Gain Point | 592/share |
| 100% Gain Point | 586/share |
| 200% Gain (~200 Day MA) | 574/share |
If you feel Apple will disappoint Q3 results due later this month, and shares will continue to fall and eventually approach the 200 day MA, this trade could reap huge rewards.
Summary:
Apple has fallen between the 50 day and 200 day moving averages. I feel speculating on a recovery short term, as well as a continued downtrend through earnings, offer significant opportunity for big profits if brave investors deem it appropriate to speculate on such moves. While holding dividend stocks and utilizing hedges is prudent, these strategies can limit returns at times. Although speculating with a small position could assist in enhancing profits, only qualified investors should take these risks in hopes of boosting returns over time.
Disclosure: I am long AAPL. I wrote this article myself, and it expresses my own opinions. I am not receiving compensation for it (other than from Seeking Alpha). I have no business relationship with any company whose stock is mentioned in this article.