Warren Buffett is often considered as the most successful investor of the modern day. As a self-made billionaire, Buffett built up the company Berkshire Hathaway Inc (BRK.A) whose notable acquisitions included GEICO, Fruit of the Loom, and See's Candies to name a few. Buffett would eventually create another class of shares for Berkshire Hathaway (BRK.B) which are intentionally split in order to allow more shareholders to have access to the company. As it now stands as of October 12, Class A shares remain priced at $132,501.98 per share where as Class B shares trade at $88.25 per share.
In 2012, Warren Buffett's personal net worth was valued at $44 billion. As a result of his general popularity due to his investment acuity, when Buffett puts Berkshire Hathaway's money to work, investors take note. From October 10 to October 12, Berkshire Hathaway continued to push its weight around once again. According to the Form 4 filed on Friday, the company purchased another 217,597 shares of DaVita Inc. (DVA) at $109.76 per share for a total value of $23.88 million. By the day's end the company maintained a total of 10,483,112 shares in DaVita for total holdings value of $1.15 billion.
While this was not the first time Berkshire Hathaway put its confidence in DaVita's future, the latest purchase was just another transaction in a series of recent open market purchases in the company. Within the last month, Berkshire had increased its position on several occasions. Between September 26 to October 9, the company purchased a total of 350,349 shares between $100.96 and $108.21 per share.
A quick look at DaVita's expertise sheds light on the specific trend in which Buffett is willing to invest. DaVita is a leading provider of kidney care in the United States. The company provides dialysis services to patients with chronic kidney failure and end stage renal disease. The company offers clinical care, integrated treatment plans, personalized care teams, and convenient health-management services. As of June 2012, the company operated at 1,884 outpatient dialysis centers serving approximately 149,000 patients. With the specific focus of DaVita on dialysis services, it's clear that Buffett is investing in the rising trend of diabetes occurrence within the United States.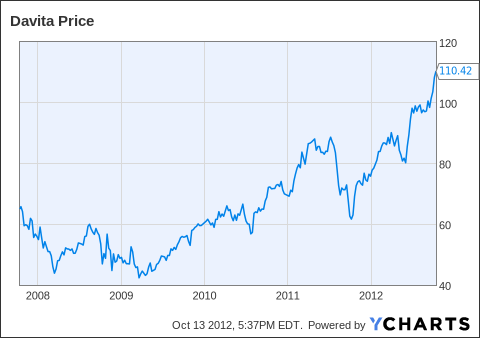 DaVita current trades with a market capitalization of $10.45 billion. The company carries a forward price-to-earnings ratio of 16.12 and an enterprise multiple of 9.17. The company appears fairly valued with a price-to-sales of 1.37 and an above average price-to-book ratio of 4.35. The company does not offer a dividend, and appears to be reinvesting into its growth as its PP&E increased from $1,170,808 in December 2010 to $1,586,460 in June 2012.
With Buffett's outlook on diabetes growth inside the United States, investors may also wish to look towards supplementary plays to consider. Insulet Corporation (PODD) is the developer of OmniPod, the first and only tubeless insulin pump on the market. The device is significantly smaller than traditional pumps and only about half the weight. Its ease of use has allowed the company's revenues to increase from $97 million in 2010 to $152 million in 2011, a 57% increase. One could also turn to drug manufacturing giant Novo Nordisk A/S (NVO). The company became one of the first to manufacture insulin in 1923 and to date supplies more than half of the world's need.
For an investor whose traditional operating philosophy has been to invest into growing long-term trends, Buffett appears to have aligned his company's future with the advancing global epidemic of diabetes. Berkshire Hathaway's ongoing purchases into DaVita points toward their pursuit of a leading enterprise with support services dedicated towards the problem. Investors willing to take to Buffett's lead can find additional opportunities in the leading companies such as Novo Nordisk and Insulet.
Disclosure: I have no positions in any stocks mentioned, and no plans to initiate any positions within the next 72 hours. I wrote this article myself, and it expresses my own opinions. I am not receiving compensation for it (other than from Seeking Alpha). I have no business relationship with any company whose stock is mentioned in this article.