I'm sure you remember the childhood song, BINGO. I now sing regularly with my younger kids:
There was a farmer who had a dog,
And Bingo was his name-o.
B-I-N-G-O
B-I-N-G-O
B-I-N-G-O
And Bingo was his name-o.
As I was writing this article today I kept thinking about the lyrics and then I began to wonder if a growth and income investor's best friend might also be a REIT. No, not a dog, but a REIT with a well-defined growth platform that separates the "best from the rest". This big dog, based in New Hyde Park, NY, packs a big bark as its 926 shopping centers - totaling 135 million square feet in 44 states, Canada, Mexico, Brazil, Chile, and Puerto Rico - make this "best in breed" REIT the nation's largest neighborhood and community shopping center owner. The company is also known for being one of the oldest public REITs.
K-I-M-C-O and Kimco is its Name-O
Founded over 50 years ago by Milton Cooper and Marty Kimmel, Kimco Realty (NYSE:KIM) has a well-defined external growth platform and since its founding in 1958, the durable REIT has evolved into a diverse risk-aligned operation that has a highly focused platform of delivering value including international development, large acquisitions (with a deep bench of institutional partners), and the repositioning of existing assets, backed by a deep stable of strong tenant relationships.
A few weeks ago I wrote an article, O Yes: KIM Is Another Low Cost Provider With An Even Wider Moat, in which I explained how Kimco's executive management team have effectively managed the company's balance sheet by utilizing its low cost of capital in a way that differentiates the company from its peer group. As I wrote,
A critical focus for Kimco management is maintaining an optimal balance of capital, which, in the current environment, is about 60 percent equity, and a mix of perpetual preferred stock and debt - with well-staggered maturity dates to reduce risk. Achieving these proportions helps the company reach a fixed-charge coverage ratio of 2.5 times and a net debt to recurring EBITDA of six times.
Kimco's most recent financial maneuvers in the preferred market demonstrate the "big dog's" strength and investors' appetite for yield. As I wrote:
Perpetual preferred stock is also a critical tool for the company. Kimco was able to go to market twice, in March and July, to raise $625 million at a blended rate of 5.82 percent. The much-publicized July issuance (Preferred J series) of $225 million at 5.5 percent remains one of the lowest coupons ever, and was the lowest for a REIT issuance at the time. These proceeds will permit the company to refinance existing preferred obligations, saving about $11 million in interest payments each year and lowering the average coupon by 1.6 percent.
Kimco has managed to make the concepts of capital ratios, liquidity, and lower cost of funds a "little bit glamorous." In doing so, Kimco has been able to maintain and grow its defensive capital strategies while also strengthening the company's wide moat investment profile. Firms that can figure out ways to provide a good or service at a relatively low cost have an advantage because they can undercut their rivals on price. As the Oracle of Omaha, Warren Buffett, explains:
The key to investing is not assessing how much an industry is going to affect society, or how much it will grow, but rather determining the competitive advantage of any given company and, above all, the durability of that advantage. The products or services that have wide, sustainable moats around them are the ones that deliver rewards to investors.
Kimco: A Wide Moat, Maybe?
Of course, famed investor Warren Buffett originally coined the term, "wide moat" to describe companies with distinct competitive advantages over other firms in its industry. The Oracle of Omaha says he is always looking for "economic castles protected by unbreachable moats."
Indeed, Buffett's Berkshire Hathaway Inc. (NYSE:BRK.B) is chock full of wide-moat companies that consistently rake in high returns on invested capital, propelling their shares higher year after year.
The idea is to buy (when they are cheap) shares of companies that have dominant positions in their industries and are likely to maintain their superiority for decades, not months or years. So, does Kimco, with its international war chest of shopping centers, trade at a discount or does it trade like many other large-cap REITs with historically higher multiples? Is there are a reasonable risk-reward relationship to owning Kimco? Most importantly, does the current price support the valuation of the stalwart REIT?
Kimco: A Blueprint for a Blue-Chip REIT
As a group, REITs have been a getting a lot of attention lately as yield-starved investors bid up prices to historically high multiples. Many of the well-known players like Public Storage (NYSE:PSA) and Simon Properties (NYSE:SPG) have seen shares trading at premium levels. These REITs and others with wide moats have competitive advantages that create high barriers to entry and discourage competition. Does Kimco get the same recognition as the other "big dog" REITs or, perhaps, is there some value in owning an under-priced REIT that also features wide moat characteristics?
To start with, let's examine Kimco's shopping center portfolio. As of the latest reporting quarter (Q2-12), Kimco has annualized shopping center (including JVs) NOI of just over $1 billion dollars. In addition, Kimco recently offloaded a 13-shopping center portfolio totaling 1.7 million square feet for an undisclosed sum, (source: SNL Financial). Kimco has been pruning its underperforming stores, right-sizing inventory levels and significantly improving its balance sheet. As of the latest quarter (Q2-12), I consider a 6.65 percent cap rate to be reasonable given the high quality of the international portfolio. I value the portfolio at a price of $15.093 billion.
In the latest quarter (Q2-12), Kimco owned around $923 million in non-retail assets, the largest of which is the company's InTown Suite portfolio. This "weekly rental" portfolio contains around 138 properties with around 18,000 rooms. Kimco has said that it was working diligently to sell the non-core income-producing portfolio ($17 million in earnings) and it is anticipated that the company will redeploy around $100 million in cash once InTown is divested.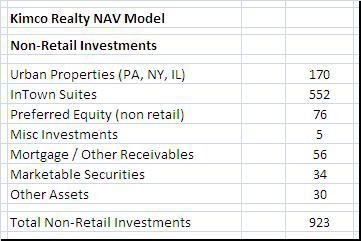 As of the latest quarter, Kimco had around $384 million of cash on hand.

Kimco's other remaining investments include land, projects under development, net lease holdings, mortgages, and other miscellaneous assets. Combined, these remaining assets total $943 million.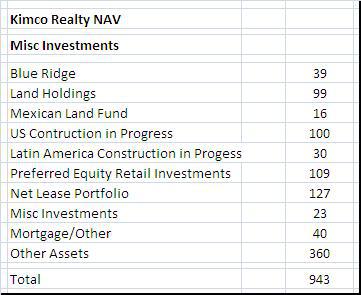 Kimco's gross assets total approximately $17.343 billion and after subtracting the company's liabilities (consolidated debt and JV debt) and its preferred stock (I replaced the series G and H shares with the new issue J shares that closed in Q3-12), I arrived at a Net Asset Value of $9.510 billion.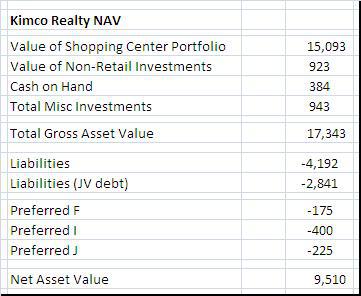 Kimco has 409 million common shares outstanding and the corresponding NAV price per share is $23.25 per share. Kimco's stock price of $20.27 per share translates into a 14.7 percent discount relative to my calculated NAV price of $23.25 per share.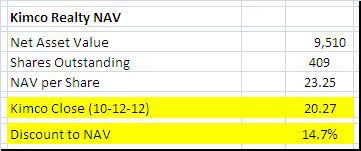 Kimco: A Blue Chip REIT That Is Hard to Beat
As explained in Ralph Block's book, Investing in REITs:
The blue chip REITs take you safely through the ups and downs in the sector's cycles and deliver consistent, rising, long-term growth in FFO (funds from operations) and dividends. Because they are financially strong and widely respected, they will always have access to the additional equity and debt capital that fuels the engine. They will not always provide the highest dividend yields or even, in many years, the best total returns, nor can you buy them at bargain prices - but they should provide years of double-digit returns with a high degree of safety. These are the REITs least likely to shock investors with major earnings disappointments, and will provide very satisfying returns.
Kimco has a current price of $20.27 per share and the current market capitalization is $8.25 billion. The current dividend yield is 3.75 percent and the year-to-date total return is 28.53 percent.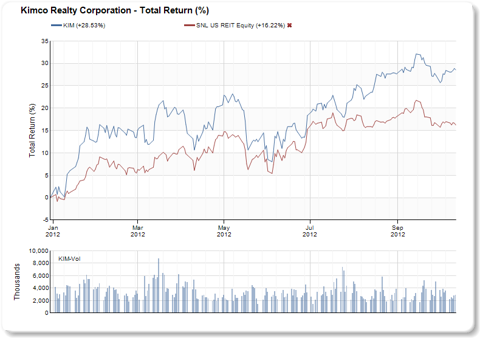 Click to enlarge
Great investing requires both generating returns and controlling risk. With respect to returns, many analysts have looked favorably of late upon Kimco's slower rate of appreciation as compared to the company's fundamentals and the price appreciation of its competitors.
I expect Kimco to continue its focus on recycling non-core assets and building a wider moat of sustainable revenue. Based upon the above NAV analysis, I beleive that Kimco shares have considerable upside going forward and the dividend yield also has considerable room for steady growth. That durability, combined with and experienced management team, is why I consider Kimco to be an "economic castle" protected by an "unbreachable moat".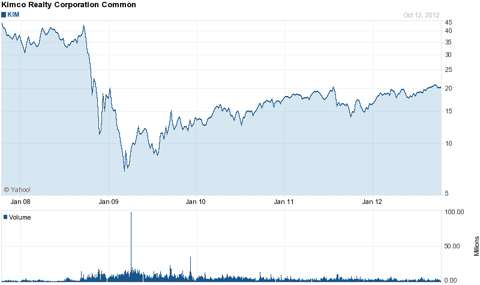 Click to enlarge
A blue chip REIT is distinguished by its ability to recognize and control risk, which is a hallmark of an experienced management team. Kimco is an established blue chip company that has a long track record of skillfully managing risk and generating profits. This differentiation is what separates Kimco as the best- from all the rest - figuratively, Kimco is a wide-moat REIT called by its name-o!
Source: Kimco Q2-12 Supplemental, SNL Financial, Yahoo Finance
Disclosure: I have no positions in any stocks mentioned, and no plans to initiate any positions within the next 72 hours. I wrote this article myself, and it expresses my own opinions. I am not receiving compensation for it (other than from Seeking Alpha). I have no business relationship with any company whose stock is mentioned in this article.