Good story in Barron's this weekend on the funds sitting in Private Equity manager's hands that need to be deployed soon or given back to investors (And we can't have now, can we?). The magazine highlighted several companies that could be likely targets for this hot money. One of those stocks was that of Guess (NYSE:GES), which I have in the income side of my portfolio due to its solid and growing dividend payouts. The company has been hurt by the problems in Europe (37% of revenues), but should do well longer term. Besides the buyout possibility, this cheap retailer has other things to recommend it to value investors including a better than 3% yield and cheap valuations.
Guess, Inc. operates over 500 stores in the United States and Canada and over 250 stores outside of North America as well as retail websites.
7 reasons GES is a solid pick at under $25 a share:
The company has approximately $270mm in net cash on its balance sheet (around 15% of its current market capitalization).
The stock yields 3.2% and has doubled its dividend payouts in the last four years. GES also sports a solid five year projected PEG (1.04) for a high yielder.
Guess has a $500mm stock buyback authorization and is priced at just 7 times operating cash flow, significantly lower than others in the space like Buckle (NYSE:BKE) or Ascena (NASDAQ:ASNA).
The stock sells for less than 10 times forward earnings, a discount to its five year average (13.0).
GES is selling at the bottom of its five year valuation range based on P/B, P/S, P/CF and P/E.
The median price target of the ten analysts that cover the stock is $31.50, more than 25 percent above the current stock price.
It has good long term technical support at these levels (See Chart).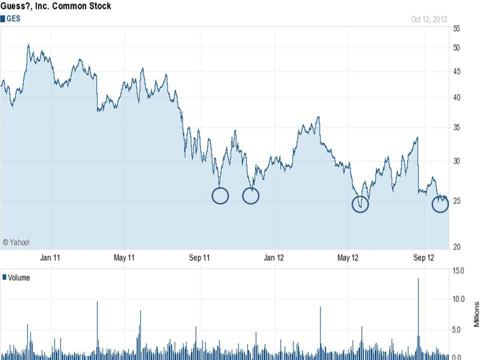 Disclosure: I am long GES. I wrote this article myself, and it expresses my own opinions. I am not receiving compensation for it (other than from Seeking Alpha). I have no business relationship with any company whose stock is mentioned in this article.