Windows 8 brought much optimism for the PC sector earlier this year. Intel (NASDAQ:INTC) peaked at $29 in May 2012, NVIDIA (NASDAQ:NVDA) peaked at above $15, and Microsoft (NASDAQ:MSFT) held above $30 between August and September. Since the summer, these companies sold off, led by Intel lowering its revenue outlook for the year. More recently, preliminary PC sales figures for the third quarter indicated shipments declined 8.3%. Only Lenovo and Asus grew, suggesting that consumers will support companies that innovate in product design without compromising on quality.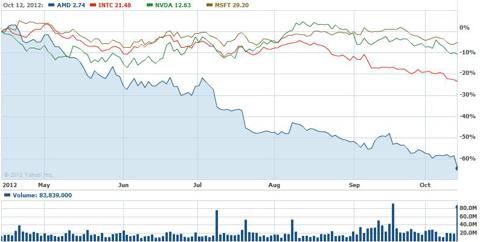 Click to enlarge
(Chart source: Yahoo Finance)
To make things worse for the PC sector, smaller players, including OCZ Technology (NASDAQ:OCZ) and Advanced Micro Devices (NYSE:AMD) anticipated they would report weak quarterly earnings. Granted, these two companies have company-specific issues. AMD forecast that its third quarter revenues will fall 10% from the previous quarter. Gross margins will be 31%,13% lower than its previous guidance. Weak demand for its processors and graphics cards are expected.
The one bright spot for the industry, the release of Microsoft Windows 8 for PC-based on October 26, now stands to be overshadowed by Apple (NASDAQ:AAPL). What is the significance of the rumored release of Apple's iPad mini for the PC sector?
If the rumors for the iPad mini are true, the device will be 7.85-inches and will retail for between $299 and $349, and is already in production. This would mean the tablet will have a display 40% larger than other 7-inch competitors. At this price range, a mini iPad would cost the same as an iPod Touch.
Pricing of the iPad mini will be the single most significant competitive factor that could hurt the PC industry. Already weakened by slowing growth in China, a weak European economy, and strong demand for Apple's iPad, PC tablets need to justify being at a higher price point than the 7-inch tablets. The PC sector failed to make inroads with Ultrabooks, due to its high pricing.
It may be that 7-inch tablets do not compete with PCs, and that Apple's entrance in the market is a response to the growth for these smaller devices. The device would be in direct competition with Amazon's (NASDAQ:AMZN) Kindle, Barnes and Noble's (NYSE:BKS) Nook, and Google's (NASDAQ:GOOG) Nexus 7: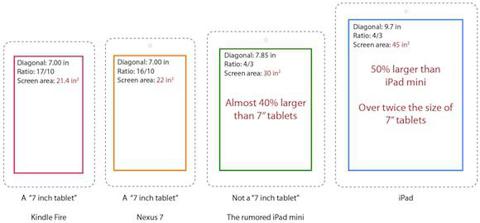 Click to enlarge
(Image Source: Daring Fireball)
Conclusion:
Apple's entrance to the 7-inch tablet will be sure to take away some of the shine of the Windows 8 release. A marketing expenditure is expected to be between $1.5 and $1.8 billion to promote Windows 8 and should give sales a lift, but at the expense of cutting into margins.
On the hardware side, adoption for Windows 8 tablets will be hurt by Apple's iPad Mini, but the level of its impact will depend on pricing. An iPad Mini priced at $349 will make Windows 8-based tablets selling for above $1000 even less appealing to consumers. At even lower prices, the negative impact for Microsoft will be even greater.
Disclosure: I have no positions in any stocks mentioned, and no plans to initiate any positions within the next 72 hours. I wrote this article myself, and it expresses my own opinions. I am not receiving compensation for it (other than from Seeking Alpha). I have no business relationship with any company whose stock is mentioned in this article.