Johnson & Johnson, (NYSE:JNJ) the large-cap, blue-chip, pharmaceutical and consumer brand giant, reports quarterly results Tuesday morning, October 16th, before the bell, with analyst consensus expecting $1.21 in earnings per share on $16.93 billion in revenues for expected year-over-year growth of -2% and +6%, respectively.
Our bottom line for JNJ is that with the rally in large-cap pharma this year, and with the new CEO, who gave investors a look into the next few years with the July '12 earnings report, the stock is close to fairly valued in the high $60's and low $70's.
JNJ is still having issues with recalls, with a "bone putty" recall in August, although around the same time JNJ received priority review status for Zytiga, its prostate cancer drug.
We think of JNJ today as "value" healthcare, even though the stock isn't screamingly cheap on either a p/e or cash-flow basis. Trading at 13(x) and 12(x) current 2012 and 2013 estimates of $5.06 per share and $5.46 per share, JNJ is expecting 1% and 7% earnings growth this year and next, respectively.
Of JNJ's three primary segments, Pharmaceuticals (38% of JNJ's revenues), Medical Device and Diagnostics (40% of JNJ's Q2 '12 revenues) and Consumer (22% of JNJ's Q2 '12 revenues), none is growing faster than mid-single-digits, although the pharma pipeline is expected to have the best prospects over the next 5 years, with its emphasis on immunology drugs, or oncologic drugs like Zytiga.
We would be a buyer of JNJ below $64 and a seller in the mid to high $70's, even with the 3.5% dividend yield, unless the new CEO can spark a turnaround in the Consumer business, which saw its public trust and pristine brand erode under former CEO Weedon with recall after recall of manufacturing operations.
Our fair value on JNJ is roughly $73 - $74 per share, so at a current price of $68, we don't see much of a discount yet, although blue chips like JNJ don't often get screamingly cheap.
Intuitive Surgical (NASDAQ:ISRG) reports Tuesday, October 16th, after the bell, with analyst consensus expecting $3.50 in earnings per share on $535 million in revenues for expected year-over-year growth of 15% and 19%, respectively.
For healthcare as a whole, Q3 '12 earnings per share are expected to grow at -2.7% y/y, which is consistent with the S&P 500 as a whole, so Intuitive is "relatively speaking," growing much faster than the sector.
However at 25(x) and 29(x) 4-quarter trailing cash-flow and free-cash-flow currently, we are awaiting a better entry point to buy the stock, which we think would be around $450, or down 10% from its current levels.
DaVinci was a game-changer for those who suffer from prostate cancer and required a total or radical prostatectomy, and for those women who require a hysterectomy, but as these markets get saturated, and growth slows some brokers think that cardio-thoracic and even general surgery, where DaVinci has less than 5% market penetration, could be new markets.
Basically, the DaVinci machine (as I understand it) is to heavily invasive and brutal physical surgeries, what arthroscopic surgery was for knee injuries in the 1970's: much cleaner, much more accurate, much less invasive and wearing on the body, faster recovery and shorter hospital stays, and higher-margin procedures for the hospitals. Everybody wins with the DaVinci.
Revenue growth has slowed the last 10 quarters from +50% to its current 25%, but new markets like Japan and new disciplines like cardio-thoracic, present new opportunities.
Given ISRG is a pricey growth stock, we like to be a more disciplined buyer with a low-risk entry point. We think that point is $450 or lower for ISRG.
As you can see from the attached chart, ISRG is trying to hang on to its 50-week moving average. Give it a little time and see if it comes in for you.
To conclude, we don't typically take fresh positions in stocks right in front of earnings reports, but if you have to, JNJ is far safer than ISRG here, although we would prefer to buy JNJ at $64.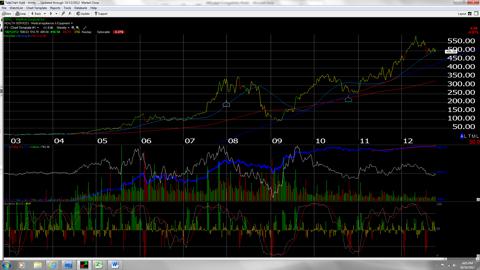 Click to enlarge
Disclosure: I am long JNJ, ISRG. I wrote this article myself, and it expresses my own opinions. I am not receiving compensation for it (other than from Seeking Alpha). I have no business relationship with any company whose stock is mentioned in this article.