With earnings season underway, the financial markets have proven unable - to this point - to sustain the third quarter rally that drove many risk assets to new post-crisis highs. Are we facing a correction in the uptrend, or the start of a larger move down? Let's look at some of the numbers:
Perspective
Stocks: U.S. equities greeted corporate earnings announcements with a distinct lack of enthusiasm last week. The S&P 500 and Dow Industrials fell back to their 50 day moving averages, while the Russell 2000 and NASDAQ broke below that level for the first time since July. Losses ranged from just over 2% on the Dow to nearly 3% on the NASDAQ, which lives and dies with Apple (NASDAQ:AAPL) these days. Shares of that market bellwether have lost over $70 in the last three weeks.
All nine of the major S&P sectors were in the red for the week, but it was not the kind of pure defensive rotation we have been seeing over the recent market rotation. While the utilities did post the smallest loss, the other relatively better performers were the energy and financial sectors. At the back of the pack, consumer discretionary and tech each dropped nearly 3% on the week. Other notable declines included telecom leaders AT&T (NYSE:T) and Verizon (NYSE:VZ), both off more than 5%.
Turning to global markets, nine of the twelve foreign indexes we follow posted weekly losses. The winners were found in Brazil, Shanghai, and Hong Kong. The Bovespa and Shanghai Composite each topped their 50 day moving averages, while the Hang Seng reached its best level since the end of April. Elsewhere in Asia, however, we saw steep falls in Tokyo, Seoul and Singapore.
Bonds: U.S. Treasury yields pulled back through the week. The long bond, which had made another push through the 200 day moving average in what looked like another run at 3%, broke down through the 200 and the 50 day as well, ending the week at 2.835%. The five and ten year notes also closed under their respective 50 day lines. Corporate bonds followed Treasuries, with the Dow Jones broad index going to yet another high, but lower grade paper saw some profit taking. TIPS and munis were little changed on the week.
Commodities: Continuing our theme of dancing around the 50 DMA, the CRB commodity index fell below the 50 and has lost the momentum from the buildup to QE3. Oil continued to trade in the $90-92 range, while gold, which failed to get through $1,800, pulled back to the $1,750s. Silver, stalled at $35, also finished with sellers getting the upper hand. Corn saw a bit of a pop but, like wheat, remains below the 50 day. There was some heavy selling in the softs, with coffee and sugar both down more than 4% on the week. Natural gas, however, continued to buck the weak commodity trend, gaining more than 6% and making another new year to date high above $3.60.
Outlook
It was a relatively light week for economic data as corporate earnings took center stage. The early reports were not particularly encouraging. To this point only half of the reporting S&P 500 companies have beaten revenue estimates, while fewer than 60% have beaten on the bottom line. It seems the lowered guidance we saw during Q3 may not have been sand bagging. Perhaps most interesting among the little new economic we did see was September producer prices. While broad PPI saw a 1.1% increase, core PPI came in flat - 0.0 - further underscoring that it is still too soon to worry about inflation taking hold. Growth remains a larger and more immediate concern.
Stocks: As I often remind readers during earnings season, it is not the news that is of primary importance - be it earnings, economy, or something else - it is the market's reaction. While it is early, to this point the market isn't reacting particularly well. Not disastrously, but not well. We have leadership breaking down, major indexes breaking primary moving averages, and deteriorating breadth. As recently as mid September, more than 85% of the S&P 500 were trading above their 50 day moving averages. As of Friday's close, that number was down to less than 55%, with only two thirds remaining above the 200 day.
At the beginning of the article I asked whether we are seeing a short term correction or a longer down trend. Of course the question is rhetorical and nobody can tell with certainty, but we have to take positions based on the available evidence. I believe there is enough evidence to warrant a cautious approach. To that end we have lightened up on long equity positions, including completely closing out a longer term position in Microsoft (NASDAQ:MSFT), which is getting caught up in the liquidation of almost anything related to the PC business. Having expressed my sense of caution, I do think there are some reasons for not turning altogether bearish just yet:
The big financials are, for the most part, holding up. Just as I find it difficult to get wildly bullish when the financials aren't participating, I find it difficult to be very bearish when they are holding their ground.
We are seeing signs of life in some beaten down emerging market equity indexes. It's too early to get excited, but Brazil and China coming off bottoms - if that is what these moves turn out to be - is a positive development. India seems to be a little further along that road, and it appears the bottom is in for the Sensex 30.
There are stocks and sectors of the market that are still acting well. Several of these are defensive stocks and sectors, but in a slow growth economy, it shouldn't be surprising that these stocks are working.
My outlook on equities then, is to evaluate holdings carefully, cut back on positions that aren't acting well, and keep the rest under close scrutiny. There is always a possibility that we could get that big correction after all. In the short term we don't want to see the SPX break 1,400. Breaking the 200 day on the major indexes would be more troubling. That would open the June lows, and a break through those levels would be rather alarming indeed. Let's see what happens.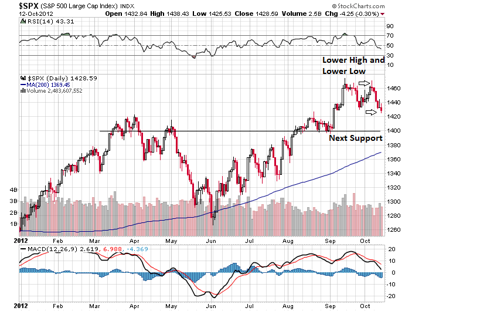 Bonds: The bond market is reacting to the earnings and economic news by bidding up the prices of higher grade paper, and driving Treasury yields back down. There probably isn't much re-positioning to be done at this point, but we would welcome a correction in high yield corporates as a buying opportunity. Higher grade paper still seems exceptionally expensive. Of course it could get more expensive still, but investors interested in cash coupons may not find the prospect of principal appreciation compelling.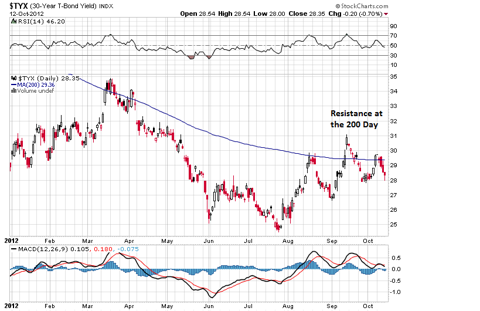 Commodities: The broad commodity indexes appeared to be rolling over since the dollar bottomed a month ago. More recently, they have been moving sideways in a fairly narrow range. We are seeing this trading pattern in oil, precious metals, grains and livestock. We are seeing weaker prices in the industrial metals and softs - the GSCI industrial metals index pulled all the way back to its 200 day MA at the close last week. Natural gas is one of the few areas seeing significant strength, having nearly doubled in price since the April bottom. There is not much else to like here for a long position. We maintain a small allocation to gold, and are looking for support at $1,700.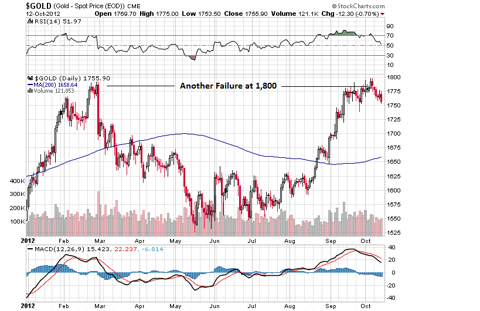 Currencies: Since coming back into the January - May trading range, the U.S. dollar index has made several attempts to get back above the 80 resistance level, and failed. The range bound dollar is in large part the explanation for the range bound commodities, described above. It could also be reflected in the indecisive trading we have been seeing in equities. The euro meanwhile has come back to test its 200 day moving average in each of the last three weeks, and to this point has held that level. We are seeing similar range bound movement in Yen, and to some extent in the Aussie and Canadian dollars, as well as the Swiss Franc.
All of this trading action lends support to the idea that markets are at some kind of inflection point, and looking for the direction of the next trend. As always, watch the dollar index for clues to read the other asset classes.
Disclosure: I have no positions in any stocks mentioned, and no plans to initiate any positions within the next 72 hours. I wrote this article myself, and it expresses my own opinions. I am not receiving compensation for it (other than from Seeking Alpha). I have no business relationship with any company whose stock is mentioned in this article.