Ouch. Though all looked fine the week before last - when the S&P 500 advanced 1.3% - something clearly spooked the market last week, to the tune of a 2.2% loss . In fact, it was the lowest close we've seen since August.
A mere bump in the bullish road, or the beginning of something more alarming? We're leaning towards the latter, for a couple of reasons we'll discuss in a moment. First, we need to take a look at the major economic numbers that are fueling the market's major moves.
Economic Calendar
It wasn't a big week in terms of economic numbers last week. The only thing of real interest was the producer price inflation rate . It was up a pretty hefty 1.1% last month overall, but flat on a core (excluding food and energy) basis. That's actually up from the inflation lull in the middle of the year. It's also the beginning of the bigger inflation snapshot; the consumer inflation side of things is coming this week.
Economic Calendar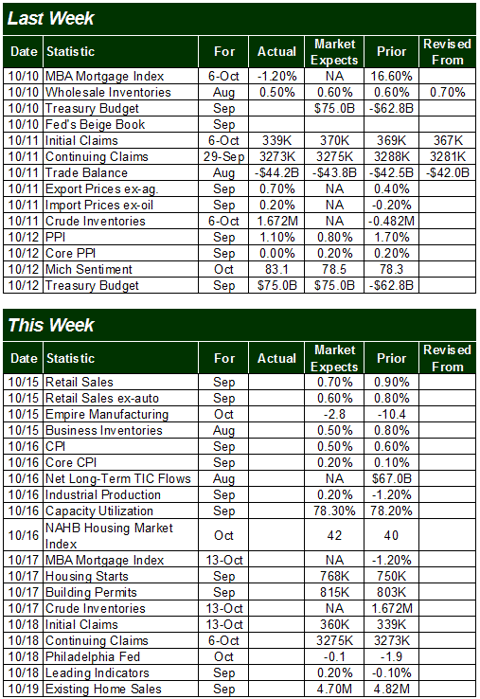 Click to enlarge
The coming week is going to be busier, and with some heavy-hitting stuff too. Here are the bigger items to look out for, in order of appearance:
* Monday: Retail sales should be up again for September, by 0.7% overall, and up 0.6% excluding automobiles. That's a solid follow-up from August's readings of 0.9% and 0.8%, respectively. Despite all the gloom and doom, people are still spending pretty generously.
* Tuesday: We'll get the rest of the inflation picture on Tuesday, with September's consumer inflation reading. The pros are looking for a 0.5% total increase, but a 0.2% jump excluding food and energy. The current inflation 'rate' now stands at 1.69%. We're also going to get September's industrial production and capacity utilization figures on Tuesday. Last month's dip from both was (and still is) a red flag, but it's too soon to raise the white flag just yet. Remember, the direction those two pieces of information are pointed shows a strong correlation to the direction of the long-term stock market.
* Wednesday: The real estate picture will be rounded out with last month's housing starts and building permits . Both numbers have been strong for a while, at or near multi-year highs. Construction stocks are moving in tandem with the rising number of starts and permits.
* Friday: The strength of the real estate market isn't just made up of housing starts and building permits data. We're going to hear about September's existing home sales at the end of the week . Economists expect an annual sales rate of 4.7 million, down a bit from 4.82 million in August. Still, the number's been pretty strong for a while.
Stock Market
Last week was by far the biggest test the bulls have faced since May's implosion. The S&P 500 (SPX) (NYSEARCA:SPY) dropped 32.34 points (-2.2%) last week, though the size of the pullback is the least of the market's worries at this point in time. What's most alarming is how much pressure is being applied to some of the key support levels that have been so instrumental for the rally since early June . Namely, the lower 20-day Bollinger band (blue) and the 50-day moving average line (purple) are both being tested as floors right now… about as intensely as they've been tested in months. And if they should fail to act as a floor this week, the pullback could reach painful proportions (up from 'merely annoying' proportions right now).
S&P 500 & VIX - Daily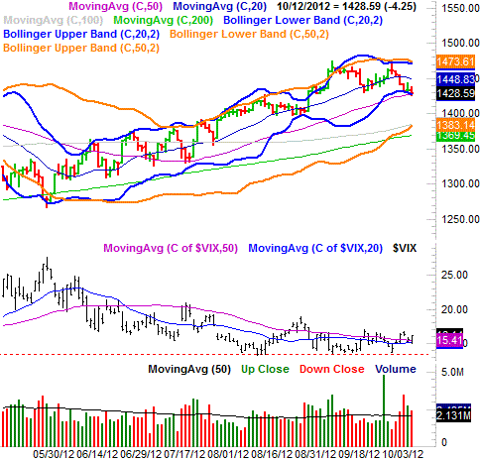 Click to enlarge
So where might such a pullback stop? The 1383 area is the most likely candidate. That's where the lower 50-day Bollinger band (orange) and the 100-day moving average line (gray) are intercepting one another, and that's roughly where the 200-day moving average line should be by the time the S&P 500 Index could move that low.
From the SPX's peak at 1474.51 back in mid-September to a low near 1383 would be about a 6.2% tumble . It feels like an awfully big number, but traders may want to keep in mind that's actually on the lower end of the 'normal' bull market correction. We've just been spoiled to markets (NYSEARCA:DIA) (NASDAQ:QQQ) (NYSEARCA:IWM) that go up forever and never see any real setbacks. But, the persistence of bullishness we've seen over the past several months is the exception - not the norm.
Of course, in some ways, a decent pullback right now would actually be a good thing, in that it would hit the proverbial 'reset' button for the bull market.
All that being said, there is one clue with this pullback that suggests we may want to assume this is more than just a blip…. volume. Though the dip is technically only five trading sessions old, the bearish volume behind it has been higher than the recent average volume has been. And, the selling volume last week was rising rather than waning . You can see that on the daily chart of the SPX and CBOE Volatility Index (VIX) (NYSEARCA:VXX) above, but it's equally clear on the weekly chart below…. even if subtly. Notice last week's volume bar was above the 50-week volume average.
S&P 500 & VIX - Weekly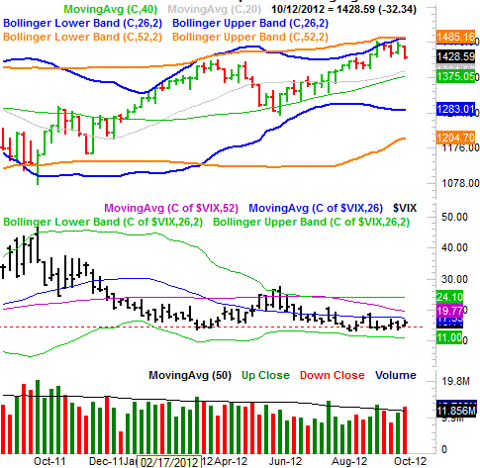 Click to enlarge
Note that the 1380-ish area still appears to be a major line in the sand with the weekly chart.
But what happens on the off chance stocks rebound from here? There are still key ceilings in place… in both timeframes. On the weekly chart, the upper Bollinger bands are at 1485, while on the daily chart the 1473 are key resistance levels. As you can see on both charts, all those band lines have been key ceilings before.
Earnings
While we're not in the thick of it yet, Q3 earnings season is here. Already, 33 of the S&P 500′s companies have reported last quarter's numbers. So far, revenue is up an average of 3.1%, while operating income is down 3.4%. That's roughly in line with the professionals' outlook for a 1.2% dip in income, which hasn't changed in the past week. Here's a look at how each of the major companies (that have reported) did in the 3rd quarter.
Q3 Earnings Results To Date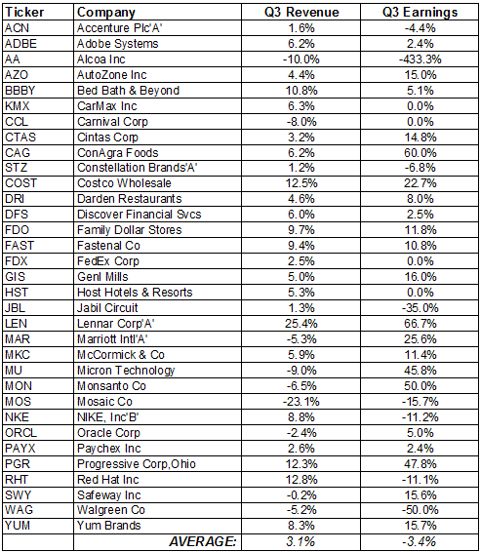 Click to enlarge
Disclosure: I have no positions in any stocks mentioned, and no plans to initiate any positions within the next 72 hours. I wrote this article myself, and it expresses my own opinions. I am not receiving compensation for it. I have no business relationship with any company whose stock is mentioned in this article.