Over the last several years we have seen a never-ending series of articles in the popular and financial literature attacking Dendreon (NASDAQ:DNDN) in general and their immunotherapeutic treatment Provenge for asymptomatic or minimally symptomatic metastatic castrate resistant (hormone refractory) prostate cancer in particular. The latest of these articles was published last week by Reuters. Authored by Sharon Begley, this is the second time she has cited the work of Marie Huber, the hedge fund analyst who claims biotechnology credentials and who has repeatedly attacked Provenge on the basis of the trials conducted by Dendreon. I addressed Begley's first article in which she cited Huber's debunked 'immunodepletion' theory in Seeking Alpha last April.
In last week's article, Huber asserted '…researchers analyzed some of the data [in the Phase 3 trial] differently from how the company told U.S. regulators they would." According to Begley, "[T]hat not only was a departure from scientific norms, but also artificially inflated the apparent benefit of the prostate cancer therapy when the results were revealed to doctors and investors through a 2010 paper in the New England Journal of Medicine, according to experts in biostatistics and clinical trials."
Dendreon asserted the discrepancy was immaterial. I would go further. This entire matter is a pure fabrication by Huber…a Tempest in a Teapot if ever there were one.
David Miller, editor of Biotech Stock Research went even further. He was quick to tweet his more than 5,000 followers: "Don't get too excited. Reuters got played on a 3-year-old story."
Yes indeed…and here is the 'inconvenient truth': the entire matter had already been thoroughly reviewed, discussed, and discarded by the Department of Health and Human Services (NYSE:HHS)…years ago. It never rose to the level of concern Huber and her followers wish it had. Reuters and Huber should have known this. The supporting data, after all, are readily available. They're staring you in the face, among other places, on pages 22 and 23 of the Technology Assessment entitled Outcomes of Sipuleucel-T Therapy developed by HHS and published February 10, 2011. Here's what the report said: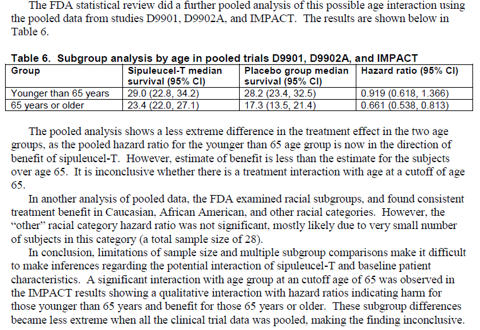 I don't know how much clearer HHS or anyone else can make it. Based on a subgroup analysis by age in pooled trials D9901, D9902A, and IMPACT, "[I]t is inconclusive whether there is a treatment interaction with age at a cutoff of age 65."
As I said: A Tempest in a Teapot!
This is the second in what appears to be a series of attacks linked to Huber, her specious 'immunodepletion theory,' and alleged aberrations in the data submitted by Dendreon in its biologic license application (BLA) to the FDA. Despite repeated efforts by recognized medical professionals-including Dr. James L. Gulley, M.D., Ph.D., F.A.C.P., who is the director of the Clinical Trials Group, Laboratory of Tumor, Immunology and Biology, and a principal investigator of the medical oncology branch at the Center for Cancer Research at NCI, the National Cancer Institute, who refuted the first stating of what Huber et al. claim as their immunodepletion theory by Dr. Bart Classen (the transcript incorrectly has his name as 'Clausen' (see p. 128) in 2010) -and others to refute Huber et al.'s work (for example, Dr. Carl Olsson's review of Huber's theory in the March 2012 issue of AUA Today), it seems to rise from the grave like Lazarus of Bethany.
Only in the case of Saint Lazarus, who rose after 4 days, Huber et al. have the potential to lay people in their grave. As one of my correspondents (Ocyan, Personal communication, 2012) wrote to me and to Reuters: "…this article could hurt patients by raising doubts where there weren't [any]. Some unsuspecting patients may end up not taking a treatment that could help extend their lives because of the falseness of this article. As a responsible news organization, you should exercise better judgment than this."
Indeed, there already is one case on record-that of Todd Seals of Toutle, WA-whose medical insurer earlier this year initially refused to reimburse him for Provenge, citing Huber's article published in the Journal of the National Cancer Institute (JNCI is a publication of Oxford University Press; JNCI has no relationship whatsoever to the US National Cancer Institute) as the excuse. The decision was immediately reversed when Seals, armed with documents excerpted from the medical and scientific literature, filed an official complaint with the state and demanded an immediate review by the it's medical insurance board. (NB He was infused with Provenge in May, 2012, had no side effects, and has gone back to work.) Not all people are as tenacious as Mr. Seals. What will happen to the others, assuming some reject Provenge simply after reading Huber et al.'s junk science or descriptions thereof?
Finally, I also would take issue with this statement from the recent Reuter's article. "Data from the IMPACT trial, as reported in the NEJM, showed that patients who received Provenge lived 4.1 months longer on average than men who received the placebo treatment." For the 2,357th time, the life extension benefit is not 4.1 months…it is not an average of 4.1 months… it IS a median overall survival benefit of 4.1 months. It continually amazes me how misunderstood this simple result is. Half the patients in the pivotal Phase 3 trial who were administered Provenge lived longer than 4.1 months. (For the results of recent post hoc analyses that suggest the 'true' life extension benefit may be as much as 12.1 months, see here, here, here, and here.)
I am no apologist for Dendreon. As a shareholder since 2006, I've seen more than my fair share of warts and had enough disappointments to last a decade. There's no question the corporation stumbled badly in the launch and subsequent marketing of its revolutionary product for the treatment of prostate cancer. And I understand, too, many shareholders-and former shareholders-aren't done being angry yet.
But the company now is under the management of a new president and CEO, John Johnston. Not long ago, he and CFO Greg Schiffman spelled out their plan for restructuring the corporation and turning it around. At the end of this month, we'll get an update. I expect incremental progress. I say that based on my having been involved with two restructurings/turnarounds in my career, allbethem in the defense industry. In both cases, it took a year before the changes sought took root and became effective, both operationally and financially. There is no way to speed the process…it takes time, effort, and patience, both on the part of employees and shareholders.
Finally, earlier this year, the Federal Bureau of Investigation and the US attorney's office in Manhattan announced they were "…honing in on trades by hedge funds in biotech and pharmaceutical stocks around important drug approval announcements and corporate takeovers." According to the Financial Times, "The US investigation into insider dealing on Wall Street has broadened to include trading of biotechnology and pharmaceutical stocks, according to a person familiar with the matter." One would expect some cases should be maturing by now, with more in the pipeline. Regardless, the focus on this sector is long overdue, especially as it pertains to what many believe is the gross manipulation of Dendreon's shares over the last 5 years.
Technical Analysis
The Daily chart, courtesy StockChart.com, is below. The Relative Strength is declining slowly, with the MACD neutral. Clearly, the Street, awaiting the quarterly report at the end of the month, is in 'show me the money' mode.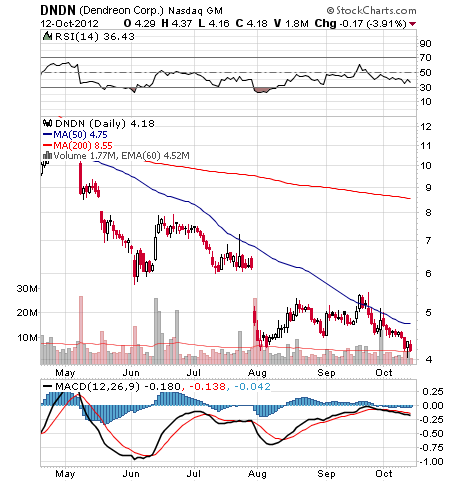 The Weekly chart, tells a similar story. The Relative Strength is hovering just above oversold levels, and the MACD is neutral.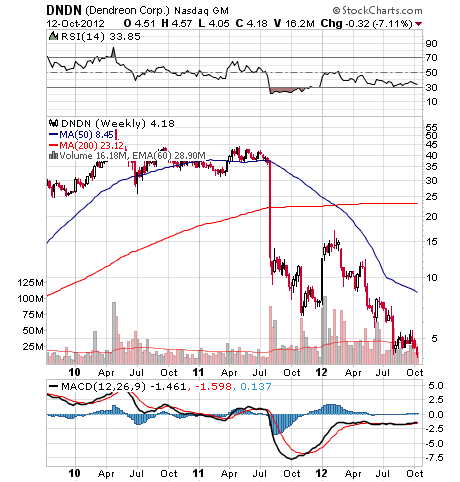 Disclosure: I am long DNDN. I wrote this article myself, and it expresses my own opinions. I am not receiving compensation for it (other than from Seeking Alpha). I have no business relationship with any company whose stock is mentioned in this article.
Additional disclosure: I am long DNDN and will not alter my position within 72 hours of the time of publication of this article. I am not a registered investment advisor and do not provide specific investment advice. The information contained herein is for informational purposes only. Nothing in this article should be taken as a solicitation to purchase or sell securities. Before buying or selling any stock you should do your own research and reach your own conclusion. It is up to investors to make the correct decision after necessary research. Investing includes risks, including loss of principal.