By John Nyaradi
Natural Gas Stays Hot
Over the last week and the last month, natural gas has been a hot sector and its ETFs have been recent leaders.
United States Natural Gas Fund (NYSEARCA:UNG) was up 6.3% over the last week and 13.9% over the last month while United States 12 Month Natural Gas Fund (NYSEARCA:UNL) has gained 11.3% over the last month.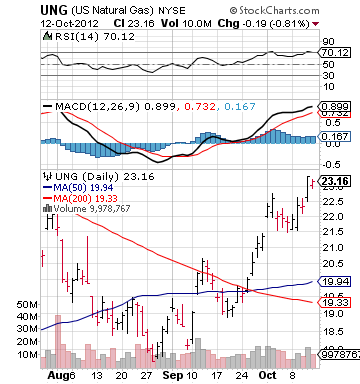 In this chart of United States Natural Gas Fund we can see how this ETF has been on a sharp uptrend, well above both its 50 and 200 day averages which have also formed a "golden cross" buy signal.
Short-term, it's overbought with an RSI of 70. However, momentum is strong and the uptrend seems solidly in place.
Future prices will largely depend upon demand during the coming heating season and forecasts point to a mild winter and so prices could cool if that comes to fruition.
One must use caution in this neighborhood as UNG is extremely volatile and has been a terrible performing ETF since inception. This ETF requires a solid trading plan combined with disciplined risk management to increase chances for success.
Disclosure: I have no positions in any stocks mentioned, and no plans to initiate any positions within the next 72 hours. I wrote this article myself, and it expresses my own opinions. I am not receiving compensation for it (other than from Seeking Alpha). I have no business relationship with any company whose stock is mentioned in this article.
Disclaimer: This article is for informational and educational purposes only and not a recommendation to buy or sell related securities