By Ishtiaq Ahmed
Kinder Morgan, Inc. (NYSE:KMI) is one of the biggest energy transport, distribution and storage companies in North America. KMI owns or operates about 41,000 miles of pipelines that mainly carry crude oil, natural gas, CO2 and petroleum products. In addition, the company operates over 155 terminals, which transfer, store and handle products like coal and Gasoline. Kinder Morgan assets contain the general partner interests of Kinder Morgan Energy Partners, L.P. (NYSE:KMP), one of the biggest publicly traded MLPs, and the Natural Gas Pipeline Company of America.
Business Model and Structure:
KMI's business objective is to boost dividends to shareholders mainly through ownership of the Kinder Management (NYSE:KMR) and Kinder Partnership. KMI collects positive cash flow projects that will be accretive to dividends, which means every project raises the pay out to shareholders. KMI invests in projects that will last a long time, sells the capacity, and pays it off in a short time.
The main difference between the three Kinder stocks is that KMP is a limited partnership. As a partnership it does not pay any entity-level taxes. Instead, it passes taxable income to partners on a pro rata basis. Shareholders hold units that represent limited partnership rather than shares of a company. The common units of KMP pay cash distributions and the partnership sends K-1 forms in place of 1099s.
On the other hand, KMR is a company that exclusively holds I-shares, which is a class of limited partner units of KMP. When partnership distributes cash to its unit holders, KMR pays its shareholders in additional shares. KMR shareholders receive additional shares in place of cash, and the number of shares is equal to the cash distribution from KMP. This structure allows shareholders to steer clear of partnership tax accounting, and stockholders get standard 1099s instead of K-1s at tax time. Because of the structure, shares of KMR should be priced (theoretically) the same as KMP.
KMI also helps its investors in avoiding limited partnership tax complications like KMR. KMI is a standard corporation and pays cash dividends instead of stock dividends. However, the distinguishing factor for KMI is its structure. Although, KMR and KMP both draw their value from cash flows that accrue to KMP, the bulk of KMI's value originates from its ownership of KMP's general partner.
Stock Performance:
click to enlarge images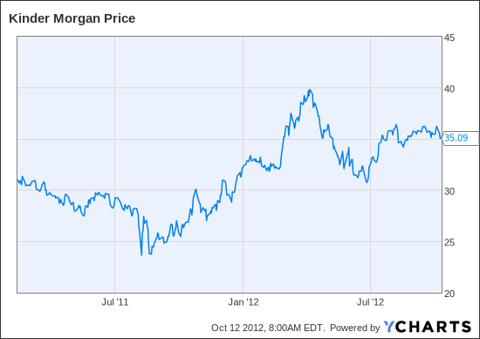 KMI stock has been fluctuating between $30 and $40 during most parts of the year. KMI has a 52 week range of $26.68 and $40.25. At the moment, the stock is in the middle of its 52-week range. One year target price of the stock is $39.77. The company reported EPS of $0.13, on average $5.4 million shares of KMI are traded every day.
Dividends: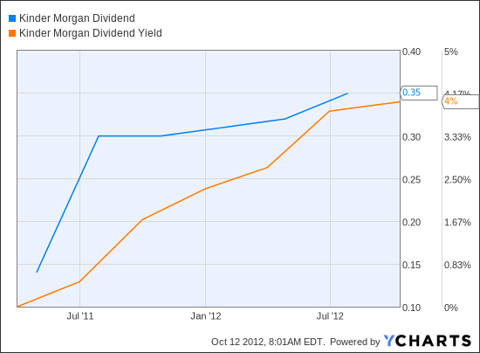 KMI Dividend data by YCharts
Since the IPO, the company has been paying regular cash dividends, passing on the cash to its shareholders. At the moment, the stock offers an impressive dividend yield of 3.98%. Over the past five quarters, the company has increased its quarterly dividends on four occasions and currently pays a quarterly dividend of $0.35. At the end of the second quarter, the company had the cash to pay dividends of $307 million, up 83% from $168 million for the same period of 2011. For the six months of 2012, KMI reported cash at hand to pay dividends of $610 million, which is 40% higher than $435 million for the first half of 2011.
Comparison with Peers:
Kinder Morgan peers include Enterprise Products Partners LP (NYSE:EPD) and Williams Companies Inc (NYSE:WMB). The chart shows the stock performance of KMI compared to its peers.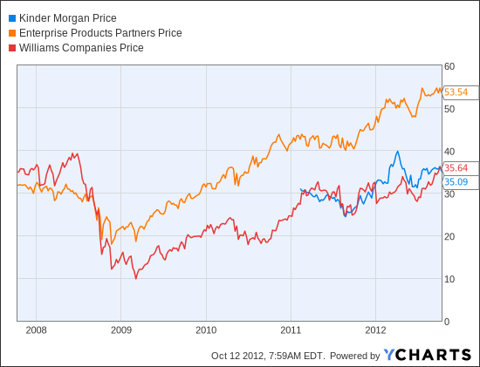 The chart shows almost the same pattern in all the stocks. All three stocks follow a fairly straightforward upward trend. However, EPD and WMB are trading close to their 52-week high of $55.38 and $37.56, respectively. On the other hand, KMI is still considerably far from its 52 week high.
Summary:
The acquisition of El Paso Pipeline Partners (NYSE:EPB) will provide Kinder Morgan an easy access to all key natural gas development sites. In addition, Liquid natural gas [LNG] exports will provide a growth opportunity. The company is expected to end the year considerably ahead of its annual budget due to its fresh acquisition of El Paso Corporation. As the activity increases in the shale areas, the company will be able to generate more earnings and cash flows. I believe KMI stock has potential to go higher than its previous 52-week highs thanks to the enormous future potential of its assets. In addition, the shareholders will be able to enjoy healthy dividend yield for the foreseeable future.
Disclosure: I have no positions in any stocks mentioned, and no plans to initiate any positions within the next 72 hours.
Disclaimer: EfsInvestment is a team of analysts. This article was written by Ishtiaq Ahmed, one of our writers. We did not receive compensation for this article (other than from Seeking Alpha), and we have no business relationship with any company whose stock is mentioned in this article.