I have been bullish on shares of Qualcomm (NASDAQ:QCOM) for months now, having first recommended purchasing shares of the company's stock at the $53-54 level after the company reported strong earnings that were hamstrung only by supply issues. While an inability to meet all demand is an issue, it is certainly a much less painful "problem" to have than one of lack of demand.
Shares of the company rallied to an impressive $65/share before pulling back significantly to the $58/share level over the last month. While the company is currently extremely strong in the mobile applications processor and baseband spaces, there are significant competitive threats that will begin to manifest themselves over the next year.
The Downside Catalysts
The primary catalysts that seem to have moved the stock off of its local maxima seem to be the following:
Broad semiconductor/tech sector weakness
A number of negative analyst reports
When it comes to identifying buying opportunities, I am usually much more encouraged by broad market weakness rather than company-specific weakness, as it is much safer to buy fundamentally strong companies in a bad market than to buy fundamentally weak companies in a good market.
Despite a generally positive analyst sentiment with the 41 analysts covering the stock have a mean price target of $70.55, there have been a number of negative analyst notes published recently. In particular:
Avian recently downgraded shares to 'Neutral' in light of increased competition in the baseband/application processor space
A downgrade from DA Davidson to Neutral, citing similar concerns as Avian
In order to understand the recent price decline, it is important to analyze the downside risks. The major downside risk is, as the aforementioned analysts note, competition from other strong competitors.
Major Competition Is Coming
The most aggressive competition that Qualcomm will have going forward in the smartphone application processor and baseband spaces will be Intel (NASDAQ:INTC) and Nvidia (NASDAQ:NVDA). As it stands today, Qualcomm leads in both application processor performance, graphics performance, and LTE support. The latter gives Qualcomm a virtual stranglehold on phones in LTE-enabled countries such as the United States, and the former acts as further incentive for phone developers to use the firm's chips.
To this end, the majority of the high end phones announced over the last several quarters will be powered by Qualcomm's processors. High profile designs such as the Samsung Galaxy S III, Nokia (NYSE:NOK) Lumia 920, LG Optimus G, Motorola/Google (NASDAQ:GOOG) Droid Razr M, and others.
That being said, the competition is not sitting still. Intel plans to release an updated iteration of its "Medfield" system-on-chip along with its LTE-enabled XMM 7160 modem in 1H 2013 (click to enlarge images):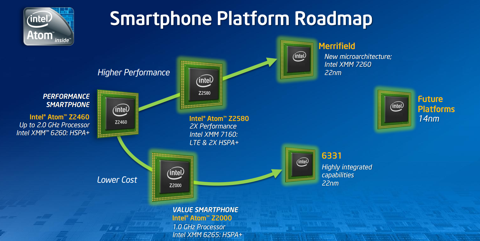 Additionally, Nvidia , which recently acquired Icera for its baseband technology, also plans to have an LTE-enabled modem with its "Grey" platform in 2013: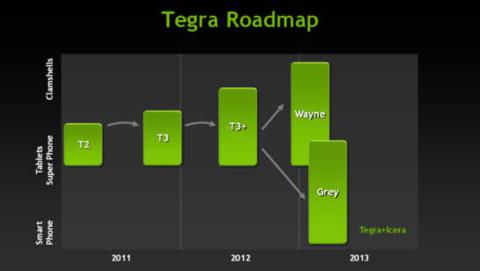 So, it seems likely that in 2013 and beyond, Qualcomm will see further pressure from these two major players. That said, Qualcomm's devices are shipping today while Nvidia's and Intel's designs are still in the labs.
Now, there is another segment of the smartphone space where Qualcomm actually sees upside: TD-SCDMA.
TD-SCDMA - A Huge Opportunity
In an attempt to avoid paying royalties to Western patent holders for traditional 3G/LTE formats, the Chinese Academy of Telecommunications Technology, Datang Telecom, and Siemens AG collaborated on a new air interface as an alternative to W-CDMA called TD-SCDMA. The interface is used mainly in China, where China Mobile (NYSE:CHL) expects to ship 100M TD-SCDMA smartphones during 2013, up from 60M in 2012.
The leaders in this space have traditionally been Marvell Technology Group (NASDAQ:MRVL), MediaTek, and Spreadtrum (NASDAQ:SPRD). The TD-SCDMA phone space has focused on being fairly low cost while offering a solid user experience - a stark contrast to the very high end smartphones that ship in other parts of the world, most notably the United States.
Qualcomm plans to offer a TD-SCDMA reference design in Q1 2013 powered by its Snapdragon S4 MSM8930 processor. The strength of Qualcomm's Snapdragon S4 processor should allow this to gain nontrivial share in the TD-SCDMA space over the next several quarters. The secular growth in the segment should also prove to be a tailwind for the company's expansion here.
Windows RT - An Unquantifiable Opportunity
While Qualcomm faces threats to its dominant position in the smartphone chip market share, a new opportunity presents itself in the tablet space with Windows RT (an ARM (NASDAQ:ARMH) compatible version of Windows). While it seems that Nvidia is scooping up the wins here, having nailed the official Microsoft (NASDAQ:MSFT) "Surface RT" design along with the ASUS Vivo Tab RT and others, Qualcomm is by no means out of the race.
The Snapdragon S4 is a more sophisticated SoC than the "Tegra 3", as it sports up to 4 Cortex-A15 level cores (quite a bit faster than the 4 Cortex-A9 cores in the Nvidia solution) and a stronger graphics processing unit, all built on a 28nm process (rather than the 40nm process that Nvidia's solution is on). While Nvidia's solution was available well in advance in order to score the win, the door is still quite open for Qualcomm's solution to find a home in other devices.
Penetration in the tablet space would be purely additive for Qualcomm's top and bottom lines.
Apple - That Sugar High Wore Off Fast
A quick note here: I believe that the reason for the recent rally to the $65 level was driven primarily by the hype surrounding the release of Apple (NASDAQ:AAPL) iPhone 5. Qualcomm, of course, won the LTE baseband chip spot in the phone, likely sparking the rally from September 10th to about the 19th. While having Apple as a baseband customer is nice, this is likely not a significant revenue driver for the firm, hence the reaction seemed somewhat misguided.
On the other hand, I believe that the flip side of this argument helps to create this buying opportunity. The iPhone 5, despite selling quite well, didn't sell the outrageous numbers that the overzealous sell-side had estimated. Naturally, as Apple has fallen, so has Qualcomm (and a host of other Apple-suppliers).
Luckily, Qualcomm's valuation is not nonsensical as are those of other Apple suppliers such as Cirrus Logic (NASDAQ:CRUS) or Fusion-IO (NYSE:FIO), so this is a real potential long term buying opportunity of a solid Apple supplier that is not more than slightly levered to Apple.
Qualcomm Shares - Buy, Sell, Or Hold?
In light of the headwinds and tailwinds outlined here, the natural question to ask is whether shares of the company are attractive at these levels after the recent decline. While the short- to medium-term market unpredictability make it difficult to tell if we're at the bottom, the purpose of this article is to examine the company's shares on a longer term basis.
Qualcomm is valued at 19.85x trailing earnings and 14.36x forward earnings. The firm's top and bottom line have seen consistent double-digit growth over the last several quarters are consistent with this high multiple. The balance sheet is also incredibly strong with $13.4B in cash and short term investments and only $1.35B in long term debt.
While I believe the company will see share losses in the high end smartphone application processor/baseband in the coming quarters, it is hard to ignore the following positive drivers:
Qualcomm's processors will power all of the announced Windows Phone 8 designs, so if Microsoft gains share, Qualcomm will see upside. Intel will be unable to compete here in the near- to medium-term due to Windows Phone 8's exclusivity to the ARM instruction set at this time.
The Windows RT/Android tablet market is likely to be a strong secular growth driver for system-on-chip sales, which Qualcomm should be able to capitalize on on a multi-year basis
The opportunity for share gains in the TD-SCDMA market is non-trivial. This coupled with an increasing TAM should be a positive long term driver for Qualcomm.
Texas Instruments' (NYSE:TXN) exit from the tablet system-on-chip market on a longer term basis opens up a large opportunity for other vendors such as Qualcomm to take share.
I believe that the company is strong on a long term basis, generates excellent free-cash-flow ($4.29B - $2.52/share - on a TTM basis), and has a payout ratio of 33%, which leaves room for a dividend increase as the company matures (it currently yields 1.7%).
Now, should you choose to take a long position, it is helpful to apply some basic technical analysis to try to figure out a good entry point.
Basic Technical Analysis - Charting A Good Entry Point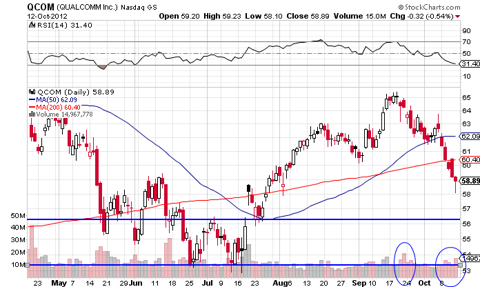 A quick look at the chart indicates that the company has seen some high volume selling pressure after peaking at $65. Shares of the company broke the 50 day moving average on fairly high volume and it broke the 200 day moving average on even more aggressive volume. However, the most recent candlestick seems to indicate that sellers are nearly exhausted (although not quite).
Longer term investors (the target audience of this piece) can likely initiate a portion of the desired position in the $58 level, add at the $56.50 support level, and then add again at the stronger $53-54 support level should the previous levels break.
Conclusion
Qualcomm is a fundamentally strong company that is the leader in the mobile/wireless communications segment of the semiconductor business. While it faces competitive headwinds in its system-on-chip and baseband segments, it also has a number of growth opportunities such as tablets and TD-SCDMA phones, in addition to a rising smartphone TAM in general.
At these levels, it wouldn't be a terrible idea to start or add to a long term long position, as this is a solid, healthy company with an excellent competitive position across all its markets.
Disclosure: I am long NVDA, INTC, QCOM, AAPL, NOK. I may trade out of my AAPL position at any time. I wrote this article myself, and it expresses my own opinions. I am not receiving compensation for it (other than from Seeking Alpha). I have no business relationship with any company whose stock is mentioned in this article.