Mondelēz International (NASDAQ:MDLZ) is the world's largest chocolatier, biscuit baker and candy maker, and the second-largest maker of gum. Favorite brands include: Cadbury, Jacobs, LU, Milka, Nabisco, Oreo, Tang and Trident.
The company changed its name to Mondelēz International, Inc. after spinning-off its North American grocery business on October 1.
Mondelēz derives almost 75% of sales from biscuits and confectionery and thus represents the "sweet" part of the company name, see figure below.
click to enlarge)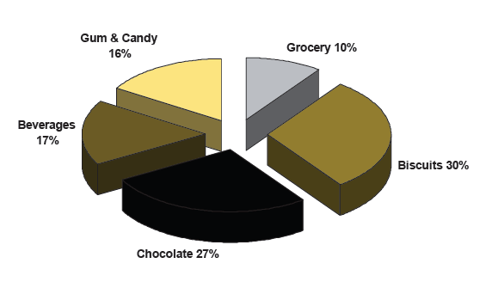 Source: Bloomberg, Henkel, Abn Amro Private Banking
Mondelēz's growth and strength lies in its strong exposure to emerging markets. The BRIC countries are the company's largest emerging markets and combine for over $5 billion in sales.
click to enlarge)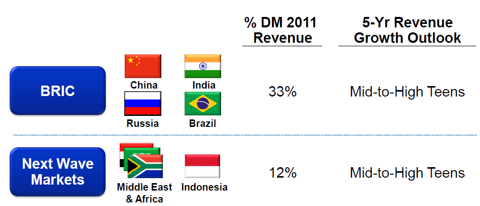 source: IR presentation Mondelēz
The great exposure to emerging markets is the cornerstone of Mondelēz's growth prospects. It ranks quite competitive with big names like Unilever (NYSE:UN) and Danone (OTCQX:DANOY) and its EM-exposure is more than companies such as Nestle, PepsiCo (NYSE:PEP) and Kellogg (NYSE:K).
click to enlarge)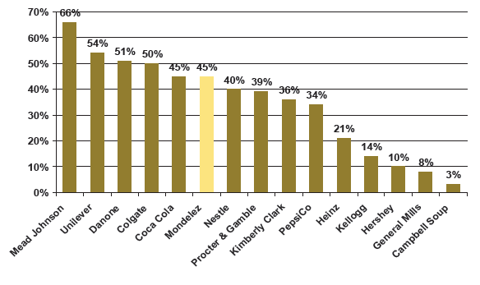 Source: Company data, Citi Research, Abn Amro Private Banking
Emerging Market Numbers That Count
Emerging markets have been the main drivers of global growth since the financial crisis of 2007/2008. A combination of rising middle classes, increasing real incomes, plentiful credit and growing populations have made emerging markets some of the most important consumer markets in the world.
Population growth in emerging markets is going through a phase of exponential growth. By 2020, emerging markets will account for 86.1% of the global population.
Emerging Market Economies, Real GDP Growth vs. Total Population: 2006-2020
Source: Euromonitor International from national statistics/Eurostat/OECD/UN/International Monetary Fund (IMF), World Economic Outlook (WEO)
Note: Figures for 2012-2020 are forecasts.
According to Euromonitor, 2012 will be the year when emerging markets surpass developed markets in terms of GDP measured at purchasing power parity (PPP). In 2011, GDP at PPP in emerging markets was worth 49.2% of global GDP at PPP, while in 2012 they will be worth 50.8% and by 2020 they are forecast to be worth 58.1% of global GDP at PPP.
Such strong economic growth coupled with growing populations has contributed significantly to rising incomes in emerging markets. This has fuelled burgeoning domestic markets that have helped to absorb the blow from the drop in demand from developed markets.
The number of middle class households (households with annual disposable incomes between $5,000 and $15,000) in emerging markets increased by 90.5% in real terms between 2000 and 2011. It is expected that the number of EM households with an annual income surpassing $30,000 will more than double to 149 million by 2020. EM households with an annual income of over $100,000 is forecast to reach 25.1 million by 2020, up from 13.6 million in 2011.
Growth in real private final consumption expenditure per capita between 2006 and 2011 also reflects the increase in consumer demand. Average real growth of private final consumption expenditure per capita across all emerging markets was 21.9%, but in China it grew by 49.3% and in Brazil by 29.8%.
Final conclusion
Population growth in emerging markets coupled with continued strong economic growth will fuel discretionary spending as households look to spend on more than just the basic essentials.
Mondelēz is the leading global producer of biscuits and chocolate and the second largest gum producer, see table below. Its scale allows the company to take a price-setting position.
Management's long-term growth guidance of 5-7% in organic sales, 7-9% in operating income, and double digit in operating EPS seems well within reach.

Impulsive-oriented snacking categories such as biscuits and confections will be the driving force behind the growth story of Mondelēz. Per capita consumption of confection, for example, amounted to $5 in China vs. $114 in the U.S. in 2011. So there is enough catch-up potential for Mondelēz.
Interestingly, investors and analysts pay much attention to the company's exposure to emerging markets, often overlooking the facts that biscuits and confections categories are also amongst some of the fastest growing food categories in the Western world.
Mondelēz announced that it is buying Italy's Vitasnella snack brand from Danone for an undisclosed sum as part of its consolidation plans in Europe. The Vitasnella brand is known in fashion-hungry Italy for its low-fat products which help keep weight under control.
Based on management's conservative 2013 EPS forecast of $1.50 - $1.55, the stock is trading at a P/E below 18, only slightly above the U.S. food large caps' average. The expected growth rates in sales and earnings justify a premium.
Risks
High inflation will remain a threat to emerging markets, which also could affect the Mondelēz's sweet growth story.
Disclosure: I have no positions in any stocks mentioned, and no plans to initiate any positions within the next 72 hours. I wrote this article myself, and it expresses my own opinions. I am not receiving compensation for it (other than from Seeking Alpha). I have no business relationship with any company whose stock is mentioned in this article.