On Friday, 12 October, my brokerage account was flush $7,000 more cash, courtesy of the payment of a $10 special dividend by Sycamore Networks, Inc. (NASDAQ:SCMR). In September, I wrote how the combination of election year politics, the upcoming Fiscal Cliff and expectations of higher taxes on dividends would likely make for a spate of late 2012 special dividends. Sycamore led the way with its announcement of a $10/share distribution on its shares which were priced around $15.60.
The transaction at that moment was a wash - $10 paid while the stock price adjusted from $14.62 to $4.62 as per trading rules. Then the stock immediately popped up to around $5.25. For those who now own Sycamore and are enjoying the juicy cash payout in your accounts the question is, what now? Should I stay or should I go? Should I hold or should I sell?
Sycamore Networks is a niche technology company. It provides hardware and software bandwidth management products for both fixed line and mobile broadband networks. In its press release announcing its 2012 10K Annual Report the company stated:
Sycamore products enable network operators to efficiently and cost-effectively provision and manage network capacity to support a wide range of converged services such as voice, video and data. Our global customer base includes Tier 1 service providers, government agencies, and utility companies.
Sycamore at one time was a high technology company that had turned the corner from being a rapidly growing company with future hopes to one that was making solid profits. However, during the economic shocks of the last few years, plunging revenues returned the company back to losses as clients cut back on capital expenditures.
At first glance, the price performance looks like a horror film.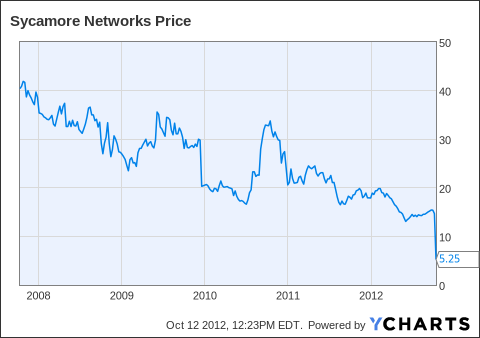 However, it masks some underlying events and makes everything look much worse than it actually is. The sharp plunges in December 2009 and 2010 come from special dividends.
Sycamore's board has taken a number of actions to increase shareholder equity. In 2009, it initiated a special dividend of $1/share, shortly followed by a 1-10 reverse stock split, which made the 2009 special dividend equivalent to $10/share in today's stock. The board followed up in 2010 with another special dividend of $6.50. It then paid another $10/share special dividend on October 12 of this year.
In all, it has paid out $26.50/share in special dividends within the last three years. Considering its roughly $40 stock price in 2008, special dividends and current stock price total around $32 for a 20% total loss over 5 years. Not good, obviously, but considering the losses, the share price has shown remarkable resiliency.
In part, this has been because of the company's massive cash position. The company had assembled a vast war chest looking to expand before the 2007-2008 financial crisis shattered opportunities. The board eventually decided that sitting on the cash was counterproductive so it has been issuing the special dividends.
If this was all, then a company losing money over several years is an obvious sell, but there is more to the story. In its 10 October 2012 annual report, the company announced the following financial results:
Revenue for the fourth quarter of fiscal 2012 was $16.8 million, compared with $13.0 million for the fourth quarter of fiscal 2011. Revenue for fiscal 2012 was $57.3 million, compared with $48.7 million in fiscal 2011.
Revenues are sharply up over 45% from 2011, a far cry from three years of steady negative growth. While the revenue grew sharply the company still suffered a loss:
Net loss for the fourth quarter of fiscal 2012, on a generally accepted accounting principles ("GAAP") basis, was $2.5 million, or $0.09 per share, compared with a GAAP net loss of $3.6 million, or $0.13 per share for the fourth quarter of fiscal 2011. Net loss for fiscal 2012, on a GAAP basis, was $12.9 million or $0.45 per share, compared with a GAAP net loss of $17.8 million or $0.62 per share for fiscal 2011.
Revenue is up and losses are decreasing. The company is actually about one step away from breaking even, two steps away from returning to profitability. The company still has cash/share of around $2.30 and a book value/share around $5.70. There is value here, with little debt.
The company has come out with its IQStream platform to positive reviews. Sales have been slower than expected but still building. Sales of such platforms can be slow due to the prolonged sales cycle and the current economic malaise, so it is still too early to tell how things will go. However, if sales volume can increase even a little, the 59% gross margin can quickly drive profits.
Perhaps the biggest positive news has the USA and Canada both warning public and private organizations to avoid using Chinese companies Huawei and ZTE from government and sensitive operations. The networking field is crowded with bigger operators like Alcatel-Lucent (ALU), Ciena (NASDAQ:CIEN), Cisco (NASDAQ:CSCO) and Tellabs (NASDAQ:TLAB) dominating the landscape. In my opinion, the Chinese companies being panned should lead to more opportunities for all other companies in the niche, especially Sycamore as it is smaller and potentially faster in reacting to the new environment.
Selling below tangible book, with increasing revenues, a board that has proven time and again that it is concerned over shareholder value as well as a decrease in competition looks like a great value right now. Here are valuations of some of its competitors: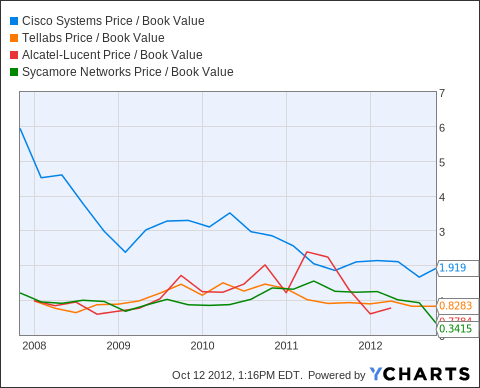 CSCO Price / Book Value data by YCharts
The entire niche has primarily been down the last few years, with most trading well below book at the present time. The industry probably will drag for some time, until network professionals have to start making decisions on whether to maximize network utilization by using Sycamore's products or buying new infrastructure. In this case, I expect Sycamore to be an earnings leader whenever an economic recovery comes around.
At that time, I will expect the entire niche to rally and be selling around 2-3 times BV, which would put Sycamore in the $10-$15 range. However, there is a ceiling on value. Insiders have about 2 million shares in options originally valued for a strike of $19.50, but these should have been adjusted to $9.50 post special dividend. So in this case I would have a $9.50 target price sometime within the next 36 months.
Finally, there is a strong possibility for a presidential election year rally in the final months of 2012. Should I stay or should I go? For now I think I will hold on to my Sycamore shares. I will be watching the price performance closely and any news to see if revenues continue to rise.
Disclosure: I am long SCMR. I wrote this article myself, and it expresses my own opinions. I am not receiving compensation for it (other than from Seeking Alpha). I have no business relationship with any company whose stock is mentioned in this article.