Burger King Holdings, Inc. (BKC) reported earnings last week that blew management's guidance out of the water. Revenues for the quarter came in at $646 million which is a 9% increase over last year. Earnings growth saw the effect of a leveraged operating structure with EPS at $0.37 – good for a 28% increase. The numbers were well above the levels management had guided the street to expect, and yet the stock traded sharply lower. What gives?!?
The issue at stake causing the stock price to decline appears to be one of management credibility. Burger King has developed the habit of offering guidance that is unmistakably conservative, only to finish the period significantly above this artificially low hurdle. While the "under promise – over deliver" approach often works well from a customer service standpoint, it can backfire when dealing with an investing public. The reason is that at some point investors simply don't listen to the guidance. Management expectations are so far removed from reality that they no longer become helpful. In short, Burger King appears to be entering a stage where management simply lacks credibility.
Looking into the report, it appears that while revenue growth was relatively strong for such a large company, the margins took a significant hit as expense increases outpaced revenue growth. Specifically, restaurant margin decreased by 170 basis points to 13.1% for the fourth quarter. Full year (the company's fiscal year end is June 30) margins were a bit better at 14.3% but that only goes to show that the fourth quarter saw this metric rapidly decreasing from levels seen earlier in the year.
Commenting on the margin issue, management stated that commodity costs have played a major role in this contraction. However, the good news is that management believes that commodity costs have peaked and that is part of the rosy story it is painting for fiscal 2009. If you believe that commodity prices have peaked, this may be a legitimate story. However, the jury is still out and I would have a hard time committing my clients' hard earned capital into a story based on this assumption.
Capital expenditures were significantly higher for 2008 and expected to remain at current levels for 2009. This is a result of the company reimaging quite a few of its stores in order to present a more attractive store front. While necessary, this move will continue to pressure margins and keep the balance sheet relatively leveraged. A purchase of 72 stores in Nebraska and Iowa from a franchisee will also keep a good bit of the company's capital tied up.
In short, the growth story for Burger King may be old news. The company is large enough that even international expansion cannot move the needle significantly. Margins should remain under pressure and uncertainty with the overall economy make a purchase difficult to rationalize. Since the multiple is not extremely high, I find it also hard to rationalize a short position so I feel it is necessary to manage risk and stay on the sidelines for the time being.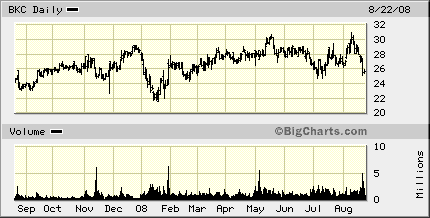 FD: Author does not have a position in BKC.