It is important to recognize that REITs that possess superior management teams often warrant premium pricing. I find it interesting that companies that trade at premium levels and leave no cushion for error (or "margin of safety") are often managed by experienced leadership teams with "blue chip" credentials.
I will be the first to say that just because a company is overvalued does not guarantee exceptional leadership acumen. However, identifying extraordinary leadership qualities - based on the ability to recognize and control risk - is considered an added value to asset valuation, and oftentimes the market ascribes a premium valuation to companies due to the management teams that make value-enhancing decisions on multiple fronts.
It is a well-known fact that many "sleep well at night" REITs are confidence-inspiring companies with management teams and operational expertise that REIT investors rely on for above average growth over long periods of time. As Matthew Werner, CFA with Chilton Capital Management explains,
An outsider looking into the REIT landscape could easily make the assumption of thinking a REIT is merely a collection of buildings, instead of a company with employees and future value creation potential. We argue that a strong leadership team is as, if not more, important in the real estate business than in other sectors for several reasons.

First, there is constant cash flow coming into the business, which requires prudent capital allocation decisions. Second, real estate is characterized by high leverage so a CFO must be disciplined to maintain relatively conservative targets. Third, the risk and return associated with development is alluring and should only be attempted if there is a favorable track record to assure shareholders there will be value added.
Realty Income: It's Hard to Compete with a Premium REIT
In addition to the superior capital allocation skills possessed by Realty Income's (NYSE:O) management team, the stalwart REIT has been most successful at growing cash flow at the property level.
With an above average dividend yield of 4.4 percent, well below the NAREIT mortgage REIT average of 14.4 percent, a skeptic may rather invest in a REIT with a higher dividend yield.
However, the dividend yield has two components: security of the current dividend and expected dividend growth. During the credit crisis of 2008-2009, the capital markets closed to most US companies, including REITs. Without the ability to access capital amidst declining rents, many REITs had to cut their dividends to enhance financial flexibility. Remarkably, Realty Income and just a few other REITs did not cut their dividends during the period known as the great recession. Here is a snapshot of Realty Income's dividend payment history: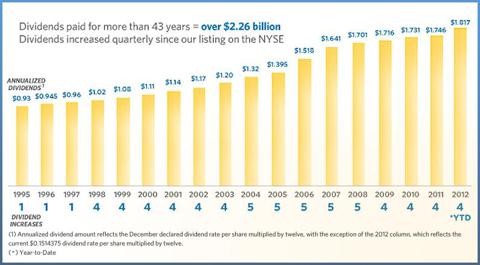 Click to enlarge
Remember dividend investors, risk is a function of both price (Grahamian type discount) and other factors such as tenant credit, diversification, size, access to capital and management expertise. The market's appreciation and pricing of risk "ebbs and flows" depending on current expectations. Is Mr. Market happy or sad?
It's evident that the market pricing does not include an adequate appreciation of risks until things go wrong... Then all it appreciates is risk. The market seems remarkably sanguine about risk right now. Spreads between the cap rates on investment grade vs. non-investment grade tenants are quite tight given the economic risks of a double dip, low interest rates, the deficit, fiscal cliff etc. Wouldn't you rather buy risk protection today at the expense of a few basis points of additional yield?
In a recent Seeking Alpha article, Realty Income's Latest Acquisition A Departure From The Norm, the Morningstar analysts/writers explain the proposed acquisition of the smaller ($1.88 B) triple-net REIT, American Realty Capital Trust (NASDAQ:ARCT):
Although it (the ARCT acquisition) does achieve diversification, it seems unlikely that a meaningful margin of safety is built into this ARCT deal. The 5.9% cap rate is low by both absolute and relative standards, and the nonretail assets cannot be underwritten to property-level profitability as easily...
That argument (by Morningstar) points to the notion that Realty Income is paying a premium for the ARCT portfolio (of 501 properties) and that Realty Income "is paying a dear price for a ready-made portfolio." My counter argument has already been well documented, and in a previous article I wrote:
I believe that the purchase price is in-line with the current single tenant net lease valuations - especially given the mere size of the portfolio and the fact that the transaction costs are significantly reduced given the economies of scale for facilitating over 500 transactions. Also, in reviewing the overall portfolio, many of American Realty Capital Trust's tenants have contractual rental increases that will add value along the way.
As I later explained,
Realty Income has one of the most impressive dividend producing machines around. The company has significantly low-cost capital, and it is clear that Tom Lewis (CEO) and his talented team are executing a very well thought out and masterfully structured transaction.
How Do You Place a Value on Management of the Dividend Machine?
As analysts and investors began dissecting the pros and cons of the proposed ARCT deal, it became apparent to me that the biggest value in the combined portfolios had absolutely nothing to do with the assets, but instead more to do with management of the properties. Accordingly, I wanted to find the value placed on management and determine whether the market warranted such risk-adjusted premium.
Utilizing a simple cap-rate derived valuation model, I place a current net asset valuation (NAV) on Realty Income shares of $34.32. Here is a snapshot of my valuation model: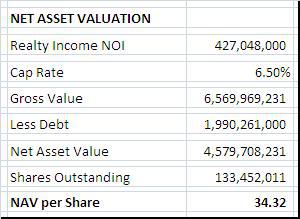 So today Realty Income is trading at $41.00 per share, almost a 20 percent premium above the above-referenced NAV of $34.32 per share. Does this high valuation warrant the premium placed on the shares and, more importantly, is the dividend yield discounted adequately to reflect the "margin of safety" relative to management's risk-control practices?
Accordingly, this well-known "margin of safety" concept of buying stocks at below their calculated value came from Benjamin Graham, noted economist who is considered to be the Father of Value Investing. His philosophy, further championed by Warren Buffett, is an essential element that starts with buying companies trading below intrinsic value, thus leaving a cushion for error, and a margin of safety in case your analysis of the stock's value is too high.
Because Warren Buffett advises holding stocks for the long-term, an investor with a cheap blue chip stock pick has the luxury of waiting it out until the price goes up again. So should an investor wait for Realty Income to dip to $34.32 per share?
It All Depends
Every investor is different and each should consider his or her own investment goals and objectives. Regarding Realty Income, I argue that $41.00 represents a fair price and the premium of $6.68 per share is simply the cost of investing in one of the best REIT management organizations in the nation. Additionally, I subscribe to the notion that the premium is much like an insurance policy in that you are purchasing risk premium coverage for the dividend's future performance. Remember, risk-control is invisible in good times, but essential.
In other words, as noted above, Realty Income is one out of eleven equity REITs that have maintained and increased their dividend and only one out of eight that has maintained the record for 18 years or longer. Accordingly, Realty Income and the other seven REITs represent a minority of around six percent of all equity REITs with that level of dividend performance.
The management of ARCT is good and the executive-level management team has done an excellent job at aggregating assets; however, there is no premium associated with the company's management in that they simply raised "blind pool" capital via a non-traded REIT structure and then went out acquiring assets. Like most non-traded REITs, ARCT is being rewarded ($2.95 billion purchase price) for its value of being "asset aggregators" but the company has not yet built any intangible risk-control value to its platforms.
Conversely, Realty Income has built its 43 year-old (founded in 1970) blue-chip reputation on utilizing the highest valuations with the cheapest cost of capital - perhaps the lowest cost of capital in REIT-dom (includes a recent issuance of the Realty Income debt with a weighted coupon of around 2.7 percent. Due to this cost-based advantage, Realty Income has been able to exploit all of the potential cost drivers that allow for greater efficiency in the company's overall value-add proposition.
Given Realty Income's low cost of capital, the accretion from its acquisitions is immediate given the positive spread on the triple-net leased investments. In addition, the improved credit quality of the company's rent checks has improved cash flow stability that withstood a very difficult recession with only modest losses in portfolio occupancy (Q2-12 occupancy is 97.3 percent).
At the end of the day, the market dictates the price paid and the movement in Realty Income's stock is a function of its sound dividend management practices as well as its extraordinary track record for skillful risk control. In my opinion, and in the case of Realty Income, the company's superior management team warrants the stock's premium pricing. I have often said that skillful risk control is the mark of a superior investor and, accordingly, that difference is the "alpha" factor that is critical to the investor's job of intelligently bearing risk for profit. Doing it well - with decades of consistency - is what separates the best from the rest!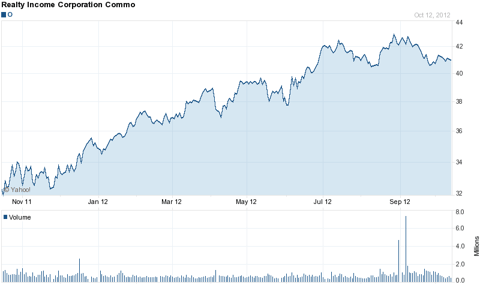 Click to enlarge
Disclosure: I have no positions in any stocks mentioned, and no plans to initiate any positions within the next 72 hours. I wrote this article myself, and it expresses my own opinions. I am not receiving compensation for it (other than from Seeking Alpha). I have no business relationship with any company whose stock is mentioned in this article.