Is the stock market showing signs of topping out? John Del Vecchio, co-portfolio manager of the Advisor Shares Active Bear ETF (NYSEARCA:HDGE) seems to think so.
I interviewed John last week about how his views on the overall market. He and his co-portfolio manager Brad Lamensdorf have been increasing the beta of their fund because they think we're poised for a correction. And it appears that as of Friday, HDGE's cash position was less than 1%.
The Active Bear ETF isn't your usual "inverse-the-market" fund (such as the PowerShares Short (NYSEARCA:SH) ETF for example). HDGE is an actively managed portfolio of actual short positions. And you can track these positions on a daily basis.
Instead of a passive approach to shorting the entire market, John and Brad take a more tactical approach. They identify stocks they believe will significantly underperform - whether because of low earnings quality, aggressive accounting practices, or because earnings-driven events are expected to drive share prices lower.
* * *
"Getting pretty stretched"
John said he's been watching several indicators that show the market is becoming exhausted - and he also explained why HDGE maintains short positions in two specific holdings - Green Mountain Coffee Roasters (NASDAQ:GMCR) and Deutsche Bank (NYSE:DB).
More about that below, but first, here's John's take on the overall market:
Looking at several different measures of sentiment, we see too much bullishness in a variety of indicators. For example, the Ned Davis sentiment poll has moved to a 64% bullish. When that moves above 61.5% it's reaching extremely high levels.

To put that into perspective, the bullish reading stood at 70.7% earlier this spring before the market took a dive. At the October lows last year it was 38%, which reflects excessive bearishness. So, there's too much bullishness here, implying at least flat market returns going forward.

We've got the National Association of Active Investment Managers data showing that active managers are now more than 75% allocated to equities. As for individual investors, the American Association of Individual Investors survey shows only an 18% allocation to cash.
John also doesn't believe that there's much of a "cash on the sidelines" cushion to prevent a slide:
Cash positions are down considerably over the last three years. Some of that cash went into bonds but most went into equities. It's important to note that the all-time highest cash position was at the exact market lows. Now, cash has been invested. That means there's not a lot of 'cash on the sidelines' to come in and buy equities so there could be a scramble to get out.
John also looks at statistics such as the Bullish Percentage Indicators. These show the percentage of stock charts that are displaying bullish "point and figure" patterns. Here's a look at the bullish percentage figures for the S&P 500 going back several years.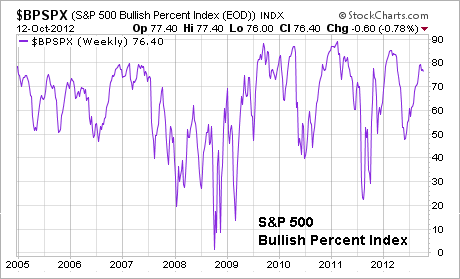 What may be more concerning is the bullish percentage figures for the Consumer Staples sector alone, which now stands at more than 85%.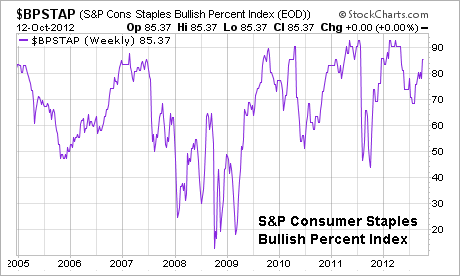 John says that's "getting pretty stretched" because while some investment managers can rotate into this sector, growth fund managers simply can't buy value stocks because it's outside their mandate.
* * *
Two short positions in HDGE
Here's a list of the top 15 holdings in HDGE as of Friday: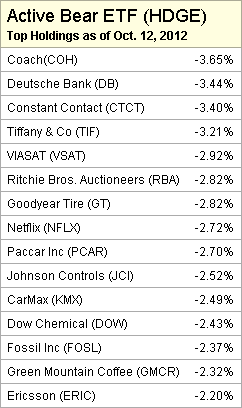 Note that these are short positions. Two of them include Green Mountain Coffee Roasters and Deutsche Bank .
As for GMCR, John noted that he's seen significant discounting on Keurig coffee makers, with offers on television amounting to almost a 50% discount. And he's also noticed heavy discounting on K-Cup packs that are nearing their expiration dates.
"Seeing moves likes this to dispose of inventory is never a good sign. It makes any company vulnerable to lower margins and lower earnings. I believe K-cup margins will be a lot lower than most analysts expect. I would not be surprised to see heavy discounts with 60 cent K-cups selling for 12 cents at places like Wal-Mart," John said.
Another stock that HDGE has been short over the past several months is Deutsche Bank.
Although the German Supreme Court recently ratified a bailout, John don't believe such a move will cure much of what ails this large German bank.
According to John, "Deutsche Bank has a 3 trillion euro balance sheet and is leveraged 50 to 1. That's way too much. Sure, Deutsche Bank itself may be 'too big to fail,' but the common equity holders are still vulnerable to significant losses."
Earnings season is already on, so it will be interesting to see how some of the other Active Bear shorts will perform. In the coming weeks we'll hear from Coach, Netflix, and Johnson Controls - some HDGE's top holdings, which will all report earnings this month.
I should also note that John Del Vecchio (with co-author Tom Jacobs) has a brand new book out, What's Behind the Numbers? A Guide to Exposing Financial Chicanery and Avoiding Huge Losses in Your Portfolio.
Financial chicanery? Now that seems intriguing, so I started reading the book. When I finish, I'll write a review. Stay tuned.
Disclosure: I am long HDGE. I wrote this article myself, and it expresses my own opinions. I am not receiving compensation for it (other than from Seeking Alpha). I have no business relationship with any company whose stock is mentioned in this article.